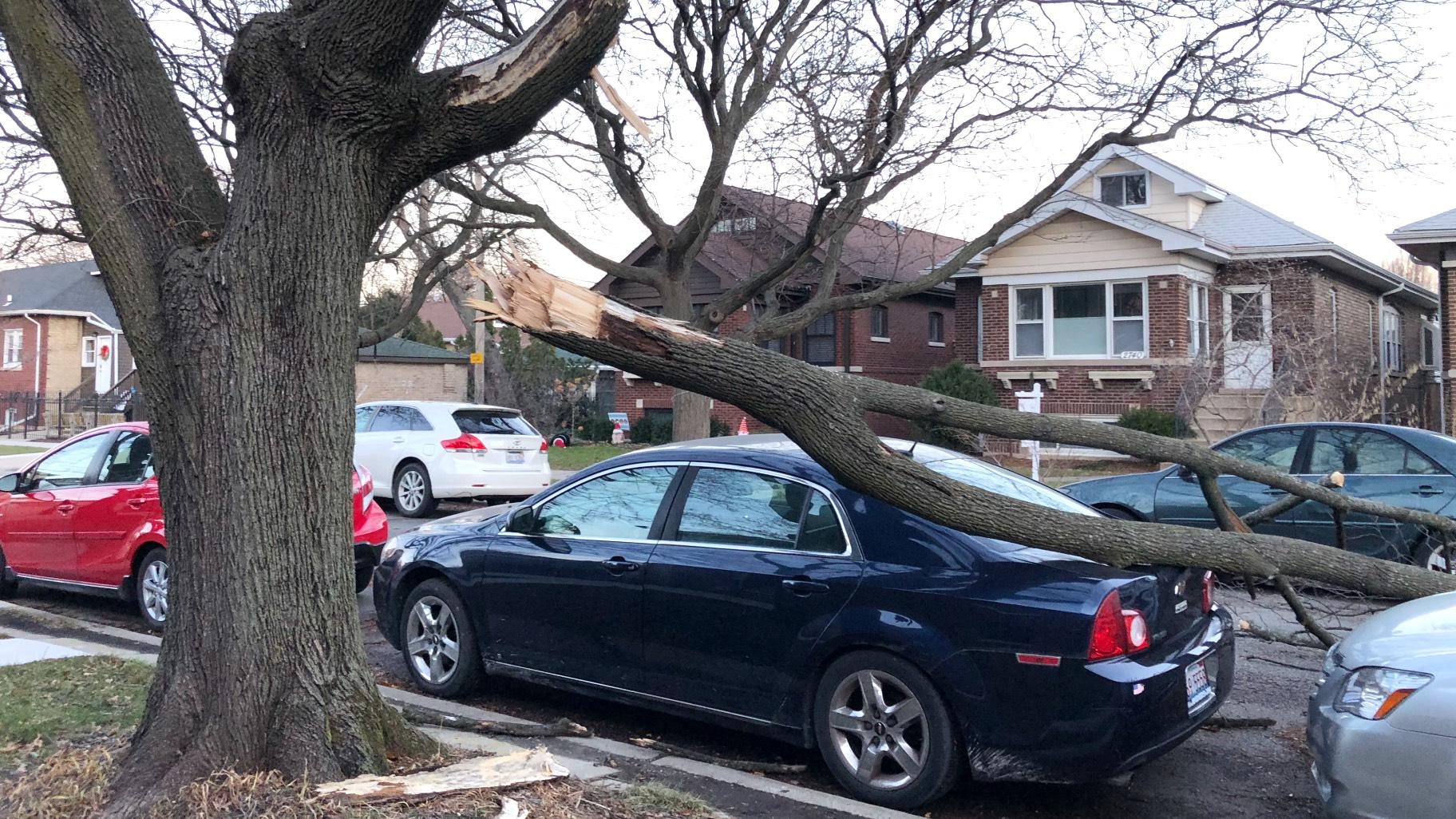 (Patty Wetli / WTTW News)
Eighteen months after Chicago City Council approved the creation of an Urban Forestry Advisory Board, Mayor Lori Lightfoot has finally announced her recommended appointees.
It's about time, some council members said.
Angela Tovar, Chicago's chief sustainability officer, presented the nominees on the mayor's behalf during Friday's meeting of the council committee on environmental protection and energy.
The six individuals all received unanimous support from the committee and now await a final stamp of approval at January's meeting of the full City Council.
They'll join seven department and agency heads (including Tovar) on the advisory board, which is expected to develop and update a management plan for the city's tree canopy, address inequities in the distribution of trees and educate the public, among other responsibilities.
Though committee members expressed enthusiasm for the board and the appointees, several questioned the delay in its formation.
"I was curious why it took so long for us to get here," Ald. Matt Martin (47th Ward) said.
Tovar cited a lengthy process to collect feedback on potential appointees and the city's stringent vetting requirements, as well as prospective candidates withdrawing their names.
Martin — whose ward includes parts of the Lincoln Square, Lakeview and North Center communities — said the advisory board's guidance and input had been sorely needed by his constituents in 2022 when residents pushed back against a Water Department plan to remove 42 mature trees during the course of a water main replacement project.
Ultimately, under pressure from the community, the Water Department reconfigured its plan, and zero trees were lost, but that was "an outcome we had to fight very hard for," Martin said.
Factor in lead line replacement on top of water main projects, and conflict between saving trees and upgrading infrastructure is likely to become even more acute, he said.
"We really need this board to hit the ground running," Martin said. 
Ald. Maria Hadden, whose 49th Ward was hard hit during 2020's tornado/derecho, said restoring the devastated tree canopy was top of mind with Rogers Park residents.
"I would hope we could have some engagement at the ward level," she told the board nominees.
Here are the recommended appointees:
Rolando Favela: has a master's degree in environmental science from DePaul University; serves as the green spaces lead for the Southwest Collective. Favela told council members one of his goals is to "mitigate misconceptions about trees" and to help people find the tree that's right for them.
Nuri Madina: a director with Blacks in Green, the Woodlawn-based organization focused on creating a sustainable square mile, with an emphasis on green infrastructure. Nuri is also a developer and contractor. 
Daniella Pereira: forester and certified arborist; vice president of community conservation at Openlands, which is a lead partner in the Chicago Region Trees Initiative. As an advisory board member, Pereira said, her role would be to bring more voices to the table, including the city's Treekeepers — "the eyes and ears of the urban forest" — and the city's foresters. "We have a ton of great foresters in Chicago, and I hope that we can take their knowledge ... and lift up urban forestry," which too often is treated like a public work rather than a science, she said.
Cindy Schwab: certified arborist and recruiting manager with Davey Tree. Increasing diversity within the forestry profession is a top goal of Schwab professionally, as is promoting tree equity. She said her interest in forestry was sparked by a research study on the benefits of trees at Cabrini-Green and called joining the advisory board a "full circle" moment.
James Semelka: municipal forestry consultant for Great Lakes Urban Forestry Management, where he works with several Chicago area communities, developing management plans, risk assessments and storm response plans. "I've been kicking around urban forestry for 45 years," said Semelka, whose resume includes stints as the village forester for La Grange and forestry superintendent for Oak Park. He's also a past president of the Illinois Arborist Association.
Jessica Vogt: associate professor of environmental science and studies at DePaul University (Favela is a former student); runs the Lab for Urban Forestry in the Anthropocene. Vogt's research focuses on the ways urban forestry can help cities and communities be more sustainable and resilient. She has a long-term study underway in northwest Indiana, and her lab will be launching a project on urban forest governance in Chicago.
In addition to the appointees, here are the ex officio government officials who comprise the remainder of the board:
— Chief Sustainability Officer, or successor position: Angela Tovar
— Chair of the Committee on Environmental Protection and Energy, or its successor: Vacant
— General Superintendent and Chief Executive Officer of the Chicago Park District: Rosa Escareño
— Deputy Commissioner for Forestry, Department of Streets and Sanitation: Malcolm Whiteside
— Commissioner of the Department of Transportation: Gia Biagi 
— Commissioner of the Department of Water Management: Andrea Cheng
— Commissioner of the Department of Planning and Development: Maurice Cox
The next City Council meeting is scheduled for Jan. 18.
Contact Patty Wetli: @pattywetli | (773) 509-5623 |  [email protected]
---