The decision by Mayor Lori Lightfoot's reelection campaign to send emails to Chicago Public Schools teachers asking them to encourage their students to volunteer to help Lightfoot win a second term as mayor – and earn class credit – may have violated federal law, according to the American Civil Liberties Union of Illinois.
As mayor of Chicago, Lightfoot appoints not only the superintendent of the Chicago Public Schools but also the members of the Chicago Board of Education. Chicago's ethics ordinance prohibits the use of public resources, including email accounts, for non-official purposes. The emails have also prompted responses from the Chicago Board of Ethics and the city's inspector general and the CPS inspector general.
The email from the campaign "is inappropriately coercive and raises First Amendment concerns. The Supreme Court has made clear that government officials cannot use their office or power to coerce participation or to punish for lack of participation in political campaigns," according to a statement by Colleen K. Connell, executive director of the ACLU of Illinois Thursday.
That principle was affirmed by the U.S. Supreme Court in 1995 as part of a case brought by the ACLU of Illinois, Connell said.
"Because the mayor has the ultimate authority over the Chicago schools, teachers may feel coercion in this ask from the mayor's campaign or fear negative consequences for lack of participation," Connell said.
Chicago Public Schools Inspector General Will Fletcher announced his office "has opened an investigation into this matter and we are currently gathering information to determine which, if any, policies have been violated."
Fletcher was appointed by Lightfoot in June 2020.
A spokesperson for Lightfoot's campaign could not be immediately reached by WTTW News after Fletcher's announcement.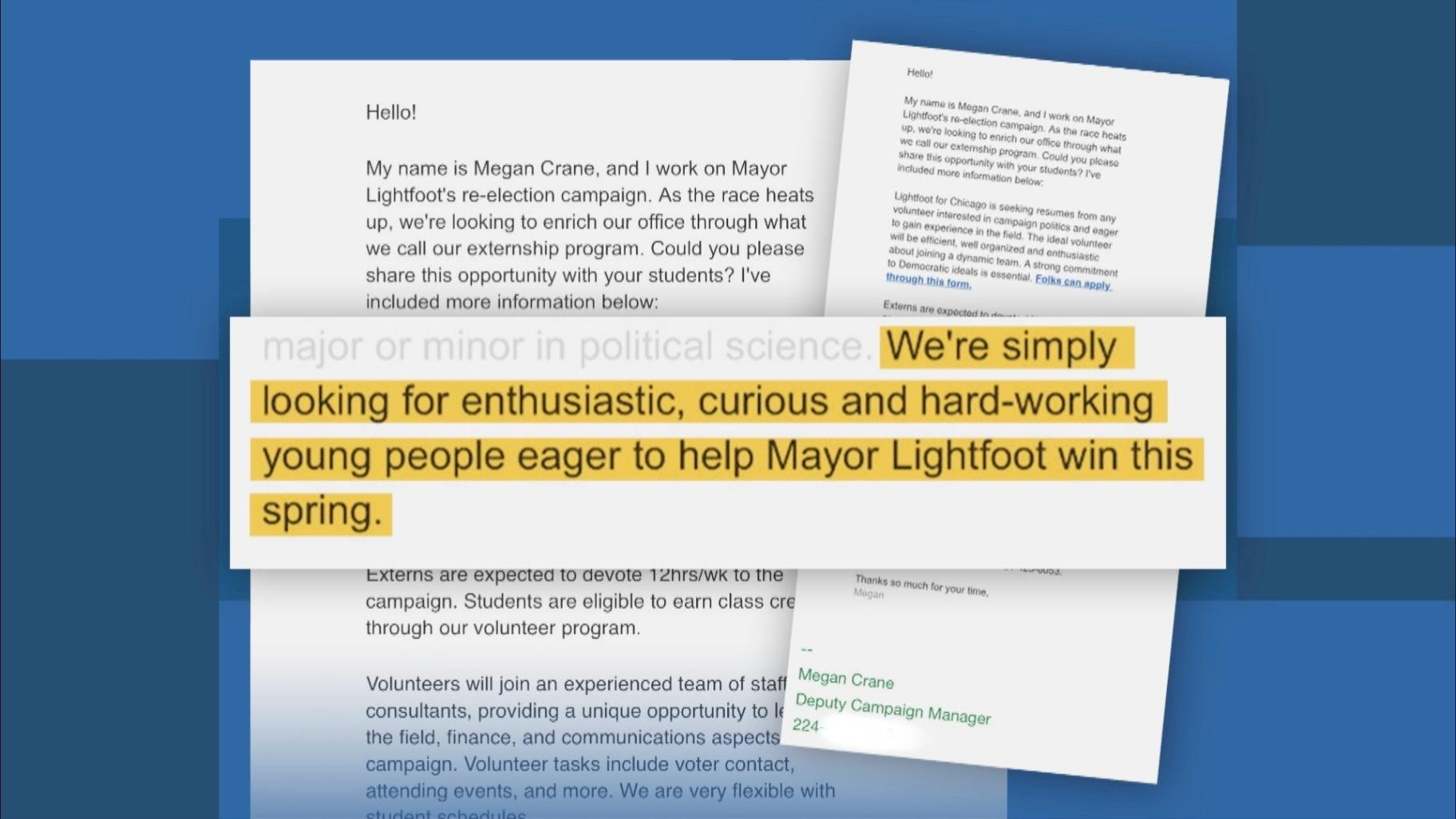 An illustration of an email sent to an unspecified number of CPS teachers from the Lightfoot campaign. (WTTW News)
Political patronage has long plagued all levels of Illinois government, with employees' jobs often hinging on their political activities in support of – or against – specific political candidates. The practice – which gave the Chicago machine much of its power – has been outlawed after a series of court decisions that forced government agencies to reform their practices.
Lightfoot ran for mayor in 2019 on a platform promising to root out corruption at City Hall and toughen the city's ethics regulations in an attempt to break the grip of the city's "corrupt political machine."
"It is striking that Mayor Lightfoot presented herself four years ago as a candidate who would eschew the old corrupt patronage ways of Chicago politics," Connell said. "Now her campaign employs practices that harken back to the worst days of the Chicago political machine." 
Connell called on Lightfoot to "personally and publicly renounce this infraction in strong, explicit language, making clear that no one in Chicago should feel compelled to participate in her re-election campaign. That is what is necessary in this moment."
Chicago's ethics ordinance prohibits the use of public resources, including email accounts, for non-official purposes.
The Chicago Board of Ethics will discuss the issue at its next meeting, scheduled for Jan. 23, executive director Steve Berlin told WTTW News.
However, the board could not find probable cause that Lightfoot's campaign violated the ordinance – which could trigger fines of up to $20,000 for each violation – until its February meeting because of changes to the city's ordinance demanded by Lightfoot to the way the Board of Ethics investigates elected officials suspected of violating the law.
While the board refers complaints that require a probe to the city's inspector general, it can act in cases that do not require a "factual investigation" and where an ethics violation is apparent and based on publicly available records. The board's rules require the elected official's name be kept confidential throughout the process.
The revised ordinance requires the board to notify the elected official in writing at least 10 days before the Board of Ethics could find probable cause that they violated the law, giving them a chance to refute the allegation and avoid public embarrassment.
A spokesperson for Inspector General Deborah Witzburg told WTTW News her office is "gathering information" about the emails and are in contact with the inspector general for Chicago Public Schools.
It was unclear how many Chicago teachers received the email from Megan Crane, whose LinkedIn page identifies her as the deputy campaign manager for Lightfoot. The message was sent to teachers' official work email accounts, which end in cps.edu.
The email says participants in the "externship program" would be expected to contribute 12 hours per week to the Lightfoot campaign and students could earn "class credit."
"We're simply looking for enthusiastic, curious and hard-working young people eager to help Mayor Lightfoot win this spring," according to an email first reported by WTTW News.
Those emails should not have been sent, the Lightfoot campaign acknowledged late Wednesday.
"All [Lightfoot for Chicago] campaign staff have been reminded about the solid wall that must exist between campaign and official activities and that contacts with any city of Chicago, or other sister agency employees, including CPS employees, even through publicly available sources is off limits. Period," the statement reads.
Contact Heather Cherone: @HeatherCherone | (773) 569-1863 | [email protected]
---