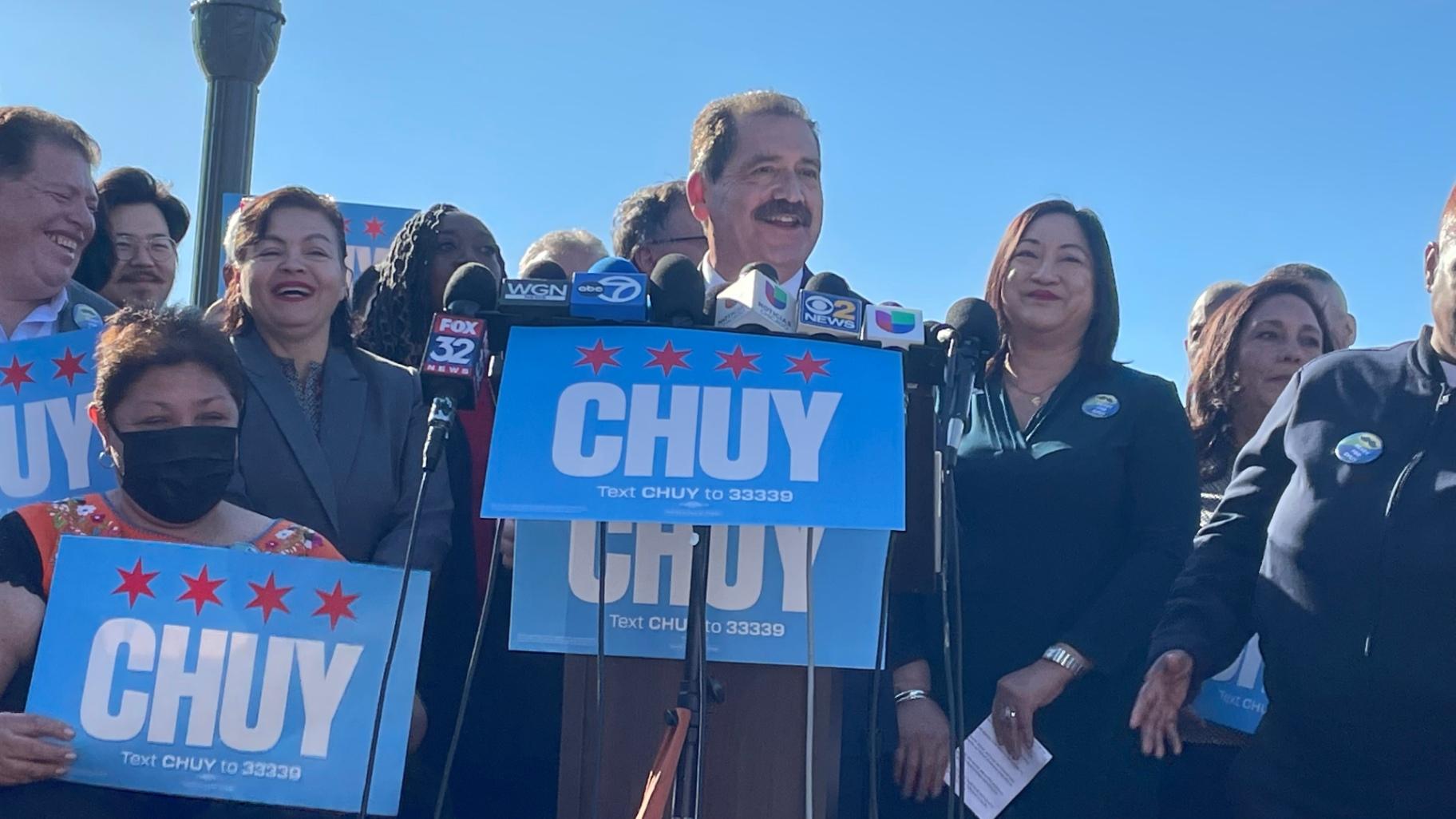 Flanked by supporters, U.S. Rep. Jesús "Chuy" García launches a campaign for mayor of Chicago. (Heather Cherone / WTTW News)
The International Union of Operating Engineers Local 150 backed U.S. Rep. Jesús "Chuy" García in the Chicago mayor's race, splitting from the Chicago Teachers Union and Service Employees International Union Local 73 and SEIU Healthcare Illinois.
The teachers' union and SEIU Local 73 and SEIU Healthcare Illinois backed Cook County Commissioner Brandon Johnson, and the decision by the powerful operating engineers' union will ensure that much of Chicago's labor community will be split between the two progressive candidates.
Local 150 President-Business Manager James Sweeney said García was the right person to lead Chicago at a "pivotal moment."
"Chicago is a world-class city with potential for enormous success and prosperity, but getting there will require a leader with experience bringing people together, facing difficult challenges, and delivering results," Sweeney said.
García said he was honored to have the support of the operating engineers' union, whose 23,000 members benefit from building and development.
"As the son of Teamsters and a former Teamster and Retail Garment Worker Union member, I know first-hand the difference good-paying union jobs make for working families," García said.
Ed Maher, the communications director for the operating engineers' union, said the labor organization backed García amid concerns that the "appearance of lawlessness" in downtown Chicago due to an increase in violent crime since 2019 would stymie development and force Chicago's economy to a grinding halt.
"If we don't get crime under control, everyone will suffer," Maher said, calling García "a results-oriented guy" who takes a "collaborative approach."
While Lightfoot's time in office has been marked by bruising and at times deeply personal clashes, she has defended those skirmishes as the cost of much-needed progress.
Lightfoot has not put the power of her office behind an ordinance backed by the operating engineers' union that would expand the number of crane operators in Chicago that would need a license.
While that proposal cleared a City Council committee, it has yet to get a full vote by the City Council.
The ordinance is needed to protect workers and members of the public from the collapse of a crane operated by unqualified workers, Maher said, adding that it was not the "driving force" behind the union's decision to back García's candidacy.
The operating engineers' union is often active in state and local politics. In the Democratic primary in June, it gave $1 million through its Fight Back Fund to Kari Steele, who challenged Cook County Assessor Fritz Kaegi's bid for re-election.
Kaegi, who defeated Steele, angered members of Chicago's business community by attempting to shift the city's property tax burden from homeowners to commercial property owners. The union blamed those changes for accelerating the declining pace of downtown development.
In the 2019 race for mayor, the operating engineers' union urged their members to vote against former U.S. Commerce Secretary Bill Daley.
Progressive groups in Chicago, including SEIU members and representatives of the teachers' union, worked for nearly a year to lay the groundwork to defeat Lightfoot by uniting behind a single candidate. Those groups endorsed Johnson, but that effort ran aground after García launched his bid for Chicago mayor.
García first ran for mayor in 2015, forcing then-Mayor Rahm Emanuel into a runoff. García also got into that race relatively late — taking the place of former Chicago Teachers Union President Karen Lewis after she was diagnosed with brain cancer. Lewis died in 2021.
In that race, García had the support of the teachers' union and much of organized labor in Chicago — groups that are now lined up behind Johnson.
Contact Heather Cherone: @HeatherCherone | (773) 569-1863 | [email protected]
---