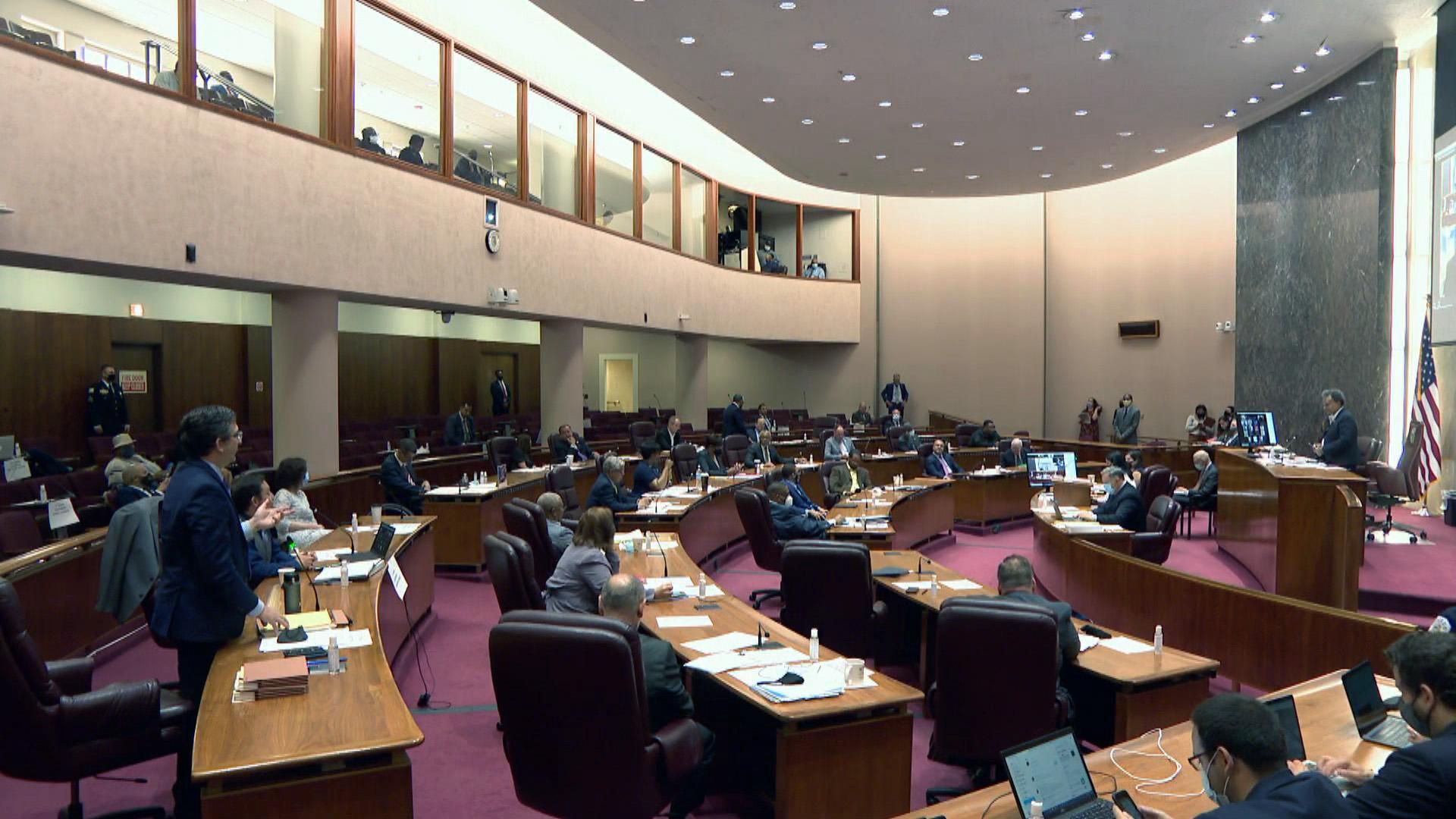 Members of the Chicago City Council meet on Wednesday, May 26, 2021. (WTTW News)
Just one member of the Chicago City Council lost their bid for a full four-year term on Tuesday, another sign that the power of incumbency remains a powerful force in Chicago politics.
After being appointed by Mayor Lori Lightfoot to replace former Ald. George Cardenas, 12th Ward Ald. Anabel Abarca lost to community organizer and social worker Julia Ramirez, who won more than 56% of the vote, according to unofficial returns from the Chicago Board of Election Commissioners.
In fact, none of the City Council members appointed by Lightfoot, who lost her bid for a second term as mayor on Tuesday, won their seats outright. Instead, Ald. Nicole Lee will face Anthony Ciaravino to hang on to the 11th Ward seat; 24th Ward Ald. Monique Scott will face Creative Scott in a runoff to represent North Lawndale; and 43rd Ward Ald. Timmy Knudsen will face Brian Comer for the right to represent Lincoln Park on the City Council.
Read More: Full 2023 Chicago Election Results
However, three incumbents were on the verge of being forced to defend their seats during an April 4 runoff: Ald. Daniel LaSpata (1st Ward); Ald. Chris Taliaferro (29th Ward); and Ald. Jim Gardiner (45th Ward).
But several other incumbents turned back challenges from candidates and are set to serve another four years on a City Council that will include at least a dozen new members, who will take seats left vacant by a wave of retirements and departures by veteran alderpeople.
La Spata was the only member of the City Council's five-member Democratic Socialist caucus not to win reelection, with Ald. Byron Sigcho Lopez (25th Ward), Ald. Rossana Rodriguez Sanchez (33rd Ward) and Ald. Jeanette Taylor (20th Ward) turning back fierce challenges. Ald. Carlos Ramirez Rosa (35th Ward), the dean of the caucus, was unopposed.
Sigcho Lopez defeated Aida Flores, a Chicago Public Schools principal, despite a massive onslaught from the Get Stuff Done PAC, an independent expenditure committee chaired by Michael Ruemmler, an adviser to former Mayor Rahm Emanuel. Not only did the political fund spend more than $120,000 to boost Flores' campaign, it spent more than $157,000 urging voters to reject Sigcho Lopez's campaign.
Michael Sacks, of Grosvenor Capital Management, one of Chicago's richest men and a frequent donor and adviser to Emanuel, gave the fund $1 million, record show.
"In the coming weeks, we'll be partnering with neighbors in wards across the city to help them elect champions that will deliver on their behalf," said Ron Holmes, a spokesperson for the political fund.
Flores also had the support of U.S. Rep. Jesús "Chuy" García, who finished fourth in the race for mayor. However, García helped Jeylu Gutierrez win the race in the 14th Ward, where she defeated a candidate aligned with retiring and indicted Ald. Edward Burke.
The Get Stuff Done PAC was more successful in the 48th Ward, where it spent nearly $159,000 to oppose the candidacy of Nick Ward, who was the first City Council challenger endorsed by the Chicago chapter of the Democratic Socialists of America. Ward finished in third place, and did not advance to the runoff.
Ald. Andre Vasquez (40th Ward) also won on Tuesday. Despite being a Democratic Socialist, Vasquez did not seek the endorsement of the Chicago DSA, and is not a member of the City Council's Socialist Caucus.
Including Ward, five City Council challengers endorsed by Chicago DSA lost. However, Angela Clay, who was endorsed by the group, advanced to the runoff in the 46th Ward and will face Kim Walz, who worked for U.S. Rep. Mike Quigley.
More successful was the slate of candidates endorsed by United Working Families, a political organization closely aligned with the Chicago Teachers Union. Of the 17 candidates it backed, 13 won their races outright or are headed to a runoff, including Clay in the 46th Ward, Ramirez in the 12th Ward and Jessie Fuentes in the 26th Ward.
The group also endorsed Brandon Johnson in the race for mayor, helping him win a spot in that race's runoff.
Fuentes defeated Julian "Jumpin'" Perez, a retired House music DJ who had the endorsement of the Fraternal Order of Police, Lodge 7, the police union, and 26th Ward Democratic Committeeperson Angee Gonzalez Rodriguez. Perez used $15,620 from the union's PAC to send a flyer to tell voters Fuentes was arrested for battery in September 2008 as a 17-year-old.
Perez was one of 12 candidates backed by the police union to lose their races.
Along with Ciaravino, a Chicago Police officer and police union member, who will face Lee in the 11th Ward contest, Police Officer Peter Chico will face Ana Guajardo in the runoff to represent the 10th Ward, which includes Hegewisch and East Side.
The police union also endorsed Bennett Lawson, who was unopposed in his bid to replace his retiring boss, Ald. Tom Tunney in Lakeview's 44th Ward.
In all 14 races are poised for a runoff on April 4, as of the latest returns:
1st Ward: Daniel La Spata v. Sam Royko
4th Ward: Lamont Robinson v. Prentice Butler or Ebony Lucas
5th Ward: Desmond Yancy v. Martina Hone
6th Ward: William Hall v. Richard Wooten
10th Ward: Peter Chico v. Ana Guajardo
11th Ward: Nicole Lee v. Anthony Ciaravino
24th Ward: Monique Scott v. Creative Scott
29th Ward: Chris Taliaferro v. CB Johnson
30th Ward: Jessica Gutierrez v. Ruth Cruz
36th Ward: Gilbert Villegas v. Lori Torres Whitt
43rd Ward: Timmy Knudsen v. Brian Comer
45th Ward: Jim Gardiner v. Megan Mathias
46th Ward: Angela Clay v. Kim Walz
48th Ward: Leni Manaa-Hoppenworth v. Joe Dunne.
Contact Heather Cherone: @HeatherCherone | (773) 569-1863 | [email protected]
---