The northern long-eared bat has now gained admission to a club no one wants to join: the Endangered Species List.
In announcing its ruling Tuesday, the U.S. Fish & Wildlife Service pointed to the catastrophic population loss the bat has suffered ever since a deadly fungus was first detected back in 2007.
"White-nose syndrome is decimating cave-dwelling bat species like the northern long-eared bat at unprecedented rates," said U.S. Fish and Wildlife Service Director Martha Williams in a statement.
It's a decline witnessed first-hand by Tara Hohoff, coordinator of the Illinois Bat Conservation Program, which conducts research, monitoring and outreach.
Since the program's inception in 2016, the program's researchers have conducted annual surveys of the state's bats, using a technique known as mist netting. In all that time, the team has netted just one northern long-eared bat compared with 24 Indiana bats, a species that's been on the endangered list since the 1960s. 
"The northern long-eared bat is definitely very rare on the landscape," Hohoff said. (The little brown bat is also being considered for an endangered listing. Only three have been netted, which is concerning, Hohoff said.)
Once hoped-for containment of white-nose syndrome is in the rear view. The northern long-eared bat now faces extinction, suffering losses of 97% to 100% in affected areas, with no cure yet available, according to the wildlife service. The goal moving forward will be to reduce the impacts of the disease and protect the survivors if there's a chance of the species recovering.
The northern long-eared bat (Myotis septentrionalis) is one of 13 bat species native to Illinois. Its range is statewide in the summer but in winter the bat heads to southern Illinois, where it holes up in caves to hibernate, said Hohoff.  
While the endangered listing is almost entirely due to the devastating impact of white-nose syndrome, habitat conservation will be part of the plan to stem the species' decline, particularly for remaining healthy northern long-eared bats, officials said
National wildlife refuges in Illinois, including Equimon and Chautauqua, provide important habitat for the bat, which prefers large, contiguous tracts of forests. The federal endangered listing will offer increased protections outside of these preserves, as well, such as making it illegal to chop down the bat's known roost trees, Hohoff said.
The females of the species, she explained, form maternity colonies when pregnant and lactating. A primary roost can consist of 100 to 200 bats, with the tree chosen for its sun exposure, peeling bark and cavities. Bats will return year after year to a tree that meets their criteria. "There's a lot that goes into finding these roost trees," she said. 
Interestingly, the lone northern long-eared ever found by Hohoff and her colleagues was netted in the Chicago region, where it found the habitat it needed in Cook County forest preserves, along the area's waterways.
Bats like water, she said, because food (in the form of insects) is plentiful and rivers make for great flight corridors.  
"Chicago is great for bats that like forests," Hohoff said.
In addition to forestry, Infrastructure and wind energy projects could also be affected by new rules that will accompany the endangered listing. 
"The Service has a strong foundation in place for working with stakeholders to conserve listed bats while allowing economic activities within the range to continue to occur," Fish and Wildlife Service said. 
What is white-nose syndrome?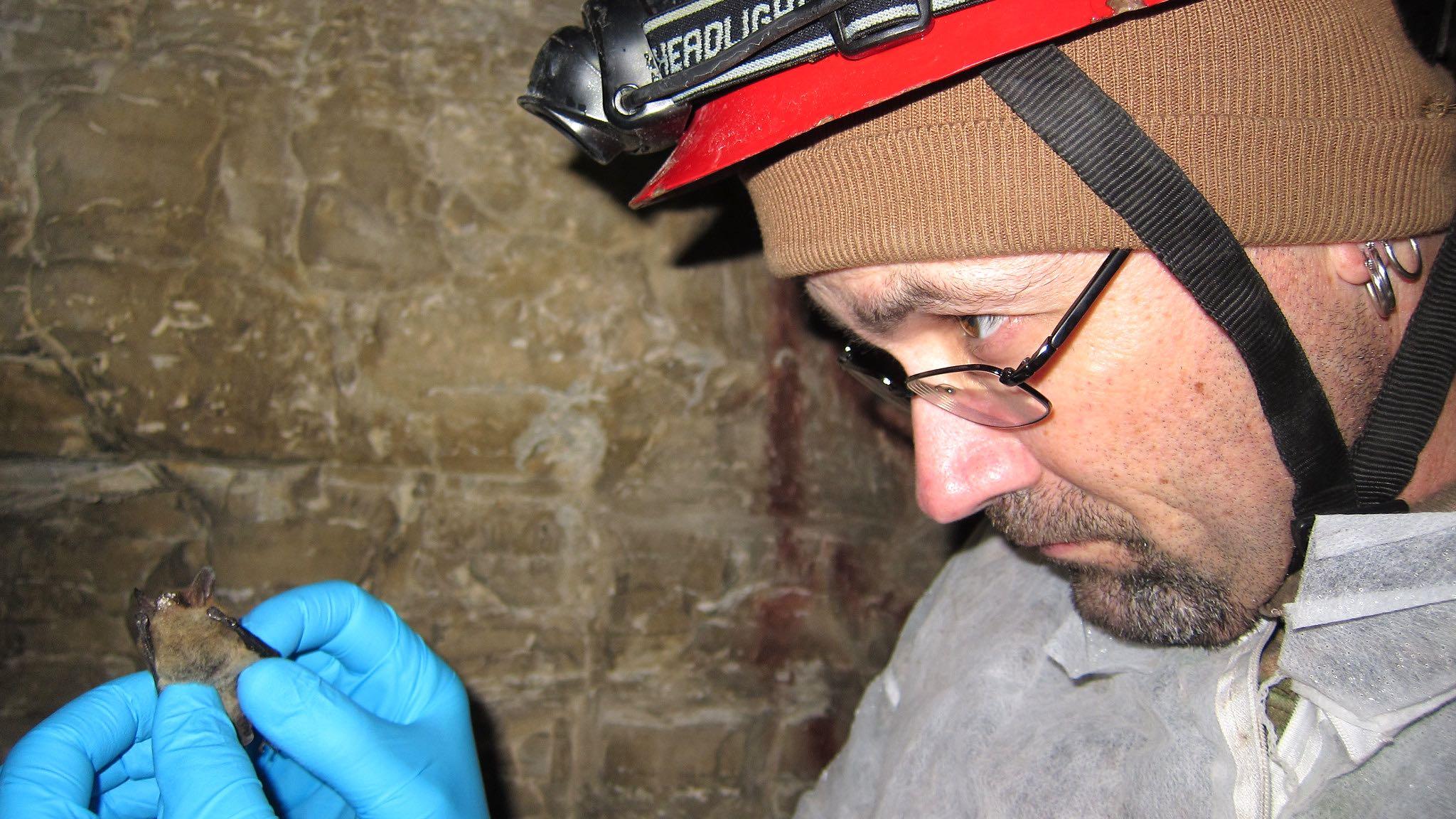 A biologist with the Illinois Department of Natural Resources examines a northern long-eared bat with telltale signs of white-nose syndrome, Found in 2013 in LaSalle County. (University of Illinois / Steve Taylor)
White-nose syndrome is cause by a fungus (Pseudogymnoascus destructans, or Pd for short) that was unknown until scientists came across affected bats in a cave in 2007 near Albany, N.Y. (Scientists later obtained photos, taken in 2006, of what appeared to be affected bats.)
After identifying Pd, researchers also found it in bats in Europe and Asia, and strongly suspect it was inadvertently brought to the U.S. from Europe, perhaps hitchhiking on clothing or outdoor gear. It was first confirmed in Illinois in the winter of 2012-13.
The fungus doesn't seem to have the same dire consequences for European and Asian bats. Even in the U.S., some species of bat show few if any symptoms when they pick up the virus. It hasn't been found in any other animal, including humans.
The hardest hit are hibernating bats such as the little brown bat and the northern long-eared, which spend their winters in caves or abandoned mines. Pd thrives in these cold, dark, damp places and attacks the bare skin of bats — muzzles and wings — while they hibernate. The fungus' resemblance to a white fuzz, often on a bat's nose, led to the syndrome's name.
Afflicted bats will wake from hibernation, expending precious energy and burning fat they need to survive the winter. 
The White-nose Syndrome National Response Team is leading the charge to discover a vaccine or other treatment for white-nose syndrome.
Though there's been research into spraying fungicide into caves, the consequences for other species and organisms would be dire.
"Caves have a very sensitive ecosystem," Hohoff said. "We don't want to throw off the balance of these caves."
Data coming from the eastern U.S. seems to suggest that among the worst affected species, a small percentage are surviving white-nose syndrome. Ideally, these individuals would reproduce and pass along to their offspring whatever immunity they've developed, said Hohoff. The issue, she added, is that bats only have one pup a year, so it would take decades for the population to recover.
"My personal opinion is that we're going to have to wait it out," she said.
In the meantime, the general public has a role to play in the species' survival. Among the actions the average person can take:
— Learn about bats ecosystem benefits
— Decontaminate clothes and gear if you're prone to visit places where bats hang out
A northern long-eared bat showing signs of white-nose syndrome. Found in LaSalle County, Ill., in 2013, during a research expedition by the Illinois Department of Natural Resources. (University of Illinois / Steve Taylor)
What's at stake?
If the northern long-eared bat goes the way of the passenger pigeon or T. Rex, what will be lost?
For one, bats provide significant economic benefits to the agriculture sector, which is particularly important in a state like Illinois, Hohoff said.
Specifically, they've been proven to eat agricultural pests including the corn earworm. And bats also consume massive amounts of mosquitoes.
It's what we don't know about bats that Hohoff finds most intriguing. 
"I see bats all the time. There are so many bats worldwide, there's so much diversity, and there's still so much we have to learn. There's still so much we don't know, like why they're so long-lived," she said. "As a scientist, it's so cool to work with a species where there's still so much to learn."
This article originally published Nov. 29 and has been updated.
Contact Patty Wetli: @pattywetli | (773) 509-5623 |  [email protected]
---