Video: Endangered Bowmouth Guitarfish enjoy their new surroundings at Shedd Aquarium. (Sam Cejtin / Shedd Aquarium)
---
A cross between a shark and a ray, the fantastically named Bowmouth Guitarfish is a member of the most threatened family of marine fish on the planet. Three female pups — orphaned when their pregnant mom was caught in a fishing net off Taiwan — have found safe harbor at the Shedd Aquarium where they've just joined the Wild Reef exhibit.
"We are grateful for the opportunity to provide sanctuary for these rare and elusive animals to thrive here at Shedd while also sharing their story with the nearly 2 million guests we welcome each year," Noel Heinsohn, manager of Wild Reef, said in a statement.
Shedd is one of several institutions that took in pups from the same litter. The goal is to work collectively on a conservation and recovery plan for the species, which the International Union for the Conservation of Nature estimates has lost 80% of its population in less than 50 years.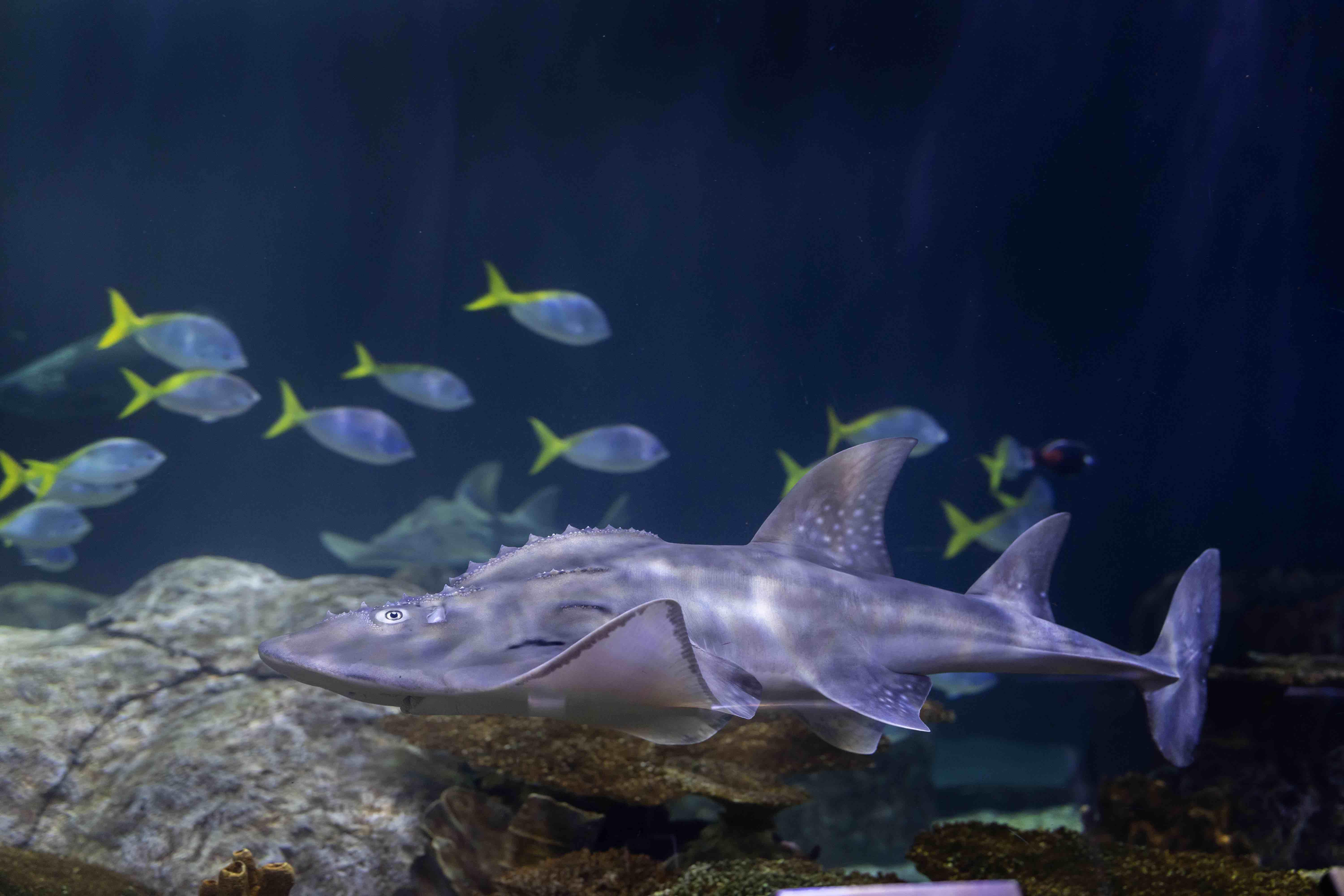 An endangered Bowmouth Guitarfish, one of three 11-month-old pups that has arrived at Shedd Aquarium. (Brenna Hernandez / Shedd Aquarium)
Bowmouth Guitarfish (Rhina ancylostoma) also goes by the name Shark Ray, for obvious reasons once you see one up close. They have the head of a ray and the tail of a shark, with a round snout shaped like a bow. Because its gills are on the underside of its body, the Bowmouth is classified as a ray.
Its quirkiest feature: spiky thorns found above the eyes and along the back and shoulders.
But the traits that make the Bowmouth Guitarfish so unusual are also why it's so endangered. Its fins are among the most highly valued in the international shark fin trade, and it's also hunted for its thorns, which are made into jewelry. Though the ray is covered by the Convention on International Trade in Endangered Species of Wild Fauna and Flora (CITES), illegal trade continues, according to a report by National Geographic.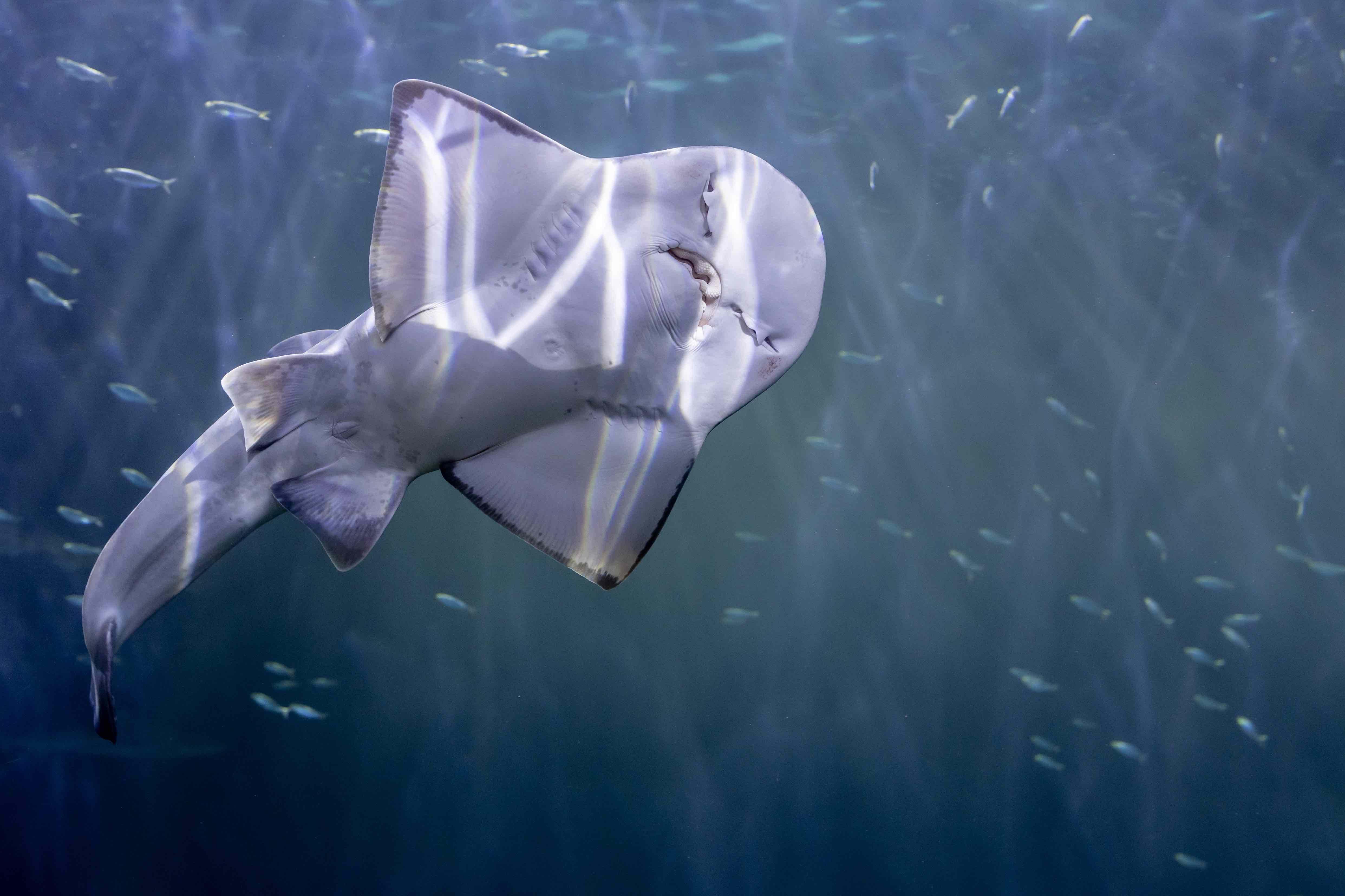 Bowmouth Guitarfish are native to the Indo-Pacific and belong to the wedgefish family, thought by some to be a missing link between sharks and rays. (Brenna Hernandez / Shedd Aquarium)
Shedd's 11-month-old pups are all female and range in size from 4.5- to 5-feet long and weigh between 79 and 85 pounds. Bowmouth can grow up to 8 feet in length.
"Apart from the wonder they inspire for guests, caring for this critically endangered species offers a unique opportunity to learn about their needs, experience their spectacular behaviors and better advocate for their protection in the wild," Heinsohn said.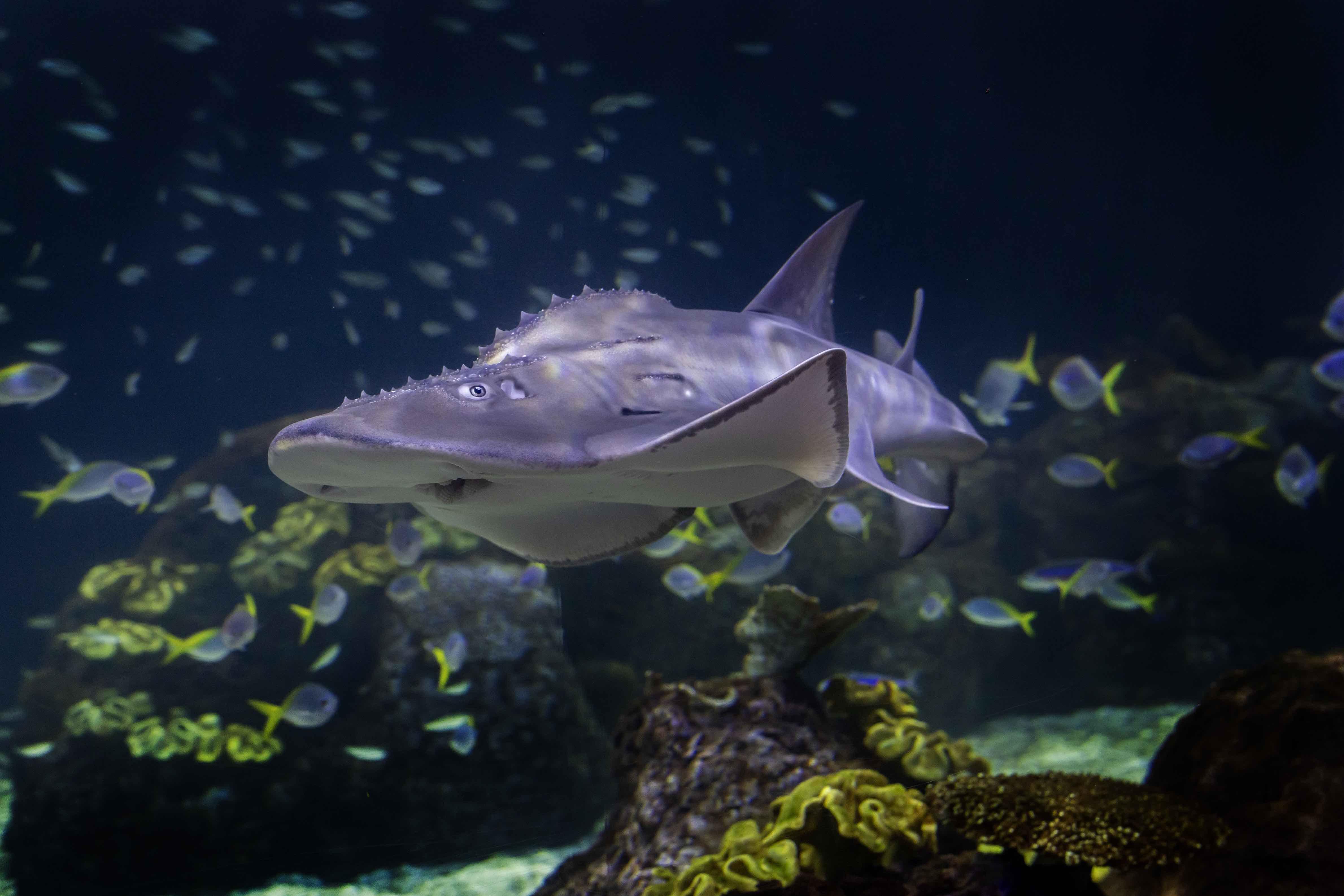 The Bowmouth's spiky thorns are a defense against predators, but they're also one reason why the species is being hunted to near extinction. The thorns are used to make rings and bracelets. (Brenna Hernandez / Shedd Aquarium)
Contact Patty Wetli: @pattywetli | (773) 509-5623 |  [email protected]
---