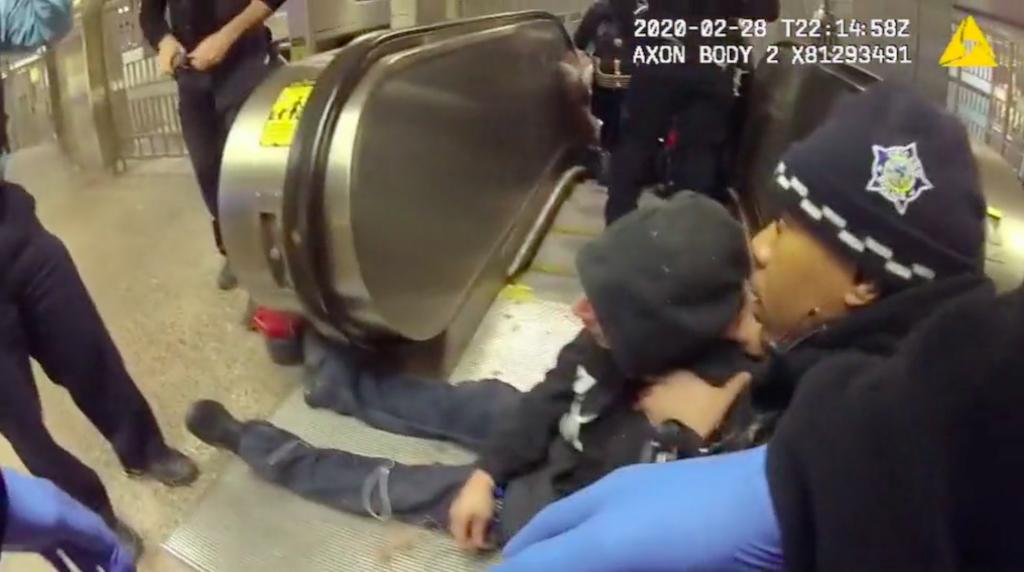 Chicago police officers respond to Ariel Roman, who is seated on the ground moments after he was shot inside the Grand Red Line station on Feb. 28, 2020. (Civilian Office of Police Accountability)
A Chicago police officer has been found not guilty of aggravated battery and official misconduct after she was seen on video shooting an unarmed man during a struggle in a busy Red Line station in 2020.
According to the Cook County State's Attorney's Office, Cook County Judge Joseph Claps issued the verdict Tuesday in the bench trial of Officer Melvina Bogard, who was charged last year with the nonfatal shooting of Ariel Roman inside the Grand Red Line station.
"Finally some common sense coming out of (the Leighton Criminal Court Building)," said John Catanzara, president of the Fraternal Order of Police Lodge 7, in an email to WTTW News following the verdict. "When police actions are judged with facts by legal minds, generally, this is the outcome."
Body camera footage released by the Civilian Office of Police Accountability and other witness videos published online show two officers — Bogard and her partner Bernard Butler — struggling with Roman at the base of a staircase inside the Grand CTA station on Feb. 28, 2020.
Minutes before the shooting, officers riding the same train as Roman saw him walking from one subway car to another, which is illegal under city ordinance. Cook County prosecutors previously said Butler and Bogard approached Roman and asked him to leave the train and then repeatedly asked to see his identification.
Roman turned away from the officers, at which point Butler grabbed him to try and turn him back around, which allegedly led to a physical confrontation. Both officers tried to use their tasers on Roman, but they had no effect, prosecutors said.
The witness' video shows Butler lying on top of Roman at the base of an escalator and struggling to keep him still. Roman can be heard saying, "I did nothing to you," as the officer keeps telling him, "Stop resisting." As they stand up, Bogard tries to pepper-spray Roman's face before telling him to show his hands so they can handcuff him.
Butler can be heard in the video telling Bogard multiple times to shoot Roman.
With Roman still struggling to get away, Bogard tells Roman to show his hands, but he instead wiped his eyes and stepped toward Bogard, prosecutors said, at which point she fired her weapon, striking Roman in the chest. Roman then attempted to flee up the escalator and Bogard, who was in pursuit, allegedly fired a second shot, striking Roman in the buttocks.
Roman survived his injuries.
In a statement, the Cook County State's Attorney's Office said it "respects the court's decision."
"As with every case, our office prosecutes cases based on the facts and evidence," the office said. "The CCSAO will continue prosecuting cases based on the law as we strive to increase safety in our communities across Cook County."
Bogard's attorneys have long argued that the officer acted in self-defense and followed the CPD's use of force guidelines "by the book."
But Police Superintendent David Brown has moved to have both Bogard and Butler fired from the department. Their case remains before the Chicago Police Board — the body that has authority to fire officers — with a hearing scheduled for next month.
Asked about the verdict at an unrelated press conference Tuesday afternoon, Brown said he would "reserve comment" on the judge's decision, though he added: "We thought it was quite appropriate to separate the officers from the police department based on the violations identified by COPA."
Contact Matt Masterson: @ByMattMasterson | [email protected] | (773) 509-5431
---