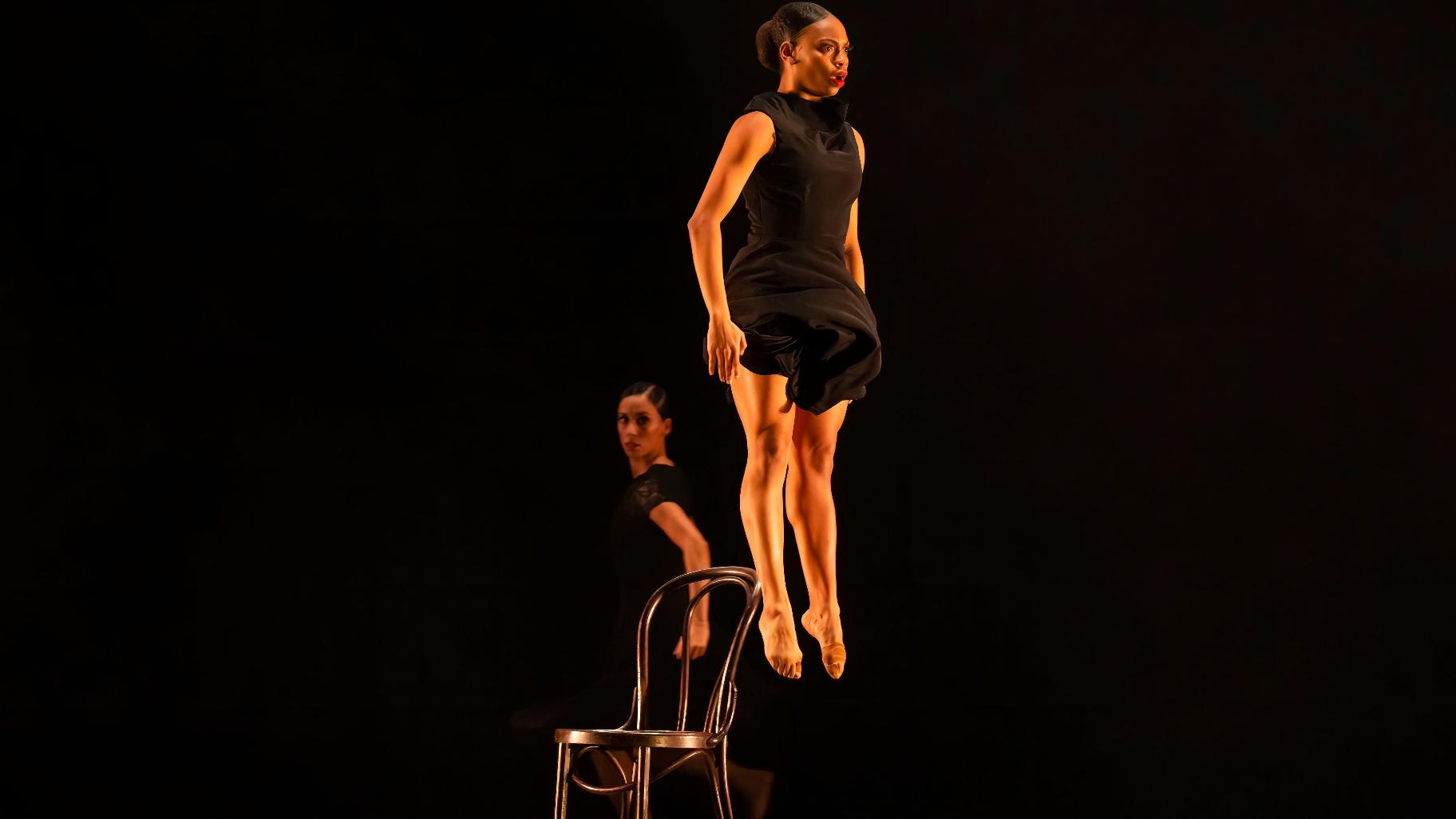 Taylor Ramos, left, and Emani Drake in "Vespers." (Credit: Todd Rosenberg)
It was a one-night-only concert but Chicago's Deeply Rooted Dance Theater commanded the vast stage of the Auditorium Theatre Nov. 5 in a most impressive way. 
In addition to the bravura performances of its dancers, the exuberant works of a number of different choreographers and the excellent group of musicians that gathered for its grand finale, the company attracted an impressively vast, immensely enthusiastic audience.
Co-founded in 1996 by Creative and Executive Director Kevin Iega Jeff and Associate Artistic Director Gary Abbott, and led by Artistic Director Nicole Clarke-Springer, Deeply Rooted has become a major force in Chicago dance, with a repertoire that is a seamless hybrid of modern, classical and African American technique. It also offers a wide range of classes for dance enthusiasts of all ages, and is the recipient of $4.5 million in state, city and private support that will enable it to build a sleeky modern, 30,000-square-foot dance center on the South Side of Chicago that is scheduled to open in 2024.
But back to the company's program at the Auditorium. It opened with "Vespers," a masterful work for six female dancers choreographed by Ulysses Dove, a wonderfully gifted dancer and choreographer with the Alvin Ailey company who sadly died in 1996 at age 49.
It captured the intense interplay among these women (costumed in simple black dresses by Lea Umberger), while being set to an intriguing electronic score (Mikel Rouse's "Quorem"). A program note about the work stated that it was "inspired by Dove's memories of his grandmother's place of worship." But as the impeccable dancers (Emani Drake, Heather Cagle, Rebekah Kuczma, Alyssa McCallum, Taylor Ramos and Nyemah Stuart) interacted with each other, as well as with a set of 12 straight-back chairs, the relationships, tensions, synchrony and feverish energy suggested by their movement made a wide range of interpretations possible.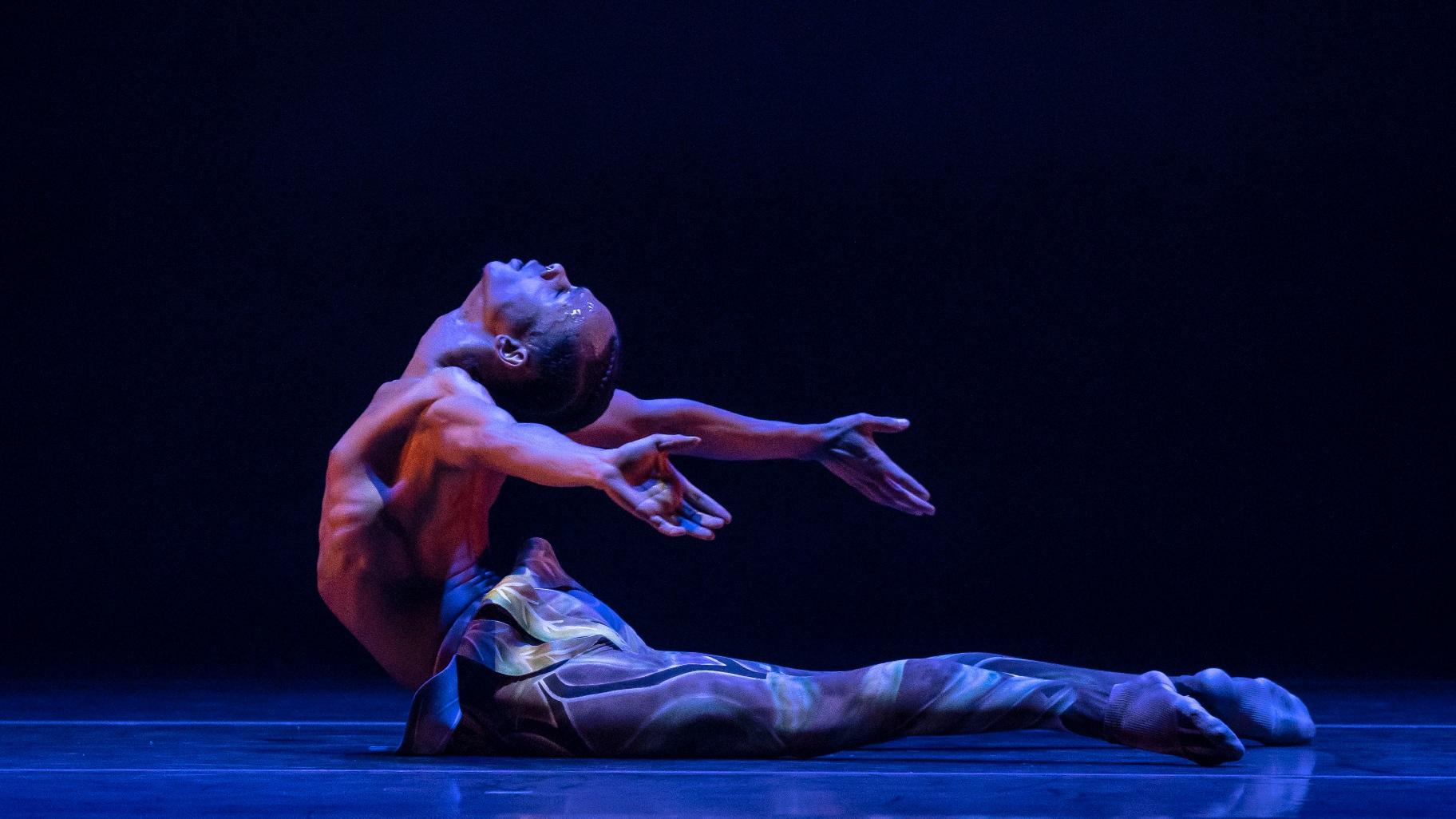 Ahmad Hill dances in "Aisatnaf" from Deeply Rooted Dance Theater. (Credit: Todd Rosenberg)
The second work on the program was Kevin Iega Jeff's "Aisatnaf" (the title can be translated as "a person full of love"), an exquisite solo for a male dancer set to music by Lee Holdridge ("Ballet Fantasy for Strings and Harp"). It was performed to riveting effect by Ahmad Hill, whose faunlike balletic technique and modern spirit was pure, unadulterated poetry in motion.
Then came an excerpt from "Madonna Anno Domini." Choreographed by Clarke-Springer, and set to the music of Culoe De Song and Aretha Franklin (along with a bit of oratory by Barack Obama), it was performed in various configurations by the full ensemble and company apprentice members. The exhilarating work, which captured a spirit of democracy, seemed ideally timed as a prelude to Tuesday's Election Day.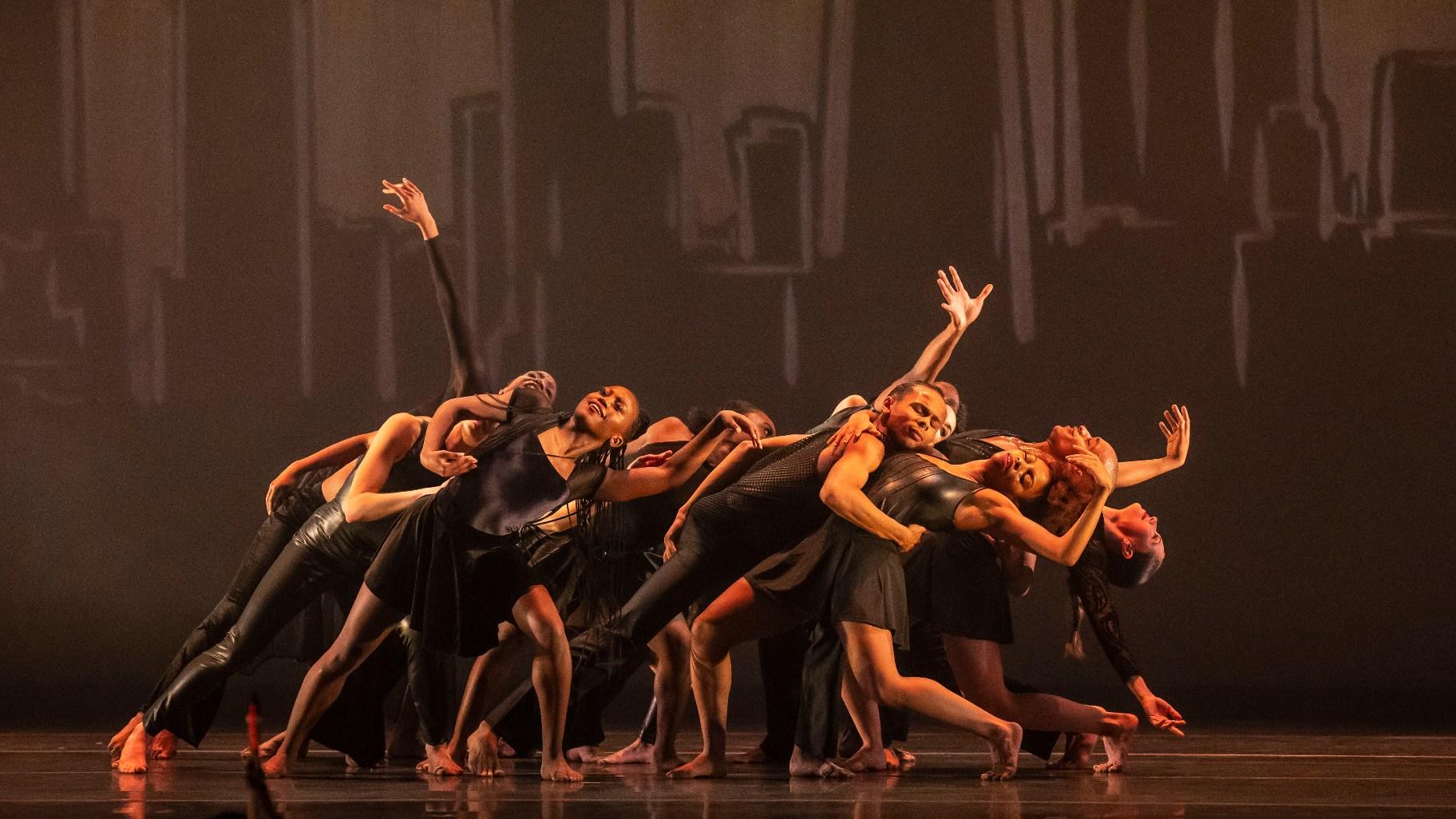 Deeply Rooted Dance Theater dancers perform "Q After Dark." (Credit: Todd Rosenberg)
The second half of Deeply Rooted's program was devoted entirely to "Q After Dark," a grand-scale homage and celebration of Quincy Jones, the legendary musician, songwriter and producer who was born in Chicago 89 years ago.
Choreographed by Clarke-Springer, Abbott, Iega Jeff, and Joshua L. Ishmon — and danced with great spirit and style by the company, which paraded down the aisles on their way to the stage — it featured a sensational live orchestra led by Sam Thousand, along with vocalists Tina Jenkins Crawley and Ameerah Tatum (singing a slew of Jones' hit songs), and the poetry of Khari B (whose words, unfortunately, were not clearly audible despite a microphone). Not surprisingly, the audience was dancing in its seats to Jones' many widely popular songs.
The one thing I hope Deeply Rooted develops in the future is a work with a more intensive narrative element than usual, perhaps a piece based on a novel or play by a Black writer like James Baldwin or Lynn Nottage. Such a work might even be the ideal way to open its first season at its new home in a couple of years. Meanwhile, there is a great deal to enjoy in the company's already richly dramatic dancing.
Follow Hedy Weiss on Twitter: @HedyWeissCritic
---