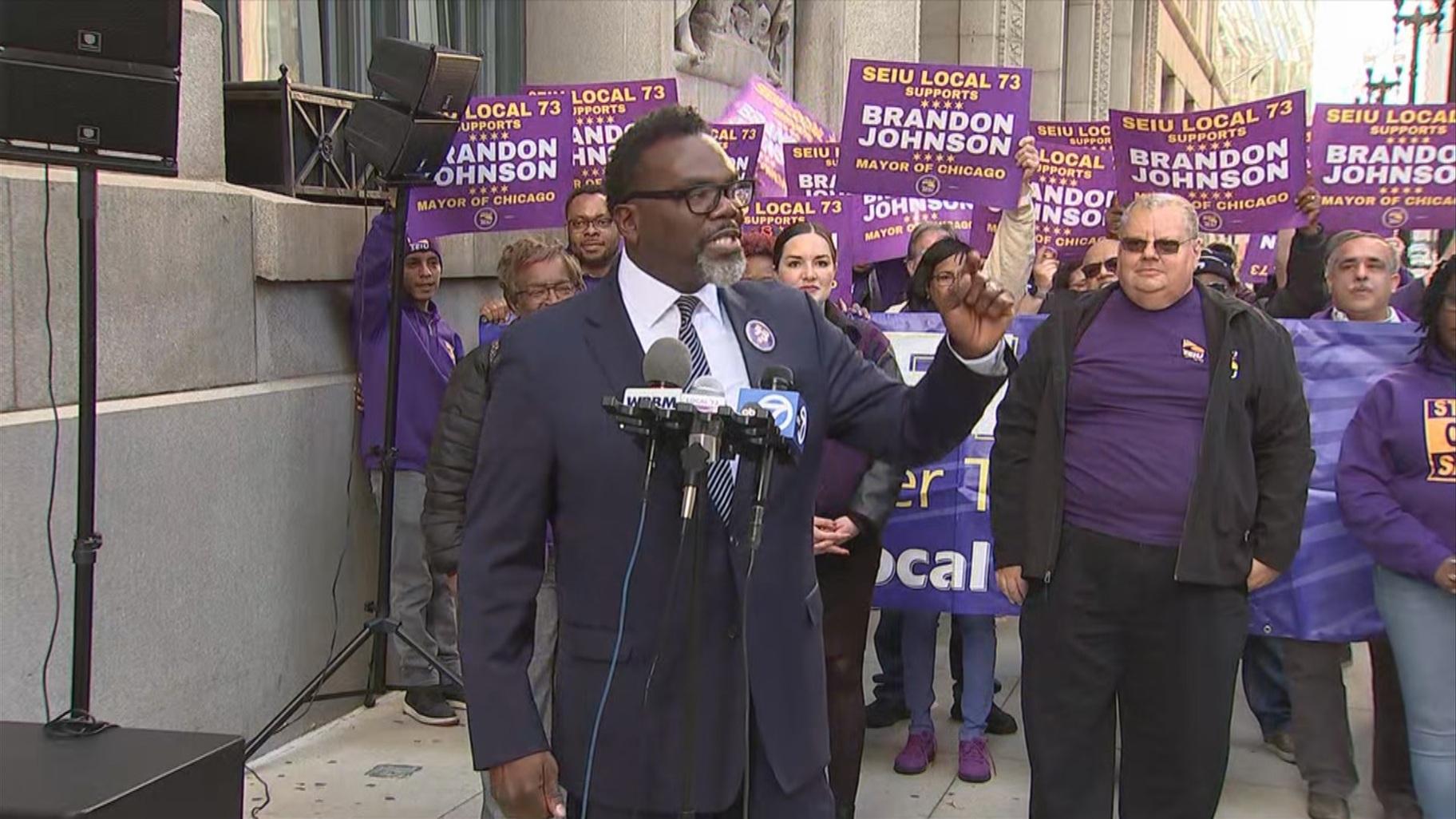 Brandon Johnson speaks after receiving the backing of SEIU Local 73 in his bid for mayor on Nov. 9, 2022. (WTTW News)
The Service Employees International Union Local 73 endorsed Brandon Johnson in the Chicago mayor's race on Wednesday, joining the Chicago Teachers Union in backing his bid to deny Mayor Lori Lightfoot a second term.
The backing of SEIU Local 73 — which counts 16,000 Chicago public sector workers among its membership — alongside the 20,000-member teachers' union ensures that Johnson will have a motivated base of well-funded supporters to take on Lightfoot in the Feb. 28 election.
Dian Palmer, the president of SEIU Local 73, said Johnson was the "progressive candidate who will unite a multiracial, working-class coalition to unify Chicago into a city that works for all people."
Johnson, a paid organizer for the teachers' union who was re-elected to the Cook County Board of Commissioners on Tuesday, said he was "honored and humbled" to have SEIU Local 73's endorsement.
"The SEIU Local 73 voice and labor matter because not only are these frontline workers, but they are also Black and Brown women, and heads of households and communities all across our city, who have led fights against injustice and for clean, safe schools and fully funded public services," Johnson said.
---
Read More: Race for Chicago Mayor: Who's In and Who's Out for 2023 Election
---
Lightfoot has long been at odds with the teachers' union — the city's most politically powerful labor organization, which has close ties to SEIU Local 73. In 2019, both unions endorsed Cook County Board President Toni Preckwinkle, who lost every ward in the city to Lightfoot. 
In the 2015 mayor's race, the teachers' union — with its members usually dressed in red — and SEIU Local 73 — with its members dressed in a complimentary shade of purple — backed then-Cook County Commissioner Jesús "Chuy" García in his unsuccessful race against now former Mayor Rahm Emanuel. García was re-elected to the U.S. House of Representatives Tuesday.
Lightfoot has long predicted that the Chicago Teachers Union would field a progressive candidate in 2023 in an attempt to unseat her — and has said she is ready to defend her handling of the COVID-19 pandemic, rooting out corruption at City Hall, fighting crime and boosting public investment on the South and West sides.
Lightfoot's campaign declined to comment about the SEIU Local 73 endorsement.
As mayor, Lightfoot has touted her support for measures designed to protect union members and boost organized labor, including a measure that requires most large Chicago employers to give their workers two weeks' notice of their schedules in an effort to reduce the stress caused by unpredictable shift work. Lightfoot also supported a union-backed push to hike the hourly minimum wage to $15 in Chicago.
As a member of the Cook County Board of Commissioners, Johnson is best known for authoring a measure that sought to prevent landlords from refusing to rent housing to people with certain criminal records. Johnson said the measure was designed to help county residents returning from jail or prison rebuild their lives. 
Johnson also authored a nonbinding resolution in the summer of 2020 that called for county officials to "redirect funds from policing and incarceration to public services not administered by law enforcement that promote community health and safety equitably" after the police murder of George Floyd touched off a wave of social justice protests and unrest.
Johnson had $71,000 in his campaign account as of Sept. 30, according to records filed with the Illinois State Board of Elections. Since Johnson began exploring a bid for mayor, he has reported more than $277,000 in contributions, all from labor groups, including $1,000 from the Chicago Federation of Labor, according to records. The American Federation of Teachers has pledged $1 million to Johnson's campaign.
Progressive groups in Chicago have been working for 10 months to lay the groundwork to defeat Lightfoot by uniting behind a single candidate. Those groups endorsed Johnson, but that effort has been complicated by García's public consideration of another bid for Chicago mayor.
García and could announce campaign for mayor as early as Thursday, the 40th anniversary of former Mayor Harold Washington's announcement that he would run to be the first Black mayor of Chicago. García, who was born in Mexico, would be Chicago's first Latino mayor.
García told reporters he would decide whether to run for mayor after Tuesday's election determined whether Democrats would keep control of the U.S. House. After a better-than-expected performance on Election Day, it will not be clear for at least a few days who will control the House.
A spokesperson for García could not immediately be reached Wednesday.
Palmer told reporters at a news conference outside the Cook County building Wednesday that she had spoken to García before making the endorsement.
Candidates for mayor and the City Council can file their nominating petitions with the Chicago Board of Election Commissioners starting Nov. 21.
Contact Heather Cherone: @HeatherCherone | (773) 569-1863 | [email protected]
---