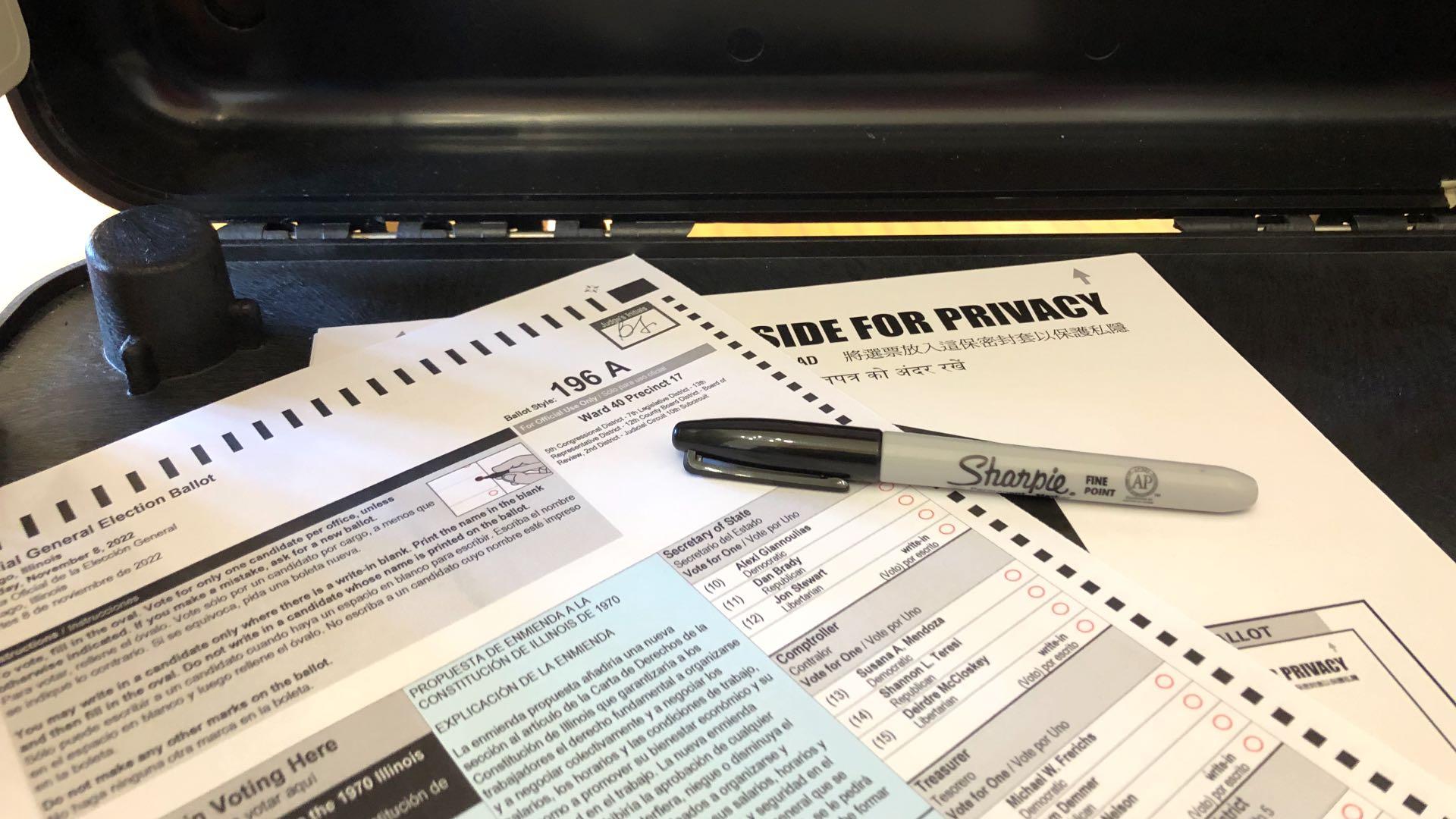 A two-page ballot and "Sharpie bleed-through" were the two biggest issues at the polls in Chicago on Election Day, Nov. 8, 2022. (Patty Wetli / WTTW News)
Confusion over Chicago's two-page paper ballot led to some voters being short-changed in the early going of Election Day, officials said.
Voters should receive a Ballot A and Ballot B but in roughly two dozen precincts, an unknown number of people were only handed Ballot A, according to Max Bever, spokesman for the Chicago Board of Elections.
Once election officials became aware of the issue, they notified all election judges via text and reiterated the need to supply voters with both pages of the ballot, Bever said.
Ballot A contains slates for federal, state and county races, appellate and circuit courts, as well as the Workers' Rights amendment and Cook County Forest Preserve referendum. Ballot B is for the retention of judges and any local referendums. 
Anyone who thinks they weren't given either Ballot A or B should call Election Central at 312-269-7870 so that the problem can be logged and a solution can be determined, Bever said. Voters should not return to their polling place and attempt to obtain the additional ballot, he said.
The two-page ballot has also made it difficult for election officials to unequivocally refute myths about the use of felt-tip markers (ie, Sharpies) in the voting booth. 
Contrary to misinformation circulating on social media, bleed-through of the marker does not cause a vote on one side of a two-sided ballot to count for a candidate on the flip-side. 
Paper ballots are specifically designed to guard against accidental bleed-through votes, and felt-tip markers are the preferred choice, Bever said. 
But with the two-page ballot, there has been a problem with people placing Ballot B under Ballot A, and the marker bleeding through to the lower page.
"In more cases that we'd like to see," Ballot B has been contaminated, Bever said. Voters will receive new ballots when this occurs. 
Anyone who's yet to vote should keep the two pages separate when marking their choice, he advised.
And check your polling place in advance, Bever added. Nearly half of Chicago voters have a new polling place this election, due to a perfect storm of redistricting, state law requiring precinct consolidation, and a holdover from the coronavirus pandemic, when a significant number of polling places opted to drop out of the election process.
Early voting totals, provided by the Board of Elections at 3 p.m., show Chicago turnout at 32.6%. Of the 502,459 ballots cast, 54.4% have been early vote/absentee and 45.6% on Election Day.  
Updated 5 p.m. voting totals for Chicago: Turnout has risen to 37.1%, with 571,326 ballots cast. The split between early vote/absentee and Election Day voters has now tipped toward the latter: 48.6% early vote/absentee versus 51.4% heading to the polls Tuesday.   
Updated 7 p.m. voting totals for Chicago: Turnout has hit 41.3%, with 636,931 ballots cast. Election Day voters are now at 55.9%, versus 44.1% of ballots cast by mail/absentee. Mail-in ballots with today's postmark will be added to the total over the next two weeks. 
Polls will be open until 7 p.m.
Contact Patty Wetli: @pattywetli | (773) 509-5623 |  [email protected]
---