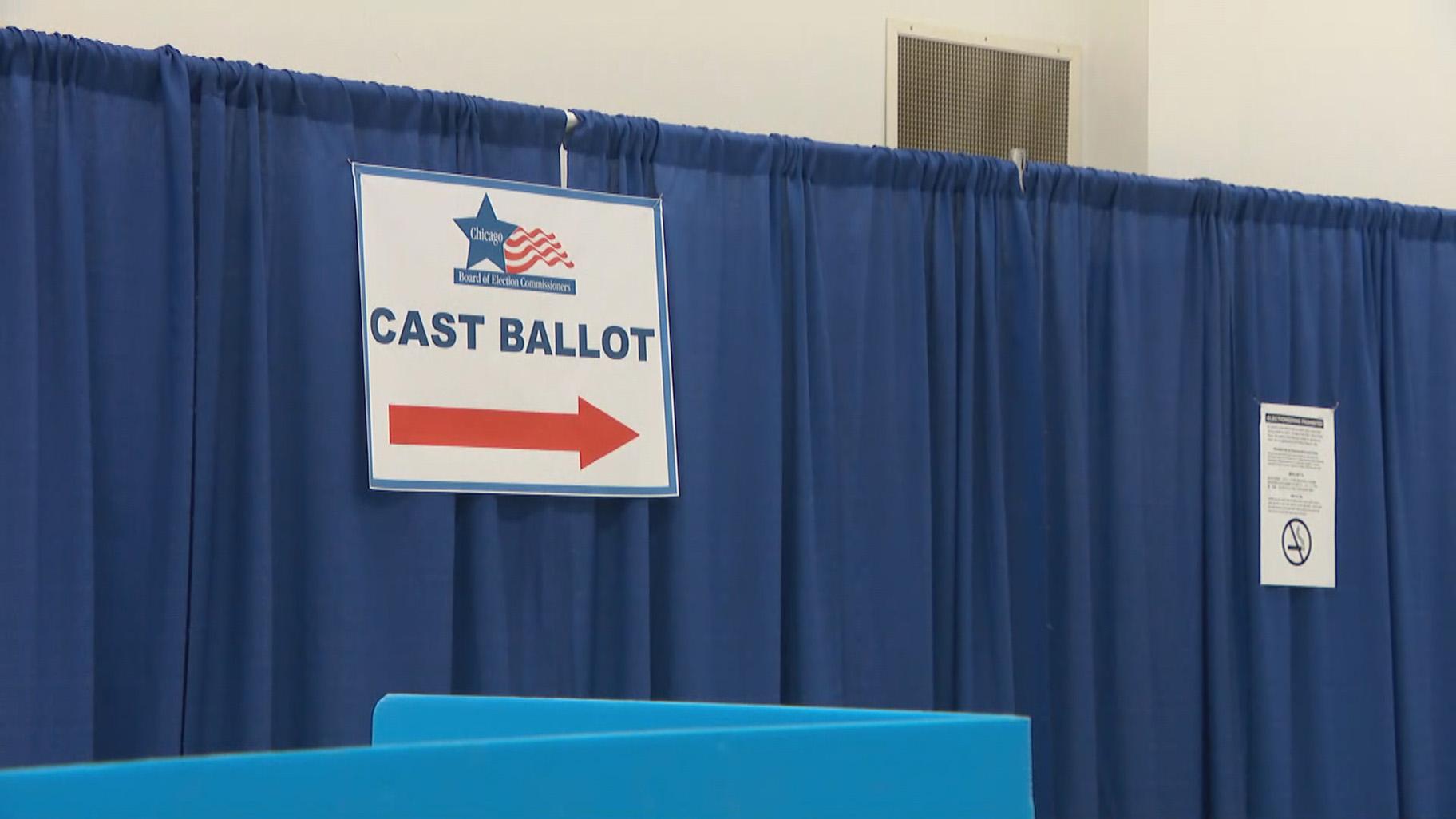 (WTTW News)
A majority of Illinois voters appear in favor of a new amendment to the state's constitution to include a new section centered on workers' rights, but a final result on that proposed change hasn't yet been reached.
If passed, the impact of the so-called "Workers Rights Amendment" would be twofold: The change would codify Illinois workers' right to organize and bargain collectively, while simultaneously prohibiting any law from being passed that would interfere with those rights.
With 85% of precincts counted, 58.7% of voters have said "yes" to the amendment, with 41.3% opting against it, according to unofficial vote totals as of Wednesday morning.
Unlike most ballot items, there are two paths for the amendment to be approved: It either needs yes votes from three-fifths of those who vote on the proposal or from a majority of those who cast votes in the November election, even if they skip this particular question.
Advocates for the change declared victory late Tuesday night.
"Tonight, Illinois voters have spoken," the pro-amendment group Vote Yes for Workers' Rights tweeted. "Congratulations, Illinois. You are and always will be a workers' rights state."
"Illinoisans put working people first by enshrining the right to organize and collectively bargain in our state constitution," Tim Drea, head of the Illinois AFL-CIO, said in a statement Wednesday. "This would not have been possible without the strong solidarity of a statewide labor movement that came together in unison to protect the rights of our hard-working families."
The amendment would add a "Workers' Rights" section to the state Bill of Rights, that reads: "Employees shall have the fundamental right to organize and to bargain collectively through representatives of their own choosing for the purpose of negotiating wages, hours and working conditions, and to protect their economic welfare and safety and work. No law shall be passed that interferes with, negates, or diminishes the right of employees to organize and bargain collectively over their wages, hours, and other terms and conditions of employment and work place safety, including any law or ordinance that prohibits the execution or application of agreements between employers and labor organizations that represent employees requiring membership in an organization as a condition of employment."
Marc Poulos, executive director of the Indiana, Illinois, Iowa Foundation for Fair Contracting, told WTTW News this week the amendment would create a stronger collective bargaining state.
"If you want workers to have more power, if you want workers to have more money in their pockets, if you want workers to have a safer working environment, you would vote yes on the workers' rights amendment," he said on "Chicago Tonight" Monday.
Advocates for the amendment contend this change would allow workers to negotiate work hours and conditions, as well as pay workplace safety.
"It's a tremendous opportunity for every Illinois worker to vote for themselves on Nov. 8," Jim Bowen, of Vote Yes for Workers' Rights ballot initiative committee, said during a Daily Herald-led debate last month. "And it will enshrine protections that most of us already enjoy, while extending protections to workers who don't currently have it."
The proposal has received broad support from unions statewide, including the Illinois AFL-CIO.
But opponents have argued the amendment will drive up taxes statewide, while barring lawmakers from enacting any reforms to this new addition.
"It means that there's virtually no limit on what government unions can demand and go on strike over," Mailee Smith, the director of labor policy at the right-leaning think tank the Illinois Policy Institute, said during that same Daily Herald debate. "Government union leaders could demand more subjects and go on strike to get those subjects into their contracts. Lawmakers can never change that."
Jeff Risch, a partner with the law firm Amundsen Davis who also appeared on "Chicago Tonight" this week, said the amendment is a "clear no" for him.
"Make no mistake, this is all about protecting, trying to protect big labor, and allow them to seize more control in Springfield, thereby raising taxes on every working household throughout the state of Illinois," he said.
Drea previously told WTTW News there's no plans to make major changes or push for new laws if the amendment passes. Instead, the amendment proposal is about preserving rights.
Advocates believe they have enough support to clear that three-fifths, or 60%, threshold, but note it could take time to get there due to the high number of mail-in ballots that must be counted.
Amanda Vinicky and Blair Paddock contributed to this report.
This is a developing story. Check back for updates.
Contact Matt Masterson: @ByMattMasterson | [email protected] | (773) 509-5431
---