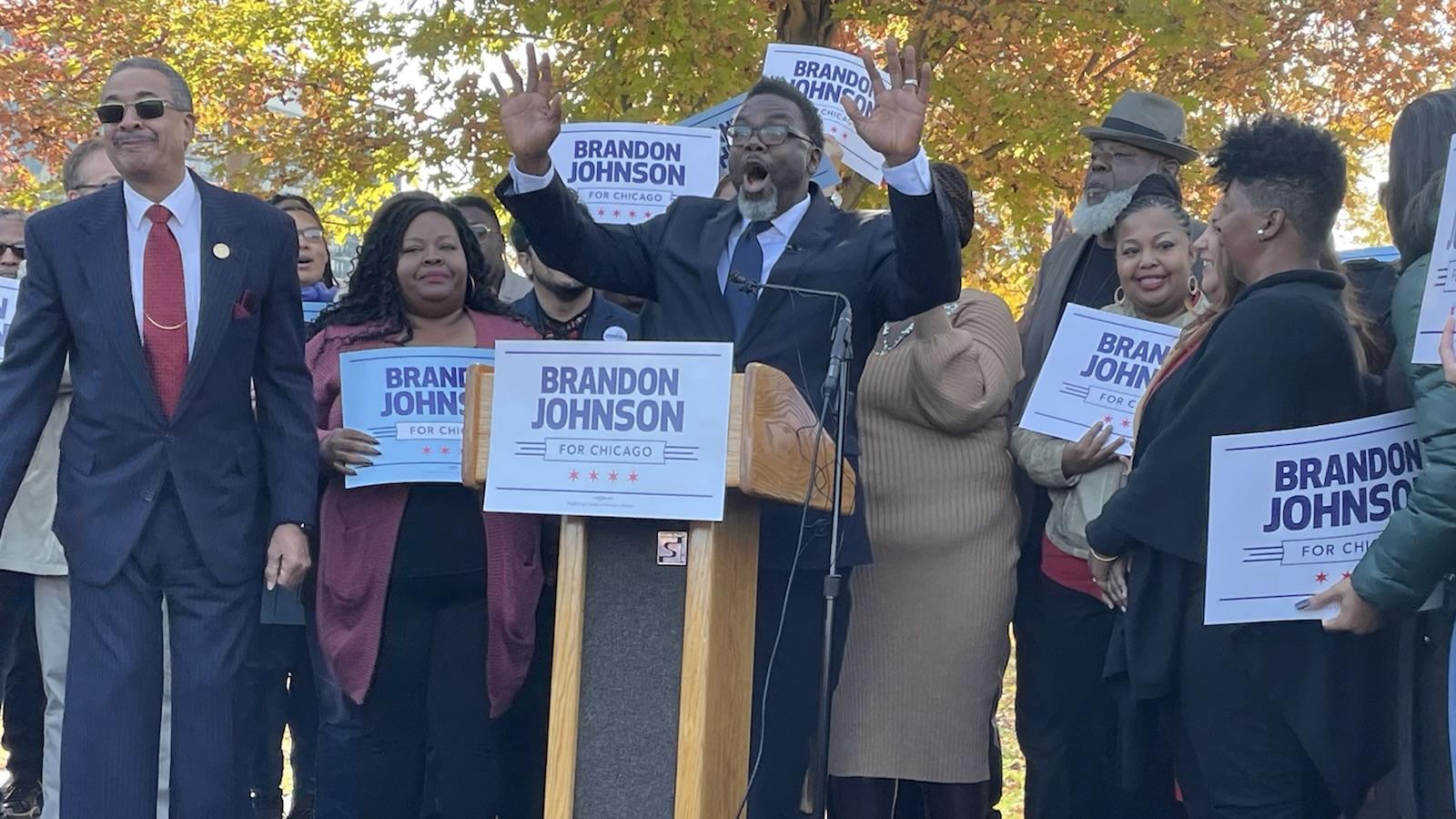 Brandon Johnson greets the crowd at Seward Park as he launches his campaign for mayor. (Heather Cherone/WTTW News)
Urged on by the Chicago Teachers Union and a coalition of progressive groups, Cook County Commissioner Brandon Johnson launched a bid for mayor of Chicago Thursday, confronting Mayor Lori Lightfoot with a significant challenge.
Johnson, 46, announced his campaign in Cabrini Green's Seward Park, near Jenner Academy Elementary School where he began his teaching career.
Watch Johnson's announcement video.
In his speech, Johnson called Chicago "a deeply divided" city and vowed to work to ensure that all Chicagoans get their fair share — not just the wealthy and the privileged.
Johnson said he saw that "tale of two cities" in stark relief while teaching students at Jenner, which served Cabrini Green, who lived doubled up with other families, sleeping on couches, while watching cranes build high rise luxury apartment complexes on what had been public housing.
"In order for Chicago to be a world-class city it has to include all of our young people in its beauty, its wealth and its power," Johnson said.
Johnson did not mention Lightfoot in his speech — leaving that to those who introduced him, including state Rep. Delia Ramirez, the Democratic nominee in the race for the newly created 3rd Congressional District.
---
Read More: Race for Chicago Mayor: Who's In and Who's Out for 2023 Election
---
Johnson formed an exploratory committee to weigh a mayoral run nearly two months ago, telling WTTW News that he wanted to be certain he was the best candidate to defeat Lightfoot, who is running for a second term.
Elected in 2018 to represent Cook County's heavily Democratic 1st District on the Board of Commissioners, Johnson faces Libertarian candidate James Humay in the Nov. 8 general election.
Johnson lives in Austin with his wife and three children, who attend Chicago Public Schools.
Johnson called for the quality of life on the West Side to match the quality of life on the North Side and Downtown.
Christina Freundlich, a spokesperson for Lightfoot's campaign, called Johnson one of a number of "ambitious politicians trying to advance their own career" through the race for mayor.
"It's easy to talk about what you would do — it's another thing to be in the arena, doing the work every day to keep our city moving forward," Freundlich said.
Freundlich's statement accused Johnson of wanting to "defund the police department entirely."
"Come one, come all," Lightfoot said when asked about Johnson's entrance into the race at an unrelated news conference Thursday afternoon.
Johnson said the issue of public safety had been "manipulated" by politicians using "blatant racist stereotypes."
That only deepens the divide afflicting Chicago, Johnson said. 
"If you're going to treat a problem, you have to diagnose it," said Johnson, vowing to address the structural inequity that pervades Chicago and fuels violent crime.
"We need to have treatment not trauma," Johnson said, endorsing the plan authored by Ald. Rossana Rodriguez Sanchez (33rd Ward) that calls for publicly run mental-health clinics to be reopened and for social workers, not police officers, to respond to 911 calls for help from those experiencing a mental health crisis. "That's violence prevention."
Even before he formally launched his campaign, Johnson won the endorsement of the Chicago Teachers Union, and United Working Families, a political organization closely aligned with the union. 
Johnson, a founding member of United Working Families, has also been endorsed by progressive groups in the 30th, 33rd, 35th and 39th wards.
As a member of the Cook County Board of Commissioners, Johnson is best known for authoring a measure that sought to prevent landlords from refusing to rent housing to people with certain criminal records. Johnson said the measure was designed to help county residents returning from jail or prison rebuild their lives.
Johnson also authored a nonbinding resolution in the summer of 2020 that called for county officials to "redirect funds from policing and incarceration to public services not administered by law enforcement that promote community health and safety equitably" after the police murder of George Floyd touched off a wave of social justice protests and unrest.
The Cook County Board has earmarked $65 million for violence prevention plans during the next three years to address the root causes of crime, and prevent people from reoffending.
Progressive groups in Chicago have been working for 10 months to lay the groundwork to defeat Lightfoot by uniting behind a single candidate. 
A similar strategy paid off in the June primary election, with the coalition emerging victorious in six of seven races.
Ramirez, D-Chicago, in her primary run for U.S. Congress despite concerted attacks over her call in the summer of 2020 to defund the Chicago police, could defuse concern that Johnson's support for similar measures could harm him in the mayor's race.
Lightfoot has long predicted that the Chicago Teachers Union would field a progressive candidate in 2023 in an attempt to unseat her — and has said she is ready to defend her handling of the COVID-19 pandemic, rooting out corruption at City Hall, fighting crime and boosting public investment on the South and West sides.
Johnson had $71,000 in his campaign account as of Sept. 30, according to records filed with the Illinois State Board of Elections. Since Johnson began exploring a bid for mayor, he has reported more than $277,000 in contributions, all from labor groups, including $1,000 from the Chicago Federation of Labor, according to records. The American Federation of Teachers on Sunday pledged $1 million to Johnson's campaign.
The effort by Chicago's progressive political groups to unite behind a single candidate to take on Lightfoot has been complicated by U.S. Rep. Jesús "Chuy" Garcia's public consideration of a mayoral bid.
Garcia's supporters are circulating petitions that would get Garcia on the February 2023 ballot, but Garcia has yet to announce whether he will be a candidate for mayor of Chicago. 
A close ally of Garcia's, Ramirez said after Johnson's announcement that "no decision is ever easy, and building consensus is anything but easy."
"It was clear for us, Brandon has heard us, Brandon has showed up," Ramirez said. "And we feel like this is an opportunity for Black and Latino leaders to stand together. For us, Brandon Johnson is it."
Ramirez said she was hopeful Garcia would endorse Johnson.
After endorsing a slate of candidates for the City Council, Garcia told reporters Sept. 7 that the chances he would run for mayor were "50-50" and said he would decide by mid-October, a self-imposed deadline that has passed. 
In 2015, the Chicago Teachers Union tapped Garcia — then a Cook County commissioner — to challenge Emanuel's bid for re-election after Chicago Teachers Union President Karen Lewis had to drop out of the race for mayor after being diagnosed with brain cancer. 
Garcia lost to Emanuel, but not before forcing him into a runoff and supercharging Chicago's progressive political movement. Garcia was elected to the U.S. House of Representatives in 2018, and since he took office in 2019 has been a leader of the progressive wing of the national Democratic Party. Garcia is expected to be reelected on Nov. 8.
Nine candidates have now announced bids for mayor, including Lightfoot and Johnson: Ald. Raymond Lopez (15th Ward), Willie Wilson, state Rep. Kam Buckner (D-Chicago), Paul Vallas, Ald. Roderick Sawyer (6th Ward), Ja'mal Green and Ald. Sophia King (4th Ward).
Contact Heather Cherone: @HeatherCherone | (773) 569-1863 | [email protected]
---