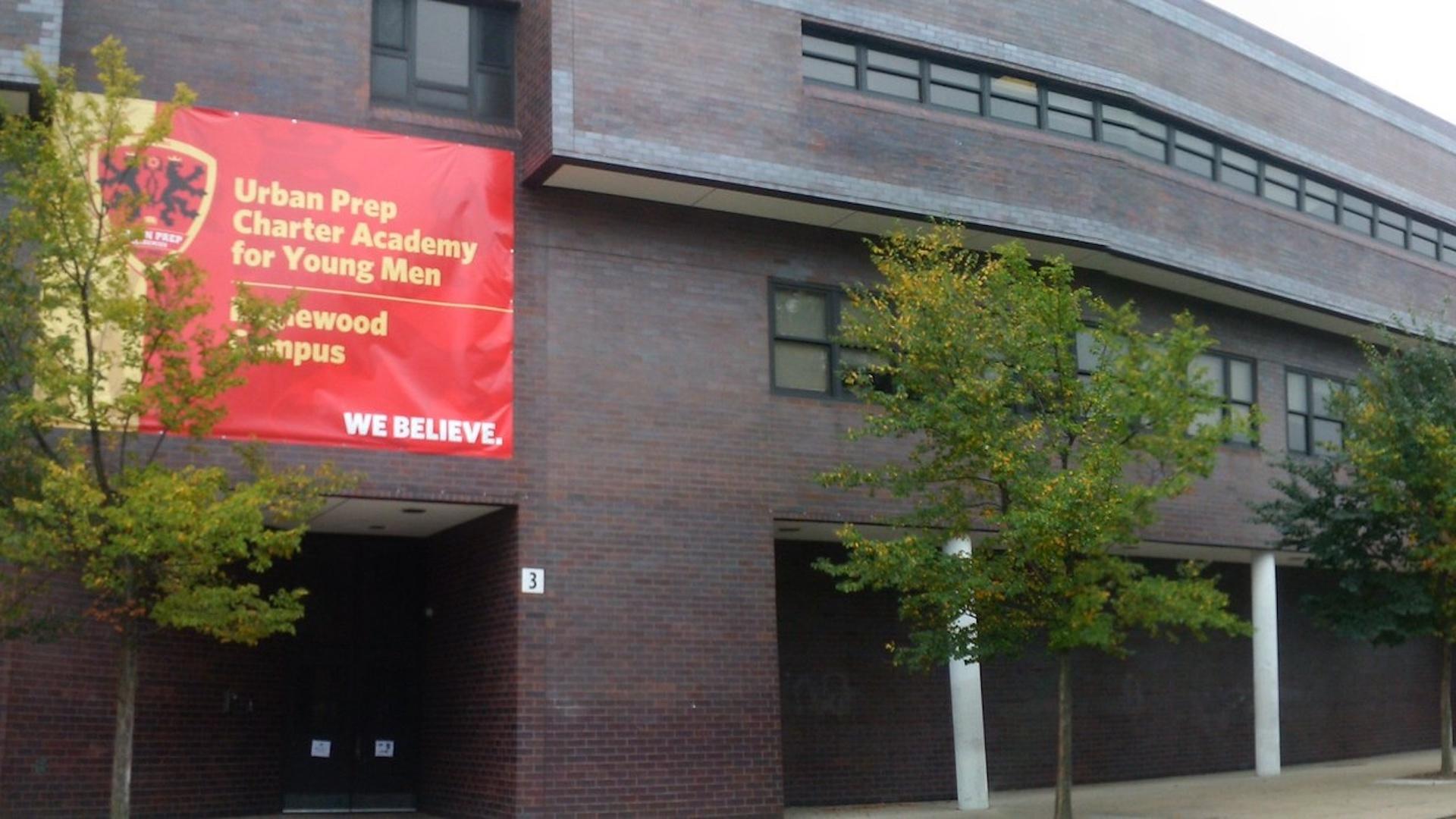 Urban Prep Englewood campus (artistmac / Flickr)
Chicago Public Schools will take over control of a pair of local charter schools after allegations of financial mismanagement and sexual misconduct dogged their current operator.
The Chicago Board of Education on Wednesday unanimously voted against renewing the charters for the Urban Prep Academies campuses in Englewood and Bronzeville, with CPS itself set to step in and begin managing those schools.
Urban Prep Academies has nearly 400 predominantly Black male students between the two campuses. CPS said those schools have gone through "years of dismal financial performance, academic struggle, and operational non-compliance" though the district has repeatedly granted short-term renewals for the charter schools.
But Wednesday's decision wasn't based on those problems, according to CPS Chief Portfolio Officer Alfonso Carmona, who instead pointed to "serious and unacceptable operational issues."
"So this recommendation is the conclusion to a pattern of irresponsible behavior by the Urban Prep Academies Board of Directors that put adult interests ahead of student well-being, ahead of legal compliance, ahead of prudent and legal use of public resources, and ahead of its obligations to the public," the district said.
Urban Prep's founder Tim King resigned his position earlier this year amid an investigation into allegations he sexually touched and groomed a minor Urban Prep student. He has reportedly denied those allegations, though they were substantiated in a report from the district's Office of Inspector General. King has not been charged with any crimes related to the allegations. 
That investigation found Urban Prep refused to take appropriate action to ensure student safety while these allegations were being investigated. It also found the alleged victim received wages and employment benefits from Urban Prep for three years, even though he never provided any actual services for the schools.
"It's an egregious report, and it should make everyone upset," board member Elizabeth Todd-Breland said. "No one is above accountability for harming young people."
Todd-Breland put blame strictly on Urban Prep's governance teams.
Even though King is gone, CPS officials noted that many of those on the UPA executive staff during this financial and operational mismanagement are still there and the board has repeatedly failed to meet additional conditions of its charter.
Despite those issues, several Urban Prep students and parents spoke out during Wednesday's meeting in favor of keeping the schools under UPA management.
"Coming in as a freshman to an all-boys high school wasn't my first choice, but I don't the path I would have strayed (to) if I didn't," Elijah Cooper, a junior at Urban Prep's Englewood campus. "At Urban Prep there is a family-like environment and I would like for it to stay that way. Can you imagine having your family stripped away from you in one night and wake up to all of them gone? No you cannot. It's not fair."
Following Wednesday's vote, the schools will not close down. Instead, they will remain open at least through next school year, but will be run through CPS rather than by Urban Prep Academies. Students, however, will be allowed to transfer if they choose.
"The model is not our issue," CPS said in a statement. "Our concern here is about blatant mismanagement issues that have jeopardized the safety of students, have wasted public funds, and have not been adequately addressed even though CPS has repeatedly outlined the necessary measures for Urban Prep to undertake in order to remain a charter and avoid non-renewal."
Contact Matt Masterson: @ByMattMasterson | (773) 509-5431 | [email protected] 
---