LaSalle Street in the Loop has for decades been home to Chicago's financial district. 
As firms and other businesses have started locating their offices in other parts of town, and with the massive shift in work patterns driven by COVID-19, the eight-block stretch has become home to more vacancies than any other part of downtown. 
Now, the city has an ambitious plan to spur development and make the financial district a place to live, not just to work: LaSalle Street Reimagined.
The idea is to convert some of the massive amounts of unused commercial space on LaSalle into 1,000 residential units, followed by incentives including tax credits and an existing TIF district. The idea isn't just about places to live, but places to eat and shop with the hope of breathing new life onto a street that's seen big changes.
Interactive map: More from our community reporting series
"As banks started moving into newer buildings, we saw LaSalle Street start to empty out and we have millions of square feet of underutilized space here that can easily be converted into residential," said Ald. Brendan Reilly of the 42nd Ward. "There is a strong appetite and demand to live downtown closer to where you work … We're going to be changing the zoning code to facilitate that and then working with the property owners, the surrounding community, and certainly the administration to revitalize this street with new shopping, restaurants, entertainment .. and then living above these beautiful historic structures."
Those older buildings are the ones that have faced the most struggles with vacancies, according to the Building Owners and Managers Association. 
Empty space is a struggle around downtown, with about 42% of tenants in the office on a busy day. 
The association's executive director said Farzin Parang mixed-use is the way to go.
"What you're seeing in a lot of office buildings, in a lot of neighborhoods that are still doing well, if you look at Fulton Market -- they have this different mix, right?" Parang said. "They have this live, work, play, learn, etc. And so the core idea of converting in some of these areas where you have older office buildings, very low occupancy is that you're supplementing that with a little more residential … on the street a little bit more later into the evening that supports more retail and some of those other uses and just the general feel of the street. And the value proposition for us to that, the return investment is more office development."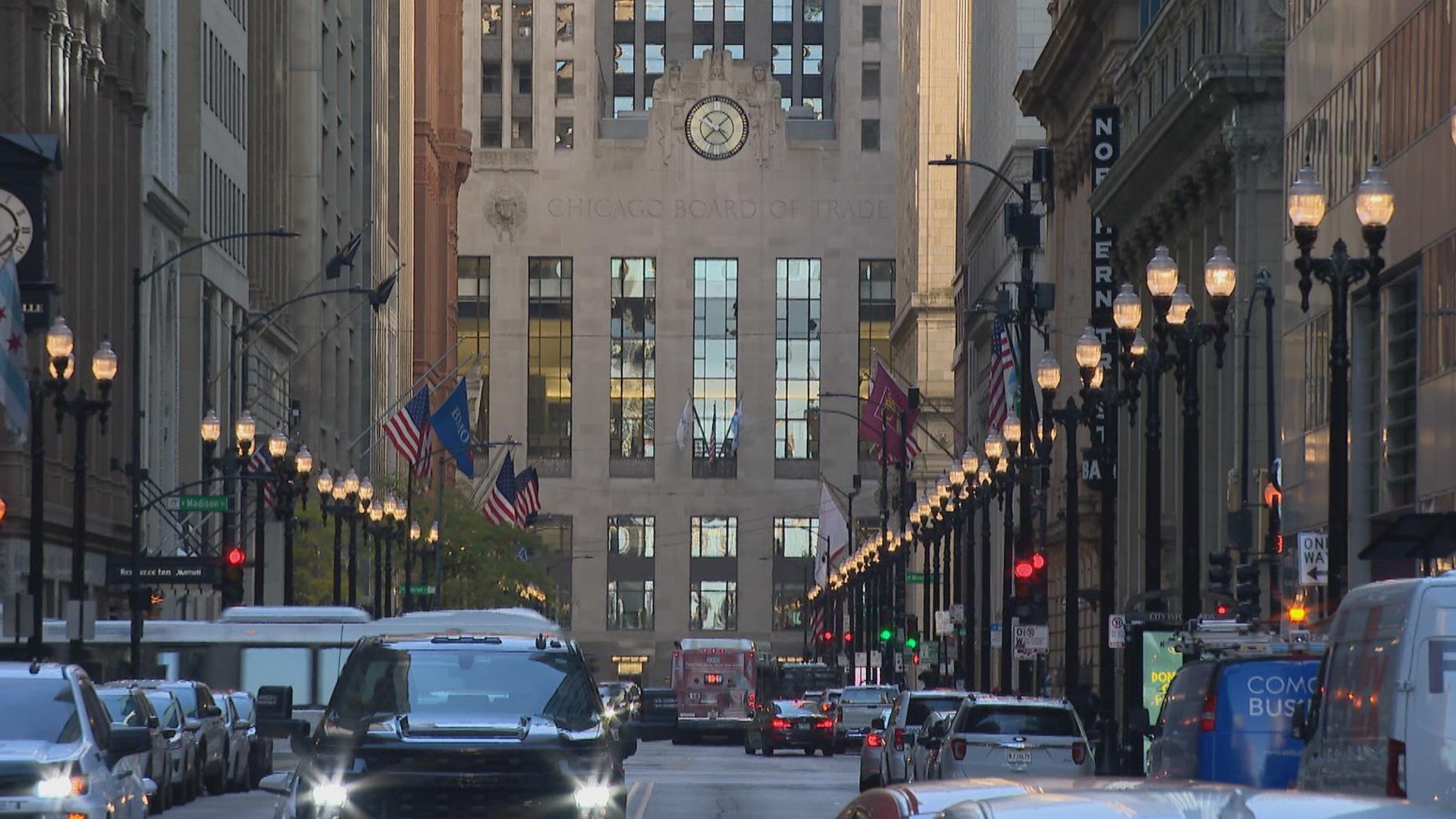 Chicago Board of Trade building. (WTTW News)
The physical attributes of those historic buildings can make conversion a challenge. That's why backers of "LaSalle Street Reimagined" say developer incentives have to be a priority. 
Another priority is making sure the residential units are open to people with a range of incomes. The city's plan calls for 30% of units to be affordable. 
Affordable housing advocates said having a mix of rates can be an effective way to create housing options in a place like the financial district.
"Sometimes it's finding an opportunity that is in a development or a building that might have a substantial amount of market-rate housing, but there is room within that development for a certain number of affordable units," said Bill Eager, Chicago senior vice president for real estate development for the Preservation of Affordable Housing. "So even in neighborhoods that are built up there are people who work, people who have low, moderate incomes who may work in that area and want the opportunity to live near where they work."
Despite these hopes, Yvette McCaskill, an organizer with the Bring Chicago Home campaign believes it still might not meet the needs of the ones who need it most.
"That sounds really good, but when the mayor says affordable housing, we know that's not really addressing the issues of homelessness across the city," McCaskill said. "It's not affordable for the people who really need it. It's a good line, but when you talk about affordable housing and housing people, that should start with the most vulnerable."
The Bring Chicago Home campaign proposal would increase the city's real estate transfer tax, a one-time tax paid when a property is sold, by nearly 2% on properties over $1 million. The coalition says it would impact about 4% of properties sold, and would generate $163 million to fund permanent affordable housing with wrap-around services.  
Video: Watch our full interview with Yvette McCaskill. 
Living near work could be a boon to many of the employees at the kinds of area businesses that have faced a post-covid staffing crunch.
"A lot of the people that work in these restaurants, work in the hourly jobs, food and beverage, the service industry, they're coming from an hour away," said Scott Weiner, co-owner of the Fifty/50 Restaurant Group. "Just the opportunity to have affordable housing here, I think is going to help every single business not just in the LaSalle Corridor, but in the city." 
Weiner's 90th Meridian Kitchen & Bar — like many restaurants in the area — has had to cut back their hours of operation based on demand. He hopes having more people living along LaSalle could make business more stable.
"We really feast or famine based on foot traffic in the area as well as business clientele," Weiner said. "So if the offices are at 30% occupancy, you can expect to be at 30% of what you thought your sales might be. So it's definitely been a new normal for us as we come out of the pandemic." 
LaSalle Street is not the only part of downtown that's been facing challenges. 
The Chicago Loop Alliance.has been tracking data on State Street since the pandemic. Though numbers are beginning to trend upward, according to president and CEO Michael Edwards, occupancy rates have still not fully recovered.
"Everything is trending in the right direction," Edwards said. "Some are slower than we'd like. Office [occupancy] right now throughout the Loop is about 50 percent. We'd really like it to be much higher than that. We expect it will be by the end of 2023. Retail is difficult, although we have some great, new stores that have opened on State Street which is our retail center. There's 45,000 people living downtown, and up until just a few months ago, demand for apartments was the best it's been since before the pandemic."
Video: Watch our full interview with Michael Edwards.
Community Reporting Series
"Chicago Tonight" is expanding its community reporting. We're hitting the streets to speak with your neighbors, local businesses, agencies and leaders about COVID-19, the economy, racial justice, education and more. See where we've been and what we've learned by using the map below. Or select a community using the drop-down menu. Points in red represent our series COVID-19 Across Chicago; blue marks our series "Chicago Tonight" in Your Neighborhood.
---