Mayor Lori Lightfoot's plan to close a projected $170.6 million budget gap in 2023 relies on booming tax revenues that the mayor said proves Chicago's budget has fully recovered from the economic catastrophe caused by the COVID-19 pandemic.
The $16.4 billion spending proposal unveiled by Lightfoot 148 days before she asks voters for a second term as Chicago mayor does not include a property tax hike to keep up with the soaring rate of inflation, or any other tax or fee hikes.
Chicago budget officials have revised their projections to include an additional $260 million in revenue since the beginning of August. Chicago's financial picture has been buoyed by the city's red-hot real estate market and nearly $2 billion in federal aid designed to help the city withstand the ravages of the pandemic. Chicago ended 2021 with a surplus of $318 million, according to the city's annual financial report.
"Chicago's 2023 'Stability Budget' allows us to fulfill an important obligation we have to our residents and future generations: To seize this once-in-a-lifetime opportunity to transform our city for the better," Lightfoot said. "We will develop Chicago into a safer, stronger and more economically resilient city while continuing to deliver best-in-class public services to our residents."
However, the city's finances will continue to be pinched by soaring pension payments, as the city complies with a state law that requires Chicago's four funds be funded at a 90% level by 2045, ensuring they can pay benefits to employees as they retire.
In 2023, Chicago will pay more than $2.34 billion to its pension funds — more than an additional $1 billion directly from the city taxpayers than it paid just three years earlier.
Lightfoot proposed using $202 million from the city's surplus to make an extra pension payment, which she said will reduce future pension payments by nearly $2 billion.
Chief Financial Officer Jennie Huang Bennett likened that to "paying down our pension credit card."
Budget Committee Chair Ald. Pat Dowell (3rd Ward) said that proposal surprised her, calling it a "new strategy" that she would have to dig into before deciding whether to support.
"I think that's a good idea," Dowell said. 
But Dowell acknowledged that spending $200 million in a way that will not directly translate into direct services or programs to benefit Chicagoans in an election year could draw criticism.
"There's always that tension," Dowell said. "We want to get our pension obligations on track."
Laurence Msall, the president of the nonpartisan Civic Federation, which is funded by corporate interests, said the city was benefitting from "exceptional revenue growth" and Chicago's economy has bounced back faster than anyone expected.
The additional pension payment is "really good news and a wise investment," Msall said.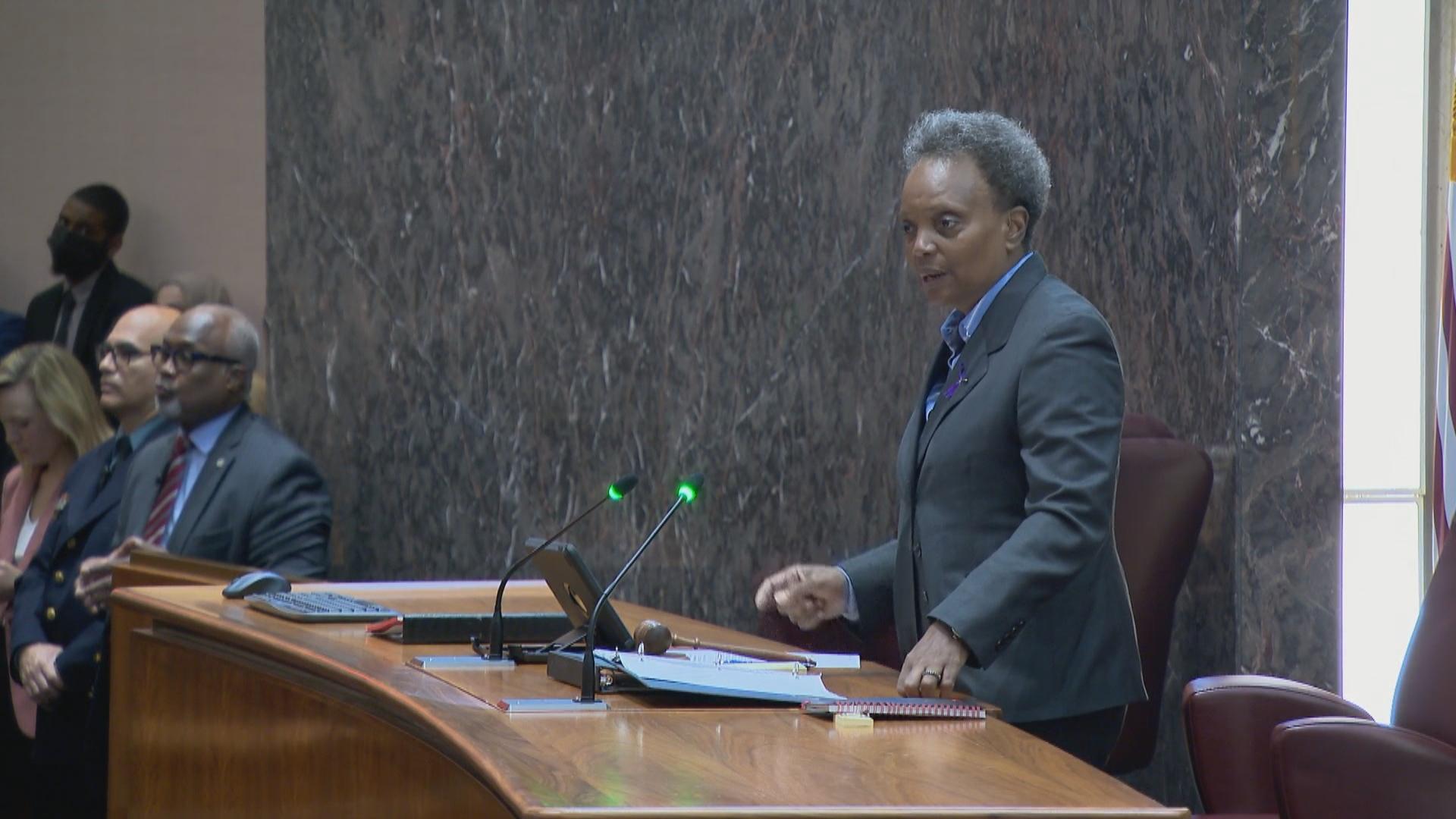 Mayor Lori Lightfoot delivers her budget address on Oct. 3, 2022. (WTTW News)
Lightfoot also plans to use $56 million from the city's Tax Increment Financing program to help fill the budget shortfall.  
Lightfoot proposed earmarking $3.1 million to help people in Chicago access reproductive health care, $5 million to help immigrants who have been sent to Chicago from Texas and $10 million to reduce homelessness. 
Advocates pitched tents on the first floor of City Hall as part of a demonstration to demand additional city funding to help 65,000 Chicagoans living with homelessness, including those who are "doubled up" living with others in addition to people living in shelters and on the street. 
The debate over the police budget will also be a flashpoint during negotiations over the city's budget. Progressive members of the City Council are likely to push to reduce it to instead fund violence prevention efforts and to strengthen the city's social safety net.
At the same time, conservative members of the City Council are likely to push for more money to hire more police officers and help those on-the-job cope with the trauma of policing.
Lightfoot's proposal calls for the city to spend nearly $3.3 billion on public safety, an increase of more than $100 million from 2022. 
The Chicago Police Department's budget is set to increase by $64 million to a total of $1.94 billion. However, the department is only slated to add 35 positions.
However, the department is set to increase spending significantly on the number of officers assigned to patrol the CTA, with that budget jumping from $10.7 million in 2022 to $30 million in 2023. In recent months, a number of high-profile shootings and stabbings have grabbed headlines and led many Chicagoans to question whether it is safe to ride the CTA.
Dowell said she had some questions about the increase in public safety spending, and said she expected her colleagues would also want to press Chicago Police Supt. David Brown on his plans.
Lightfoot acknowledged on Thursday that her plan to hike property taxes was dead-on-arrival and said it would not be included in her final budget proposal during her first term as mayor.
Under rules put in place by Lightfoot before inflation surged after the pandemic, property taxes would have risen $85.4 million, or 5%, because of the rapid increase in the cost of living. In August, Lightfoot said she would ask the City Council to approve a hike half as big as initially called for.
Instead, Lightfoot reversed course after running into a brick wall of opposition, saying that the faster than expected recovery of the city's economy from the fiscal catastrophe unleashed by the COVID-19 pandemic meant the property tax hike was no longer necessary.
"This looks like a fairly easy budget," Dowell said. "Once you remove the property tax increase, I think it takes a lot of pressure off of all of aldermen."
Lightfoot's speech kicked off the monthslong process that will end with the adoption of the 2023 budget before the end of the year.
Chicago's 2023 spending plan is the first that will reflect revenues from a casino, with Bally's cutting the city a $40 million check after the City Council gave their plan to build a casino and resort in River North the green light. A temporary casino is set to open at the Medinah Temple next summer.
In addition, city officials will use $152.4 million from the federal COVID-19 relief package signed into law by President Joe Biden in March 2021 to make up for revenues that suffered during the pandemic.
Much of the debate over the 2023 budget — which will take place simultaneously with the elections for mayor and all 50 alderpeople — is likely to focus on whether those programs, funded by the Chicago Rescue Plan, will continue or be expanded.
Lightfoot's 2022 spending plan would not have passed without the support of progressive members of the City Council.
The Chicago Rescue Plan calls for the city to borrow $660 million to fund its programs. That debt has not yet been incurred, officials said.
In 2020, the city faced a budget gap of $838 million. In 2021, the city faced a budget gap of $1.2 billion. In 2022, the gap was $733 million.
Contact Heather Cherone: @HeatherCherone | (773) 569-1863 | [email protected]
---