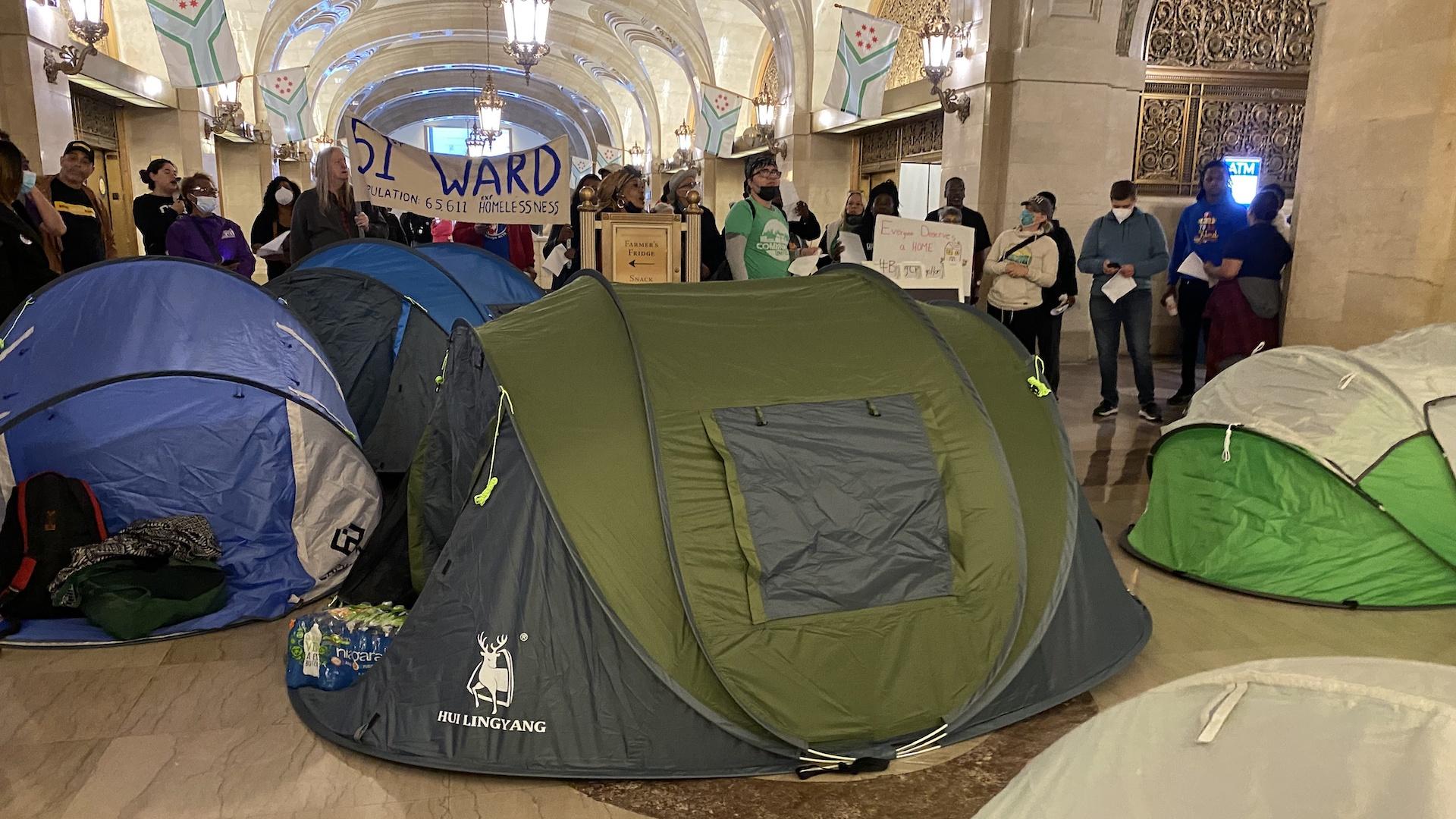 Advocates staged a tent city in the lobby of City Hall during Mayor Lori Lightfoot's budget address on Monday, Oct. 3, 2022, calling on Chicago to provide a dedicated stream of funding to tackle the problem of homelessness. (Nick Blumberg / WTTW News)
Chanting "Housing is a human right! Lightfoot will not stop our fight!" and "Lo-ri! We're calling on you!" anti-homelessness activists staged a tent city in the lobby of City Hall to demand a dedicated funding stream for subsidized housing and a suite of human services, just as Mayor Lori Lightfoot delivered her yearly budget address in City Council chambers Monday morning.
As part of the "Bring Chicago Home" campaign, the group called on Lightfoot and alderpeople to back a ballot measure that would raise the Real Estate Transfer Tax (RETT) on properties over $1 million by 1.9%. Advocates say the move would only affect 4% of properties and bring in $160 million a year.
"We have come to the mayor on multiple occasions asking for the simple time at a table so we can speak to her. She won't even open the door for us," said Brother Mike Eldridge. "So we came out today to let her see what is hidden from her sight."
Lightfoot touted increased investments in homelessness prevention, mental health care and opportunities for youth in her 2023 budget proposal, including $10 million to address homelessness and provide other support services. Those programs came through the Chicago Recovery Plan, funded by federal pandemic relief money.
But the group said Lightfoot's plans to use stimulus funds won't adequately address the problem of homelessness, arguing that a dedicated funding stream from an increase in the RETT should go toward subsidized housing, prevention programs, employment services, mental health care and more.
Advocates called themselves the "51st Ward" — comprising the 65,000 Chicagoans they say live with homelessness, including those who are "doubled up" living with others in addition to people living in shelters and on the street. That's far higher than the 4,447 sheltered and unsheltered people experiencing homelessness in the city's most recent annual count, but advocates argue it's key context to the problem.
"I didn't know the proper terminology until recent, but I've been doubled up for years. And it's not because I didn't want to pay my rent, and I'm not the stereotype of what homeless looks like … I just never had a fair wage," said Honni Harris, who described the shame and depression she felt spending years staying with her younger sister. "Why should I have to feel that way? I've been a good Chicagoan all my life, followed all the rules."
Ald. Maria Hadden (49th Ward) and sixteen of her colleagues are sponsoring an ordinance to put the RETT resolution on the February ballot. The measure was introduced in July 2021 and has been sent to the City Council's Rules Committee, where legislation often languishes.
April Harris, an organizer with the Chicago Coalition for the Homeless, said having both a reliable source of funding and wraparound services is the only way to properly address homelessness.
"Once people get housed, they stay housed," she said.
Despite an uncertain future for the measure, advocates say they won't give up trying to garner support from alderpeople and Lightfoot.
"We are not going to stop until we bring Chicago home," Harris said.
Contact Nick Blumberg: [email protected] | (773) 509-5434 | @ndblumberg
---