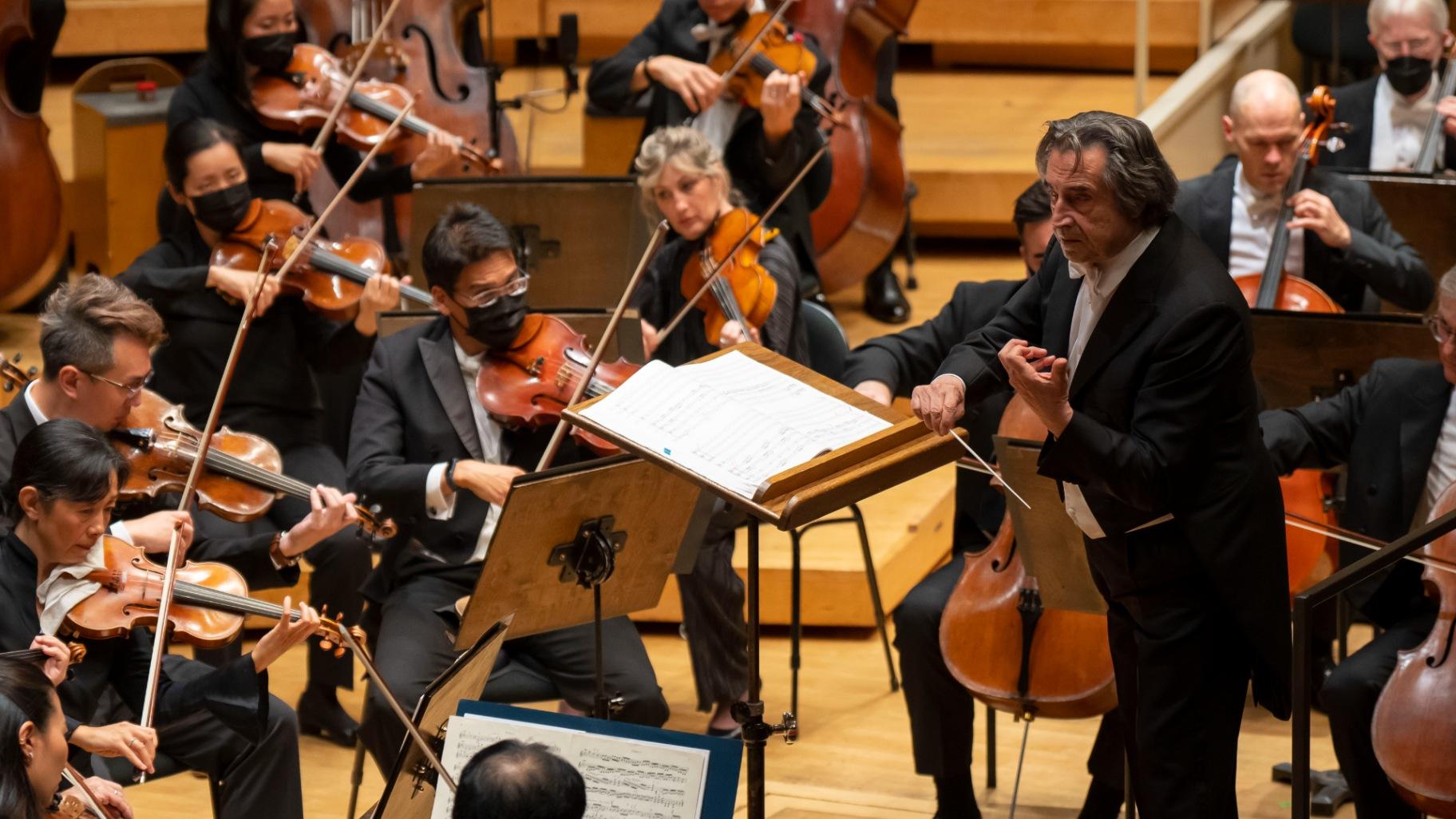 Music Director Riccardo Muti leads the CSO in a program of works by Rossini, Mozart and Prokofiev on Sept. 29, 2022. (Credit: Todd Rosenberg)
The first half of Thursday evening's glorious Chicago Symphony Orchestra concert featured notably beautiful performances of the Overture to Rossini's rarely performed opera, "Il viaggio a Reims" ("The Journey to Reims"), and Mozart's "Symphony No. 39 in E-flat Major.
But what truly set Orchestra Hall on fire came in the second half of the program as Maestro Riccardo Muti, in subtle but wonderfully expressive balletic form, led an altogether blazing performance of Prokofiev's "Symphony No. 5 in B-flat Major," a 1944 masterwork composed at the height of World War II (at a time when the former Soviet Union was valiantly fighting the Nazis). Yet it is not a war symphony. Rather, it is awash in the sort of soaring beauty, excitement and rhythmic richness that suggests art, rather than guns, is what ultimately declares victory and endures as the best of human existence.
Scored for a massive orchestra (including piano, harp and a formidable contingent of percussionists), this symphony, and the CSO's altogether dazzling performance of the work, also serves as a powerful reminder of Prokofiev's dramatic genius. The opening minutes alone, with the CSO's superb winds, strings and horns, were so rich, deeply emotional and full of a subtle grandeur that they instantly set the tone. But then came a blast of sound from the timpani, percussion and brass sections that conjured a feverish strength and a knowing sense of the world at large.
The sheer emotional heat of it all was palpable. And it was only the beginning.
The second movement opened with a hint of frenzy — high energy, and a sense of urgency and vivid animation that generated true anticipation — a feeling that there was something in the air. The brass then took off on a beautiful riff and the full orchestra created a kind of profound nervous energy, with the loud clash of cymbals bringing it all to a sudden end.
And there was more. The symphony's third movement began with the sound of the low strings, with the full string section then capturing a sense of anguish, and the flute adding a singing quality of longing, and a feeling of both pain and hope. A great blast of sound from the winds suggested a victorious feeling, followed by a tumultuous crash, a quieter, lyrical passage, and a great gathering of galloping by way of the sound of woodblocks and other percussion. It was at once unsettled yet full of hope.
The fourth and final movement of the work opened with a lyrical sound that felt like a dive into memory. It erupted with the sound of a clarinet and French horns, a frenzy of violins, the rattle of a tambourine and a vast array of percussion. And, once again, there was a sense of great expectation, with the entire orchestra at fever pitch until the smashing end.
And, after taking a deep breath, the audience erupted into applause for both the absolute brilliance of Prokofiev and the marvel that is the CSO and Muti's baton. Breathtaking.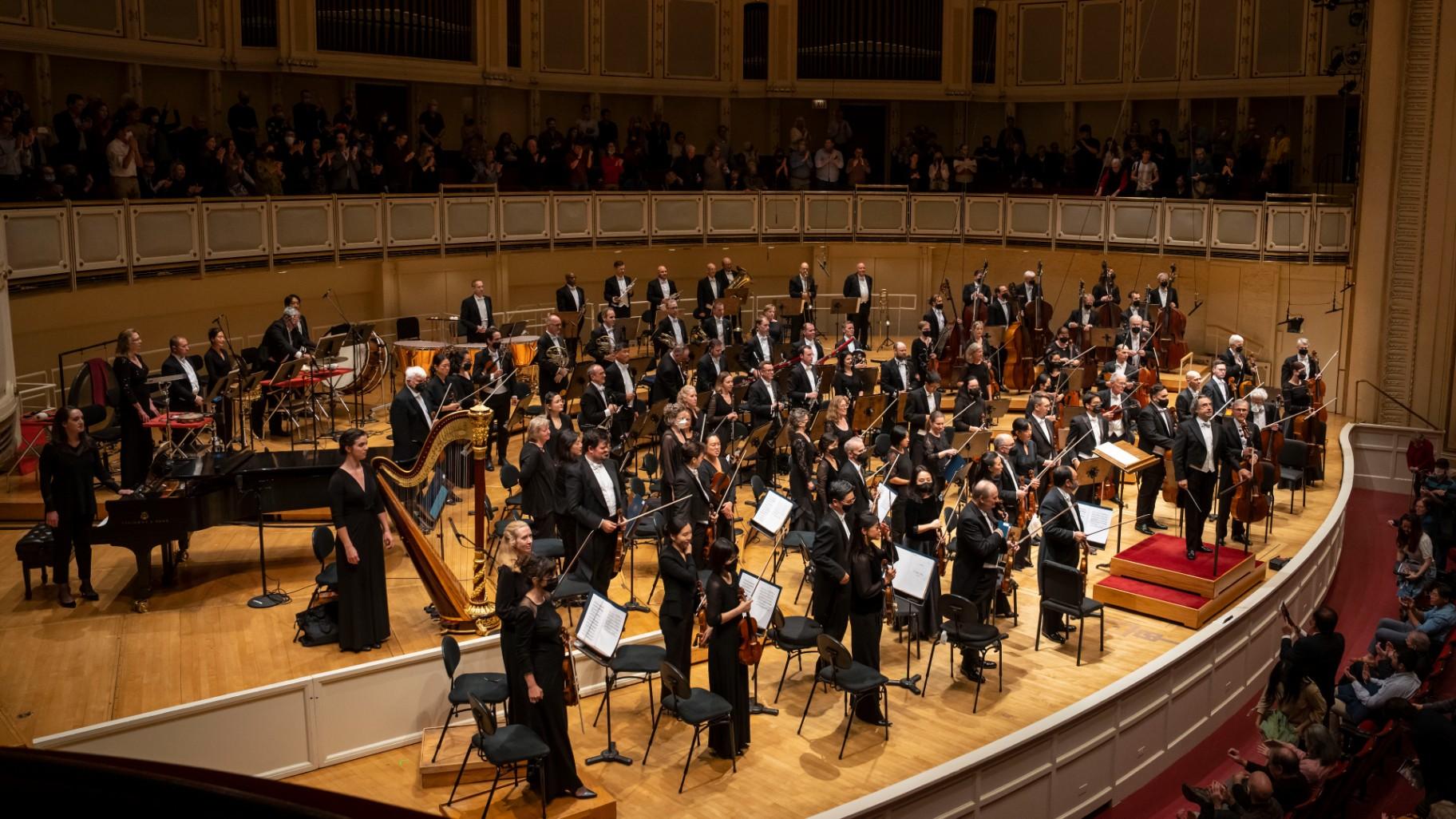 Music Director Riccardo Muti and the CSO acknowledge audience applause after a performance of Prokofiev's "Symphony No. 5" on Sept. 29, 2022. (Credit: Todd Rosenberg)
But there was no shortage of beauty in the concert's first half either, which began with the Rossini overture (whose history is explained in an intriguing program note by Phillip Huscher). Muti, of course, is an aficionado of Italian opera, and in the eight minutes of this work alone he captured the overture's mood shifts — from its big opening pronouncement with the orchestra (and a beat from the timpani), to a lovely melody played by the winds, French horns and plucked strings, to excitement conjured by the brass. All this was followed by a joyful, light-hearted melody, a regal-sounding entry theme, a riff by way of plucked strings and a big celebratory conclusion.
And then it was on to Mozart, with a somewhat more intimate orchestra. It opened with a lovely melody, rich in its combination of sounds and timpani accents, and in its own way it "sang" as much as any opera by the composer.
In the second movement, Muti and his musicians suggested an intimate and almost conversational tone, tapping into the music's tranquil beauty with the subtlest shifts in mood and a great fluidity that ceded to the expansiveness of the winds and French horns.
The third movement had a sort of minuet-like energy, grace and lightness. And in the fourth movement, the work's fast, playful energy was fully captured, spinning things to a joyful finale.
In addition to the glorious music on Thursday evening, there was a heartfelt interlude during which Muti presented Theodore Thomas Medallions to three musicians who are retiring after long and distinguished tenures with the CSO. They were Dennis Michel (bassoon), Paul Phillips, Jr. (violin), and Michael Henoch (Assistant Principal Oboe).
"They are only leaving us physically," said Muti. "Their talent remains. It is absorbed and imprinted for future generations." He added: "I will miss you; I love you and your playing."
Then, referring to his own final season as Music Director of the CSO, Muti went on to quip: "YOU don't retire. I will retire!"  
Three additional musicians will be presented with these medals when the concert is repeated on Oct. 1 at 8 p.m. They include: Joseph DiBello (bass); J. Lawrie Bloom (clarinet and bass clarinet); and Sarah Bullen (former principal harp). Violinist Fox Fehling also will receive a medal.
For tickets visit cso.org or phone 312-294-3000.
Follow Hedy Weiss on Twitter: @HedyWeissCritic
---