Chicago taxpayers will pay $25 million to settle three police misconduct lawsuits claiming Chicago police officers committed a wide range of misconduct.
In all, the payments approved Wednesday are equivalent to 30% of the city's annual $82 million budget to cover the cost of police misconduct lawsuits.
While two multimillion-dollar settlements were approved without opposition, a recommendation from the city's lawyers to pay $900,000 to a man shot by police on New Years' Day in 2017 narrowly passed on a 27-20 vote after a dramatic plea by Ald. Nicholas Sposato (38th Ward).
Sposato urged his colleagues not to settle the lawsuit filed by Dwane Rowlett. 
Rowlett fled from police after a traffic stop, sideswiping several cars and crashing into a police cruiser.
Officers shot Rowlett twice after they issued contradictory orders about whether he should get out of the car and he became tangled in his seatbelt, Assistant Corporation Counsel Caroline Fronczak told members of the City Council's Finance Committee during a meeting on Monday.
Rowlett's lawsuit said he was unarmed at the time of incident, and no gun was recovered at the scene, Fronczak said. However, Rowlett did have a knife in the car, attorneys acknowledged.
Sposato said he had been "stewing" about the presence of the knife in the car, and pleaded with his colleagues to reject the settlement.
"I brought a little small pocket knife I leave in my car," Sposato said, waving it on the floor of the City Council. "This is like an inch and a half. I think this deadly. I think this thing would kill you. It's pretty sharp. It's pretty pointy."
Sposato then pulled out a much-larger knife.
"I also brought a five-inch knife with me," Sposato said. "This is a five-inch knife. This is what he was reaching for. This is what he had in his car. When the police officer shot him, this is what he was reaching for. This is what he was going to get — to go do what, I don't know."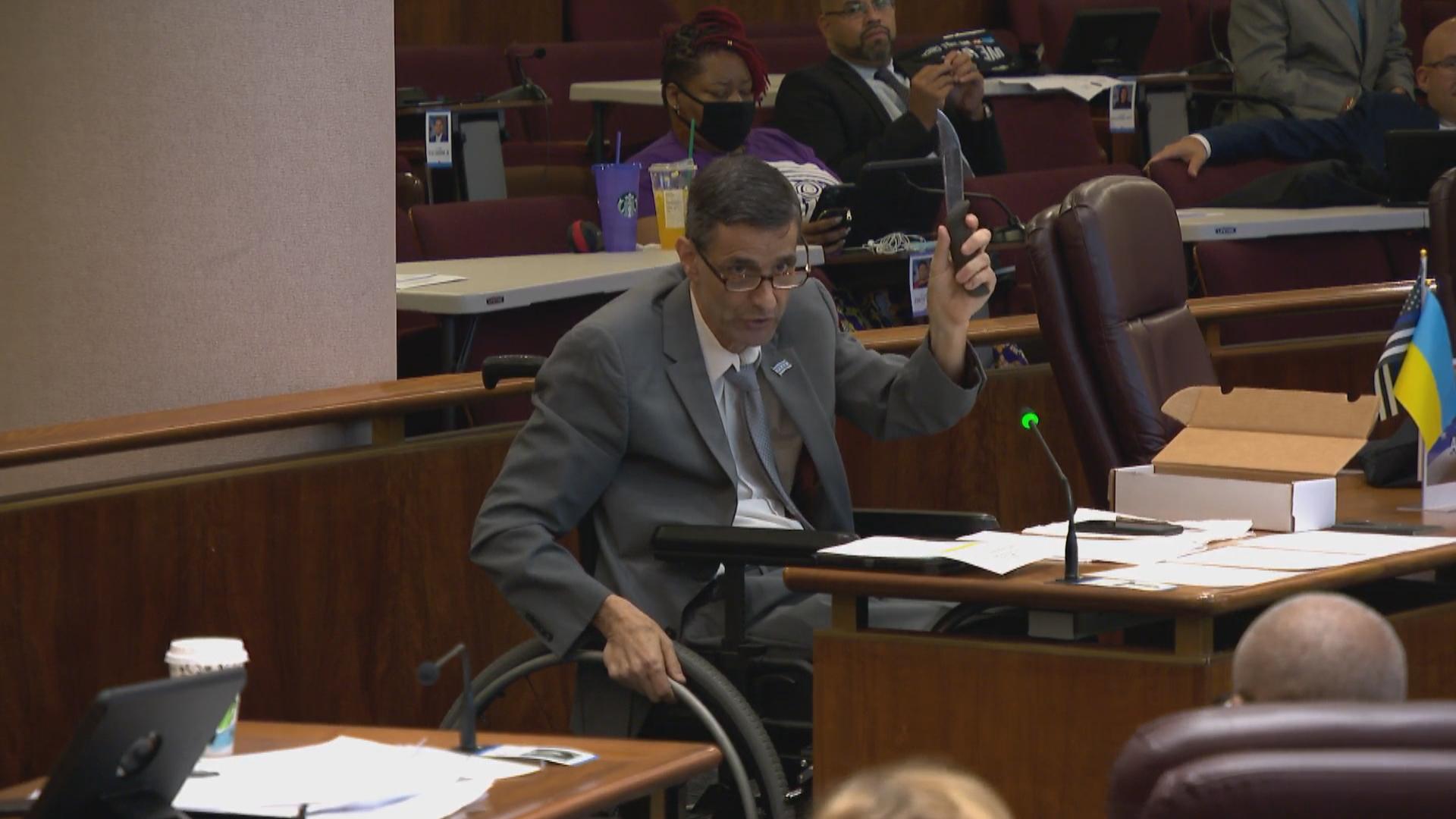 Ald. Nicholas Sposato (38th Ward) holds up a knife during a City Council meeting on Sept. 21, 2022, to explain his vote against a police misconduct settlement. (WTTW News)
There was no evidence presented by city attorneys to City Council members that Rowlett was reaching for the knife when he was shot or had threatened officers.
After the vote, Lightfoot said she wanted to make sure members of the City Council knew that the officer who shot Rowlett resigned from the department rather than face disciplinary charges.
Rowlett pleaded guilty to aggravated fleeing and was sentenced to two years in prison earlier this month, according to court records. Rowlett is also serving a 25-year sentence for committing a kidnapping in 2017.
In other action, the Chicago City Council voted unanimously to pay $15 million to the family of a 37-year-old woman who was struck and killed by a speeding police car during a chase the officer had been ordered to stop.
That is the third large settlement paid out by the City Council to resolve a lawsuit filed by the family of a Chicagoan killed during a police pursuit in 2022.
Guadalupe Francisco-Martinez, a 37-year-old mother of six, died in June 2020 after a police car driven by Chicago Police Officer Juan Blanco struck her 2005 Ford Explorer while traveling 98 mph, officials said.
Blanco and other officers had been ordered to terminate the chase before the fatal collision near Irving Park Road and Ashland Avenue. 
The department changed its policy for vehicle pursuits in August 2020. That policy now requires officers to "consider the need for immediate apprehension of an eluding suspect and the requirement to protect the public from the danger created by eluding offenders" and ensures that no officer could be disciplined for terminating a pursuit.
Marked police cars must also take the lead in pursuits, and activate their lights and sirens, according to the revised policy.
The City Council also voted unanimously to pay $9 million to a man who spent 25 years in prison after being convicted of murder in 1994 following an investigation led by a Chicago Police detective accused of routinely framing suspects.
Patrick Prince was convicted of first-degree murder in connection with the 1991 shooting death of Edward Porter, 37, near Francisco Avenue and Flournoy Street near what is now Douglass Park. He was sentenced to 60 years in prison.
Prince, then 19, said he confessed to shooting Porter during a drug-related crime after Chicago Police Detective Kriston Kato slapped, kicked and punched him while he was handcuffed to a wall. Kato retired from the department in 2006.
Prince was granted a new trial in 2017, and he was released soon after the Cook County State's Attorney's office dismissed the charges. Prince received a certificate of innocence from state officials, who cited evidence from four witnesses who said they saw another man shoot Porter.
Contact Heather Cherone: @HeatherCherone | (773) 569-1863 | [email protected]
---