The Chicago Bears have made their plans known: they are looking to move out of Chicago and into north suburban Arlington Heights.
That news became official when the team signed a purchase agreement for Arlington Park.
Fast forward a year to this week when the Bears unveiled preliminary plans for what that new development will look like. The plans call for an enclosed stadium, restaurants, office space, a hotel, fitness center and parks.
Executives at Arlington Racetrack gave WTTW News an exclusive look at where it'll all happen.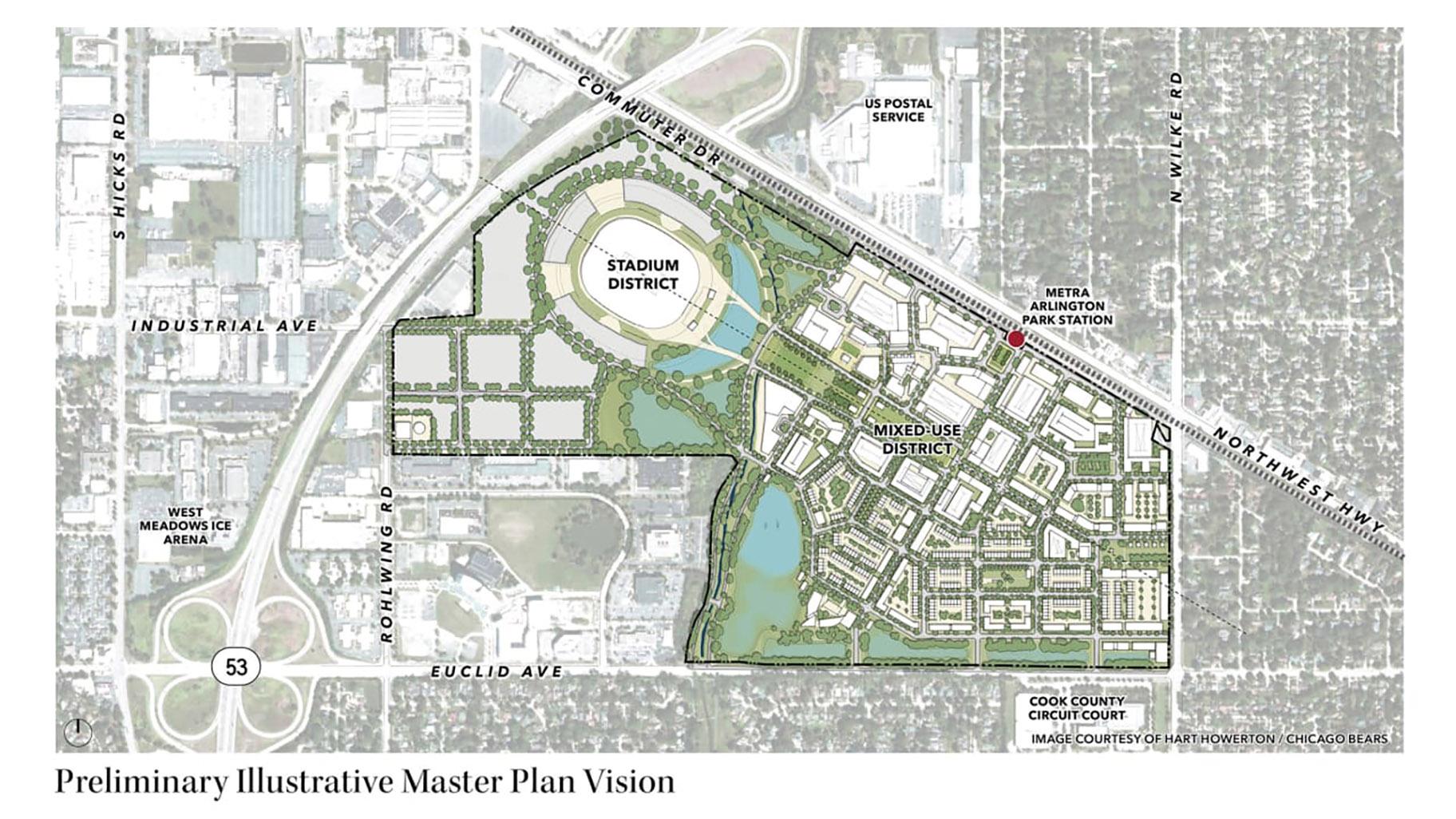 A master plan map of the proposed Chicago Bears stadium and entertainment district in Arlington Heights. (Credit: Hart Howerton / Chicago Bears)
Per the sketches, the field that used to serve as the practice track, now beginning to be overrun with weeds and grass, will roughly be where the Bears stadium would be built.
Even that, though, would take up only a small portion of the 326-acre property.
The team has been clear that it's not weighing other options, like staying at Soldier Field.
Interactive map: More from our community reporting series
Today, the administrative offices at what was Arlington International Racecourse still have a tinge of horse flair, but a stuffed bear at the front desk is ready to greet the McCaskey family.
The team, track owner Chruchill Downs and village of Arlington Heights leaders have been in talks for some time.
The Bears hosted a community meeting Thursday, and there's no shortage of opinions.
Americans For Prosperity, a Koch-Brothers funded group, is leading the charge to block public money from helping the Bears or other businesses that may open in the area.
On Tuesday, they submitted a petition to that effect to the Village Board.
State Rep. Mark Walker is in a competitive race for re-election and said the Bears move isn't a top issue as he goes door-to-door campaigning.
People are more concerned about inflation, guns, abortion, he said.
But the Bears do come up.
Walker said as a businessman, the Bears' endeavor makes sense in contrast to renting Soldier Field from Chicago.
But in order to get those economic development assists, he said he will use government tools to make sure there are minimum levels of affordable housing and that the Bears meet minority contractor goals, and will guarantee to employ a diverse workforce.
"One thing I'd like to not do is treat the Bears specially," Walker said. "The Bears are any other company that's coming here that is offering a lot of jobs and property tax revenue. We'll treat them like anyone else. As people move in and use the site, we typically do things like invest in roads, infrastructure, just like any other development."
Challenger Jack Vrett, an Army veteran and former prosecutor, said as a Bears fan, he's excited about what the future may hold for Arlington Heights. 
"Because I care about our small businesses, I want to take the time to actually look at this proposal and see what it does," Vrett said. "The final plan has to make sure we're protecting taxpayers, that we're allowing enough funding for local police to address the thousands of people that will be coming here on weekends, and also that we don't endanger the character of this community … the last thing they [residents] need is then to shoulder a billion dollar corporation like the Bears."
Vrett said he's anti "corporate welfare"  but said investment in infrastructure, be it railways, or highways so Bears fans don't try to cut through neighborhoods would benefit everyone.
The Bears have said they will not seek support for the stadium itself but will want government help with the mixed-use project.
Celeste Cecchi has lived in Arlington Heights historic district for about a decade. She's part of a group that works to save the village's historic homes.
She said Arlington Heights is great and whatever happens, she trusts the mayor and trustees.
"Change will always happen," Cecchi said. "I know that Arlington Heights has had a lot of change. We trust our elected officials. They have done a great job communicating, we know they are looking out for our best interest and have kept us a part of the process."
One of major lures for the Bears and commercial developers, beyond the sheer size of the racetrack, is the highway access.
The stadium would also be right on a Metra stop, an easy commute -- one that's brought patroms to Jimmy D's just across the tracks from the racetrack since the 80s.
Owner Peter Demarakis said for years, Arlington brought the bar regulars to the bar and restaurant. 
But he said nothing lasts forever.
He hung Bears signs to help wish the team to Arlington Heights.
"No one's gonna ever be able to fill the shoes of the late, great Mr. Richard Duchossois," Demarakis said. "What he did over there, the legacy he left. Nothing lasts forever, things change. I get it. But if anyone can come close to filling his shoes, it would be Papa Bear George Halas and the Chicago Bears organization. We hope it happens. We're excited, but we know there's a lot of obstacles in the way so we're just trying to keep cool too."
There's some fear that the Bears development will detract from Arlington Heights' busting downtown and other businesses.
Demarakis is among those who believe if the Bears and their fans come there will be a beneficial spillover. That's what the Bears are promising too, if it happens at all.
---
Video: Remnants of Arlington Racecourse are being sold in weekly online auctions.
A year ago, jockeys, horse trainers and a staff of 325 would have been milling about the Arlington Racecourse.
"At this time of year, there would be a lot of hustle and bustle … hosting guests from out of the country," said Tony Petrillo, president  of Arlington International Racecourse. "It is a lot different walking through here. It's like walking through a ghost town. The life has been sucked out of the facility."
The betting windows are empty, stables and barns empty, weeds, rather than roses, sprout in the winner's circle of the racetrack.
Arlington's remaining staff of about 30 are maintaining the lavish grandstand, which was rebuilt by the owner Richard Duchossois after a fire in 1985.
They don't want it to become an eyesore.
Plus, while the plans released by the Bears earlier this week envision knocking them down, the grandstand and administrative building may well serve as temporary for Bears executives in the near future.
Video: Arlington Heights resident Martin Bauer on the stadium and entertainment district plan. 
Meanwhile, one of the main concerns residents have expressed is the "financing of it all."
"This is an exciting project. On the other hand, we know that a lot of these deals where public financing is needed to make a project happen, they tend to go sour. They tend to increase property taxes," said Martin Bauer, an Arlington Heights resident. "The calculations will always be optimistic. Reality does not quite agree with that."
Bears officials stated at Thursday's community meeting that they will seek no public funding for direct stadium structure construction, however, "they will need help."
A lot is still unknown. 
There's a slight chance the deal could crumble, or the financing fall apart. Mayor Lori Lightfoot has raised the prospect of bringing in another NFL team if the Chicago Bears become the Arlington Heights Bears.
It's like the saying at the bottom of a statue commemorating a famous by-the-nose race at Arlington in 1981. A lot can happen: Against All Odds. 
---
Community Reporting Series
"Chicago Tonight" is expanding its community reporting. We're hitting the streets to speak with your neighbors, local businesses, agencies and leaders about COVID-19, the economy, racial justice, education and more. See where we've been and what we've learned by using the map below. Or select a community using the drop-down menu. Points in red represent our series COVID-19 Across Chicago; blue marks our series "Chicago Tonight" in Your Neighborhood.
---