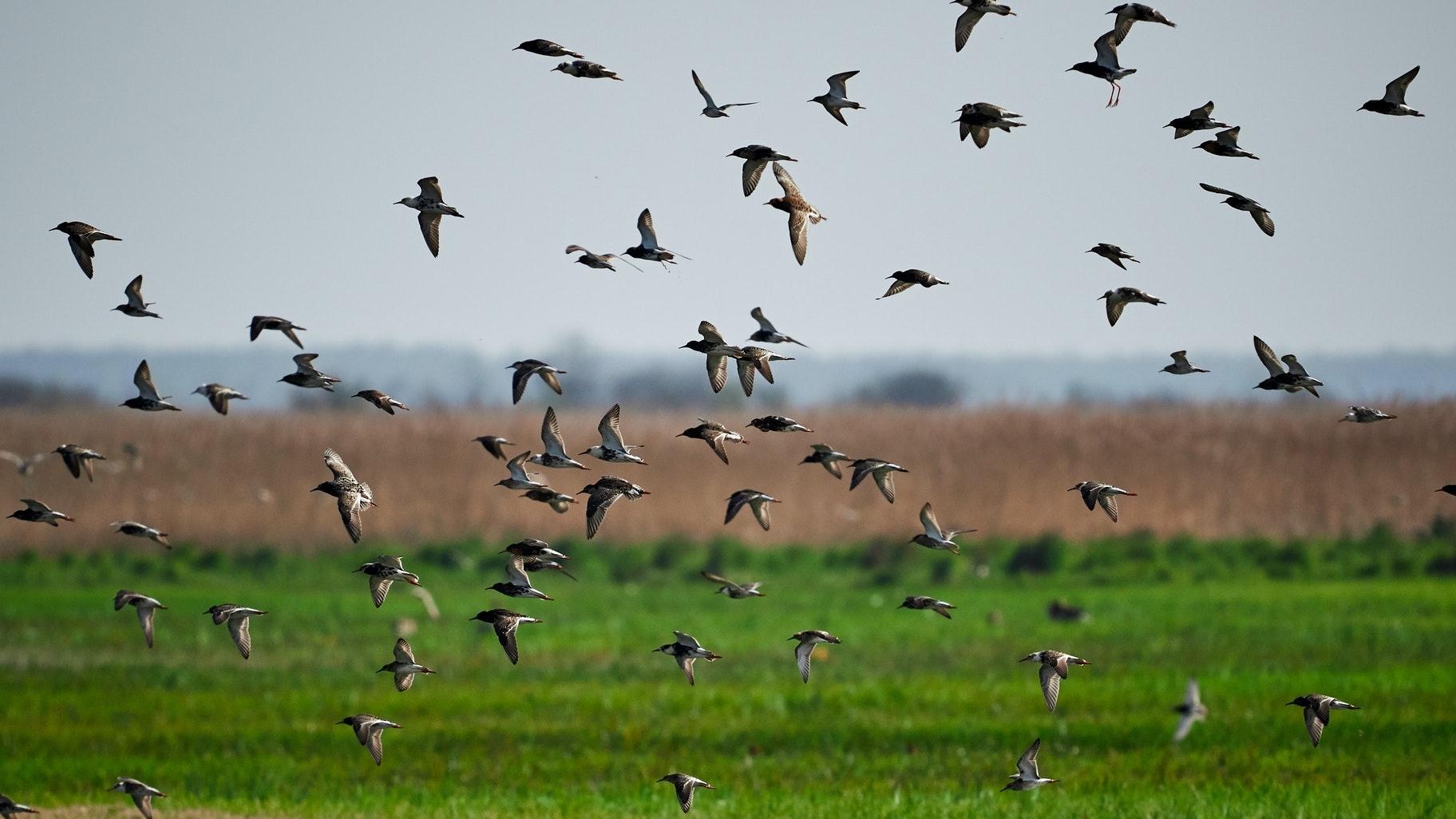 Birds are on the move across the U.S. during fall migration. (Dariusz Grosa / Pexels)
Hundreds of millions of birds are on the move across the U.S. as they wing their way south to warmer climes during the annual fall migration season. Plenty will use Chicago as a stopover point on the Mississippi Flyway, a route that connects summer breeding grounds in Canada and the U.S. to wintering enclaves in Mexico and Central and South America. 
Like any good host, the Forest Preserve District of Cook County has done its best to make sure the guests feel welcome.
In the last decade, the district has increased by 10-fold the amount of acreage undergoing habitat restoration, all part of an effort to recreate the region's historic ecosystems, which supported diverse flora and wildlife, according to Arnold Randall, general superintendent of the district.
There's no better example of this work and the rewards it reaps than Eggers Grove, a 240-acre preserve situated in the shadow of the Calumet region's former steel mills, Randall said.
Three years ago, the district had what he termed an "audacious idea" for Eggers Grove: To replicate the woodlands and wetlands that once defined the area, before industry and development altered the landscape.
In partnership with Audubon Great Lakes and the Nature Conservancy, the forest preserve district removed invasive species, installed native plants and reestablished a hemi-marsh (a half-marsh that's equal parts water and emergent vegetation). 
And the birds have responded.
Roughly 250 different species have been documented at the preserve, including marsh birds whose numbers have been in decline. Some make their home at Eggers year-round, while migrants rely on the preserve for food and shelter.
"There are birds coming through Eggers right now who have come here from Canada," said Michelle Parker, executive director of Audubon Great Lakes. "They're here, they're hanging out, they're resting and refueling, and then they're headed to South America. That's extraordinary. We're so blessed to have Eggers Grove."
Parker encouraged people to take time during migration season to head to a birding hotspot like Eggers and enjoy the influx of feathered visitors, particularly migratory waterfowl and songbirds.
"Birds are joyful. Just come out and be aware," Parker said. "Listen, look up into the trees, down at the ground, into bushes. Look for that little flash of movement in your periphery."
Naturalists will lead bird walks at Eggers Grove and other Cook County forest preserves throughout the fall — no experience or special equipment required.
"Just listen to their calls, observe their behavior," said Gloria Orozco, senior field organizer with Friends of the Forest Preserves. "Becoming so aware of another species can really help us become more empathetic of the other living species that we share space with."
Additional tips to follow during migration season:
— Check out Birdcast, a migration dashboard developed by the Cornell Lab of Ornithology. Birdcast issues nightly migration forecasts and tracks the number of birds passing over specific locations. 
— Dim your lights at night, especially during peak migration (see: Birdcast). Chicago's bright lights, tall buildings and glass are among the hazards that have earned the city the label of one of the most dangerous cities for birds.
— Keep the contact information handy for Chicago Bird Collision Monitors in the event you come across an injured bird. The organization's hotline can be reached at 773-988-1867. 
Contact Patty Wetli: @pattywetli | (773) 509-5623 |  [email protected]
---