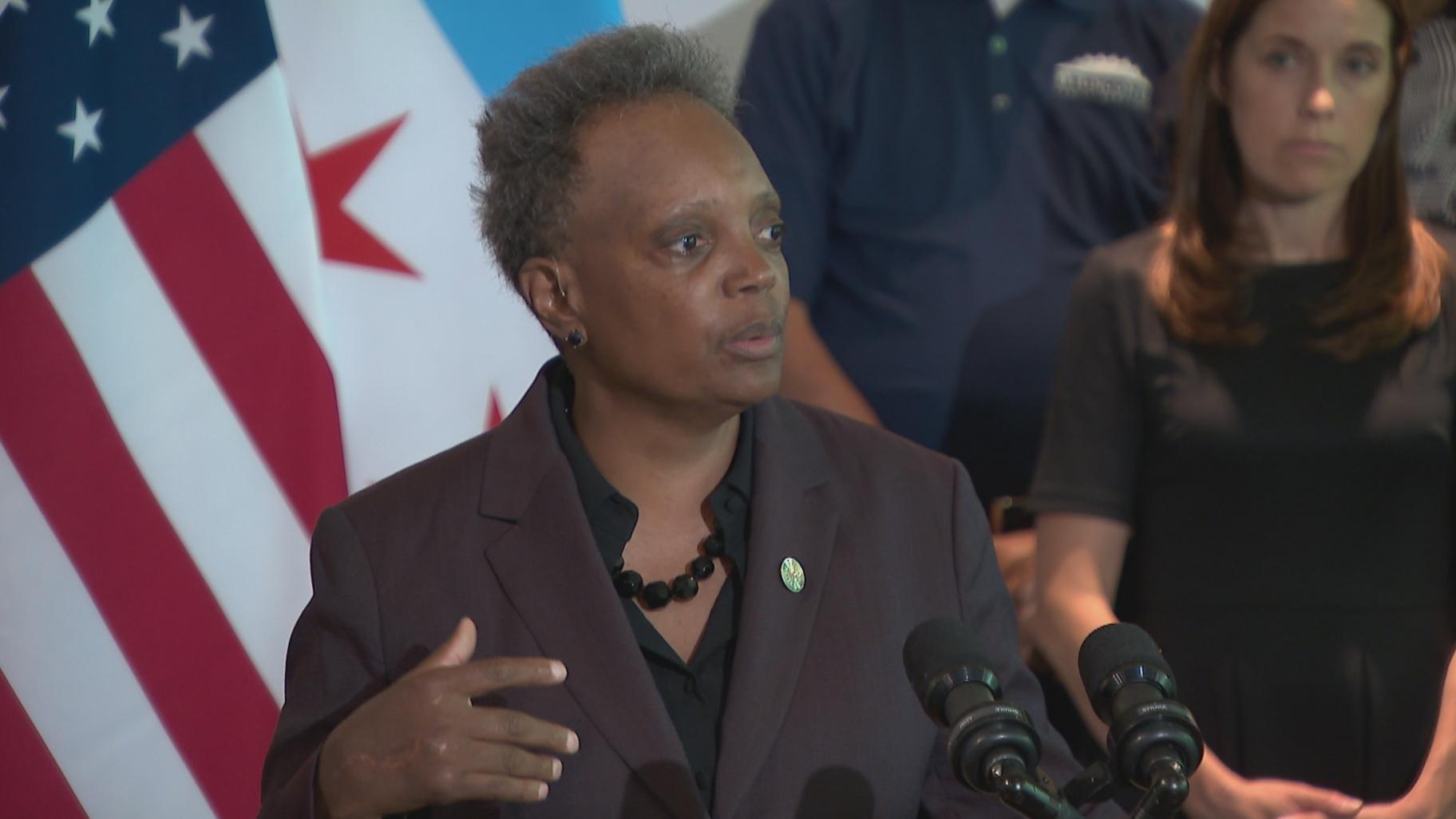 Mayor Lori Lightfoot addresses the news media Thursday, Sept. 1, 2022. (WTTW News)
Mayor Lori Lightfoot welcomed 75 immigrants bused to Chicago by Texas Gov. Greg Abbott on Thursday as "our new neighbors" and vowed to provide them sanctuary after a harrowing journey.
Lightfoot, who is running for re-election, relished the chance to welcome the immigrants to Chicago, most of whom arrived in the United States after fleeing Venezuela, where the collapse of the economy has triggered political instability.
"We are Chicago, a welcoming city, a city where we live our values every single day — a city where immigrants and refugees have been a part of the fabric of the city from our earliest days," Lightfoot told reporters at a Salvation Army shelter on the North Side. "What we have and will continue to do is welcome them with open arms and refuse to turn our backs on them in a time when they need support the most."
While vowing to do whatever is necessary to help the city's newest residents, Lightfoot blasted Abbott as a "man without morals" and said his decision to send two bus loads of immigrants to Chicago was "inhumane, unpatriotic, racist and xenophobic."
The buses that arrived late Wednesday carrying the undocumented immigrants were the first to arrive in Chicago from Texas, Lightfoot said. Abbott has also bused immigrants to Washington, D.C., and New York City in what Lightfoot said was an attempt to embarrass Democratic mayors for supporting President Joe Biden.
Abbott, a Republican who is running for re-election, has blamed Biden's immigration policies for "overwhelming border communities in Texas."
"Instead of treating these individuals with respect that they deserve or the due process that our laws require, Gov. Abbott chose instead to inhumanely load them onto buses, send them on a more than 12-hour journey across a country that they don't know and drop them off without any regard for what the next steps are," Lightfoot said, her voice rising with indignation. "These are human beings. Moms and dads, young children, elders who deserve our respect and dignity. They're not cargo. They are not chattel. They're human beings."
Lightfoot said city officials did not know that the first buses of immigrants would arrive this week, but had begun preparing after Abbott sent buses of immigrants to New York City and Washington, D.C. More immigrants are likely to be sent by Abbott to Chicago, Lightfoot said.
"This is a humanitarian crisis manufactured by a cheap politician who is focused on his own political fortunes and pandering to, frankly, the lowest common denominator in his party at the expense of these people's lives," Lightfoot said. "We have to be the opposite of that and do whatever is necessary to stand up in this moment and we will do that."
Chicago has long protected undocumented immigrants. The city's status as a so-called sanctuary city dates back to 1985, when former Mayor Harold Washington issued an executive order prohibiting city employees from enforcing federal immigration laws. It became law in 2006, reaffirmed after the 2016 election of former President Donald Trump and expanded in 2021.
Gov. J.B. Pritzker, who is also running for re-election, welcomed the immigrants to Illinois, and said he would "ensure that these individuals are treated with respect and safety as they look to connect with their family and friends."
Contact Heather Cherone: @HeatherCherone | (773) 569-1863 | [email protected]
---