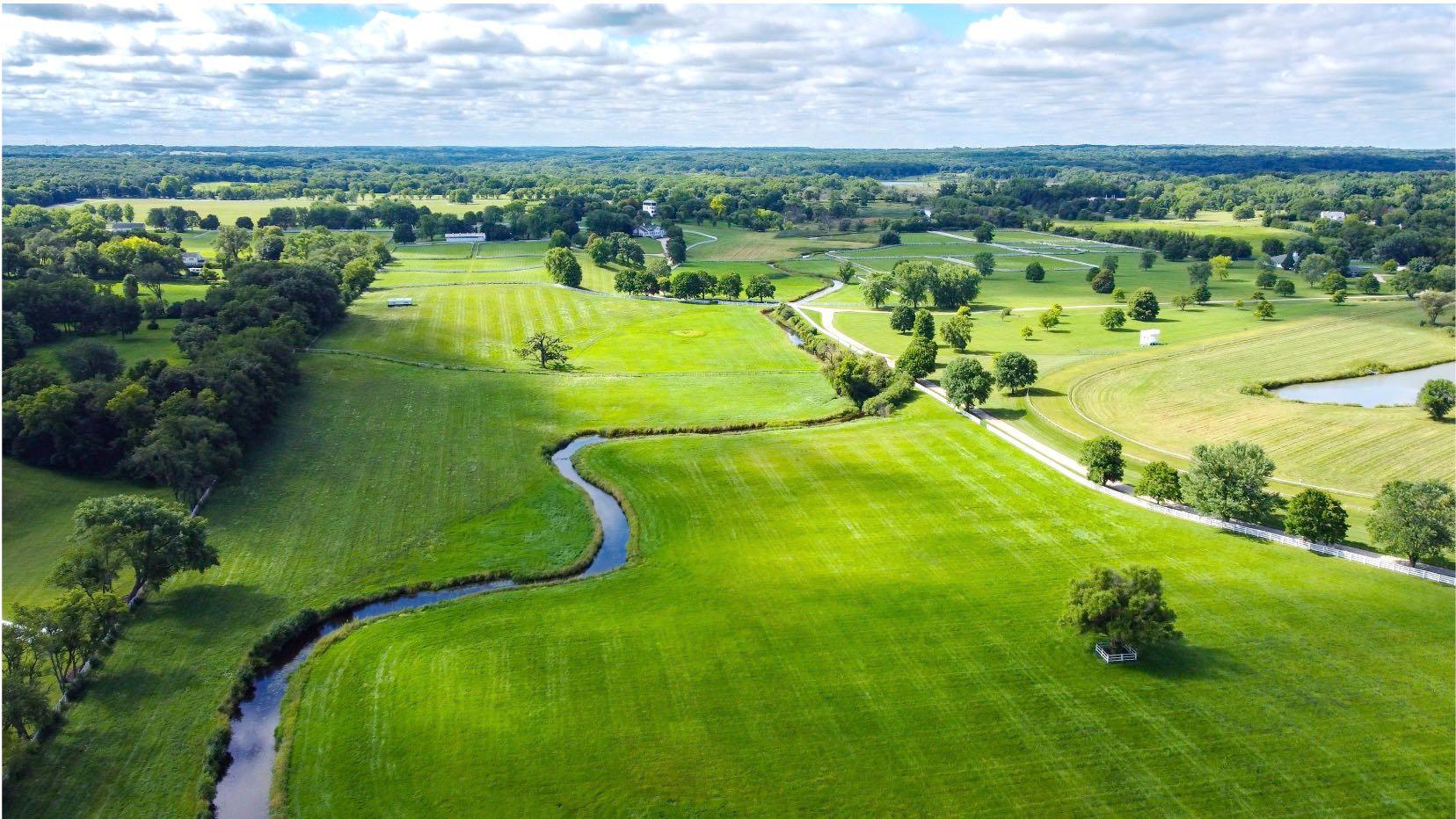 Hill 'N Dale Farm South, recently acquired for permanent conservation as open space. (Indoor Drone Tours)
While the Chicago Bears' very public bid to purchase Arlington Park has been grabbing headlines, far quieter acquisition negotiations have been taking place regarding another significant parcel of land associated with the race track's one-time owners.
The Duchossois family — whose late patriarch, Richard Duchossois, purchased Arlington Park in 1983 — has announced the sale of its 246.5-acre Hill 'N Dale Farm South property to Barrington-based Citizens for Conservation.
With the purchase, Citizens for Conservation will create the Hill 'N Dale Preserve, ensuring the land's protection as open space in perpetuity.
"This property's high conservation value, coupled with CFC's strong history of delivering quality restoration results, will have far-reaching impacts for the entire Barrington-area community, as well as the entire Northern Illinois region," Kathleen Leitner, Citizen for Conservation board president, said in a statement.
The purchase was enabled by a $4.9 million grant from the Illinois Clean Energy Community Foundation, the largest such grant awarded for a single parcel purchase, Citizens for Conservation said. The nonprofit is aiming to raise an additional $5 million for ecological restoration and to seed an endowment for the property's ongoing upkeep. 
Preservation of the Hill 'N Dale acreage is a coup for conservationists. The long-coveted site includes more than 4,000 linear feet of the pristine Spring Creek (part of the Fox River watershed) and is located near other significant nature preserves, providing connectivity along a greenway corridor for native plants and wildlife.
"The potential for this property and what I've learned about the connection to the greater good of the Illinois and Midwestern conservation objectives is astounding," said Kim Duchossois, who helped facilitate the farm's sale.
Among the conservation priorities will be restoration of the land's native hydrology to allow for increased surface water infiltration and expanded wetlands.
A concept map of the site shows plans for a mix of prairie, savanna and marsh habitat, which will support native plant and aquatic communities, grassland birds (such as Bobolink, Bittern, and Henslow's sparrows), and wildlife that originally occupied the land, including endangered species such as the rusty patched bumble bee.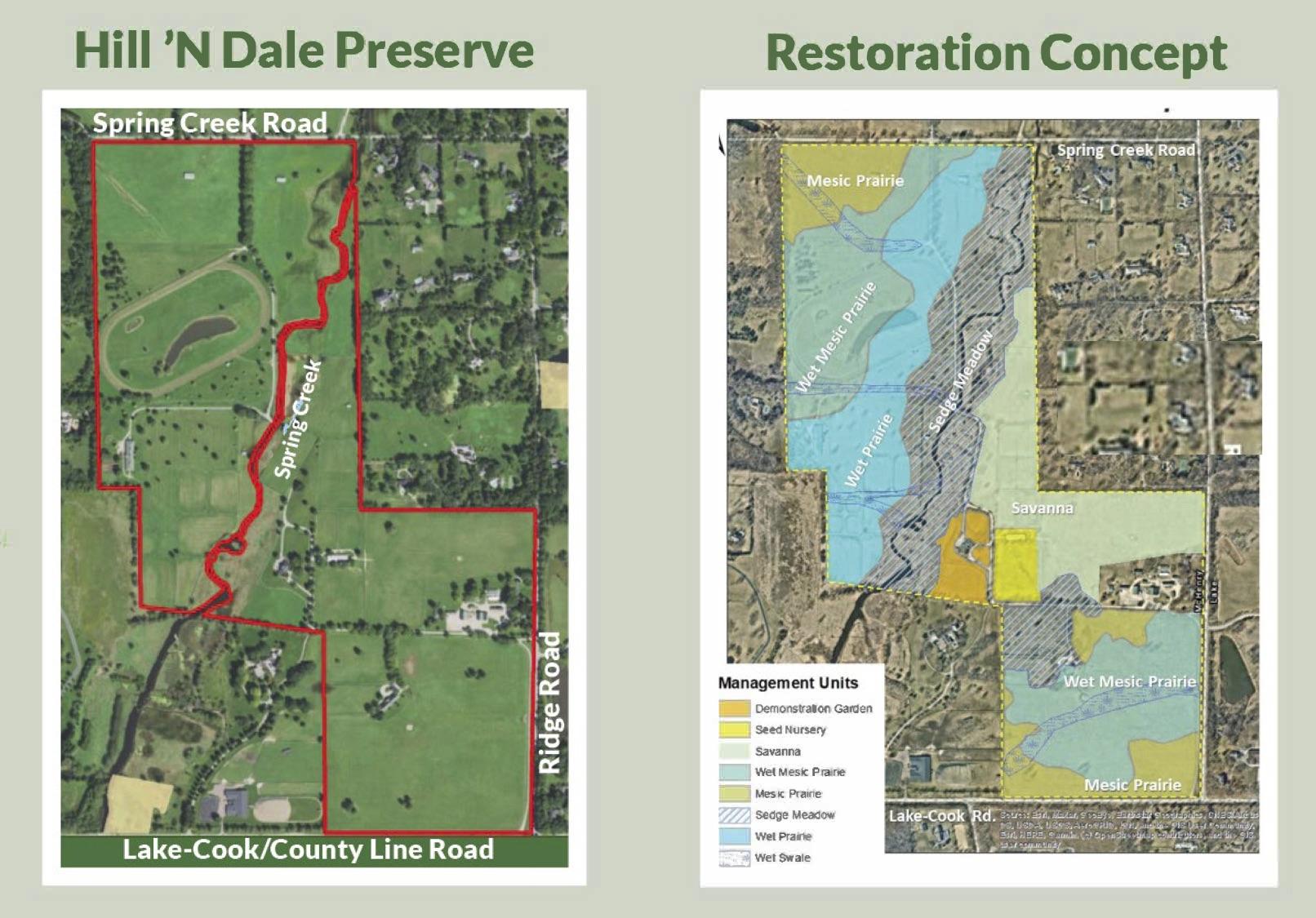 Aerial view of the Hill 'N Dale farm in its current form, alongside a restoration plan. (Courtesy of Citizens for Conservation)
One element of the site that won't be altered: the property's white exterior fences. Those will be kept intact in acknowledgement of their iconic status within the community, according to Citizens for Conservation.
Hill 'N Dale Preserve represents the largest acquisition in Citizen for Conservation's 50-year history, bringing its portfolio up to 14 preserves spanning 777 acres in Lake, Cook and McHenry counties.
It's another big swing by a small nonprofit, following on the heels of the purchase of the 300-acre Thompson Road Farm by The Land Conservancy of McHenry Country. Both have answered the call of the state's "30 by 30" pledge to conserve 30% of land and water resources by the year 2030. 
"This incredibly important acquisition is fulfilling CFC's mission of saving living space for living things through protection, restoration and stewardship," Leitner said.
Contact Patty Wetli: @pattywetli | (773) 509-5623 |  [email protected]
---