Video: Chicago's Planning and Development Commissioner Maurice Cox joins "Chicago Tonight" to talk about the first project in the Invest South/West initiative. (Produced by Jennifer Cotto)
---
Nearly two years after Mayor Lori Lightfoot unveiled her plan to reverse decades of disinvestment on the South and West sides, city officials broke out the golden shovels and turned the first ceremonial clods of dirt on Wednesday.
The first of 10 developments planned as part of Lightfoot's Invest South/West initiative to start construction is a 58-unit apartment complex set to be built near 79th and Green streets in Auburn Gresham. All of the apartments will be set aside for low- and moderate-income Chicagoans, with rents ranging from $925 per month to $1,250 per month, officials said.
Maurice Cox, the commissioner of the city's Department of Planning and Development, told Chicago Tonight on Wednesday that the original proposal called for one five-story building that drew fierce criticism from the community.
"The community felt that it was out of context, too dense for one site, so we started over again," Cox said. 
The revised proposal was "better for everyone," Cox said.
The building at 838 W. 79th St. will include an AYO Foods store, which sells West African food, and the building at 757 W. 79th St. will include the new home of KLEO Community Center and the Park Supper Club, officials said.
The $43 million development is set to get approximately $39 million in city funding, including a discount on the sale price of the long-vacant land, which had been owned by the city, officials said.  
The project is a transit-oriented development, which means it will have only 28 parking spaces.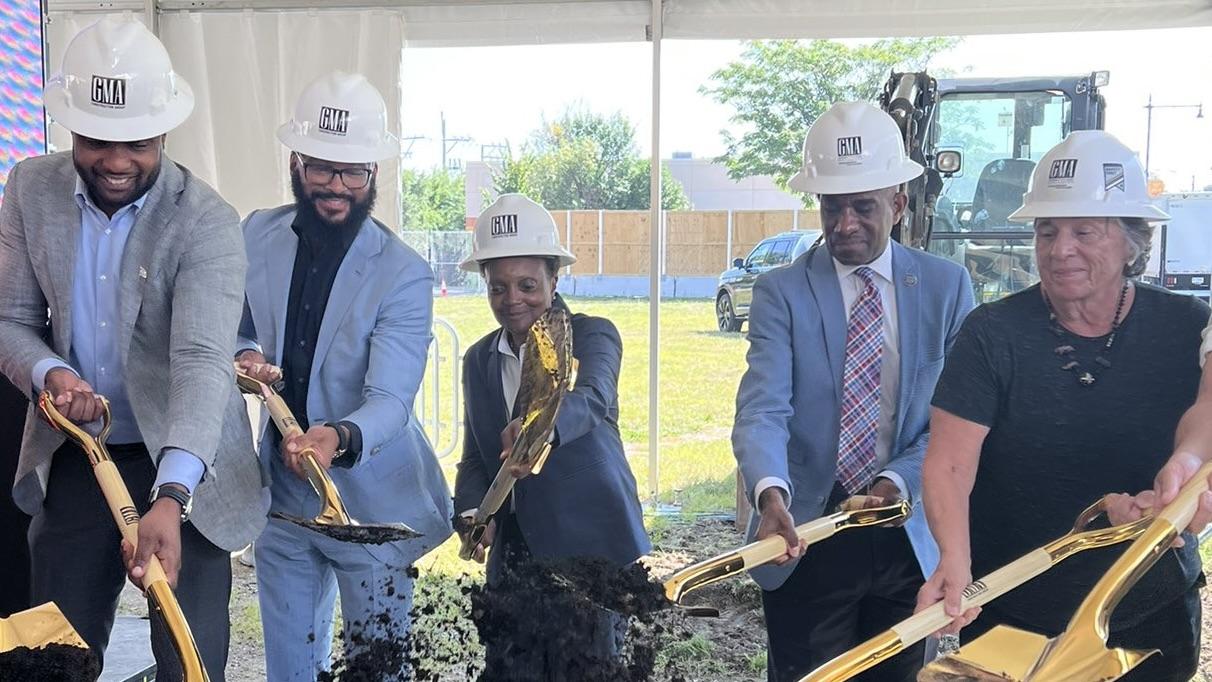 Chicago Mayor Lori Lightfoot breaks ground on a 58-unit apartment complex on Wednesday, Aug. 24, 2022. (Chicago's Mayor Office)
Unveiled by Lightfoot in October 2020, Invest/South West was derailed — along with the rest of the mayor's agenda — by the COVID-19 pandemic, which triggered an economic collapse, record-high levels of violent crime and civil unrest.
That complicated the mayor's ambitious effort to address the root causes of crime, poverty and population loss in Chicago's Black and Latino neighborhoods.
The program calls for the city to spend $750 million in public money by October to address the fundamental problems that have tormented South and West side communities for decades, including a lack of jobs and few inviting places to shop, gather and have fun. 
Invest South/West bets that private investment will be drawn to Auburn Gresham, North Lawndale, Austin, Englewood, Humboldt Park, Quad Communities, New City, Roseland, South Chicago and South Shore by the city's investments, making "catalytic developments" possible, officials said.
The program has attracted $2 billion in private investments, Lightfoot said Wednesday.
The program's first order of business was to identify 12 commercial corridors in those communities that could serve "as focal points for pedestrian activity, shopping, transportation, public spaces, and other quality-of-life amenities for local residents," according to officials.
Before the end of the year, Invest South/West projects are slated to break ground in Englewood, Austin, Humboldt Park and North Lawndale, officials said.
The project's groundbreaking turned into an impromptu campaign rally for Lightfoot, who is running for re-election against seven announced challengers. The hour-long event ended after Imagine Group principal Torrey Barrett, one of the developers of the project, sparked a chant of "four more years" after endorsing Lightfoot for re-election.
Lightfoot said she was "unapologetic" about her commitment to bringing new resources to the South and West sides after decades "without a partner in the mayor's office."
Her voice rising and falling with emotion, Lightfoot again defended her decision to focus on development on the South and West sides from unnamed critics who she said urged her to follow the path laid by former Mayor Rahm Emanuel and focus on downtown.
"We knew we had to do the opposite of that," Lightfoot said, adding that she was determined to ensure that residents of the South and West sides lived in neighborhoods where places to shop, work and play are within walking distance, like the ones on the North Side.
Contact Heather Cherone: @HeatherCherone | (773) 569-1863 | [email protected]
---