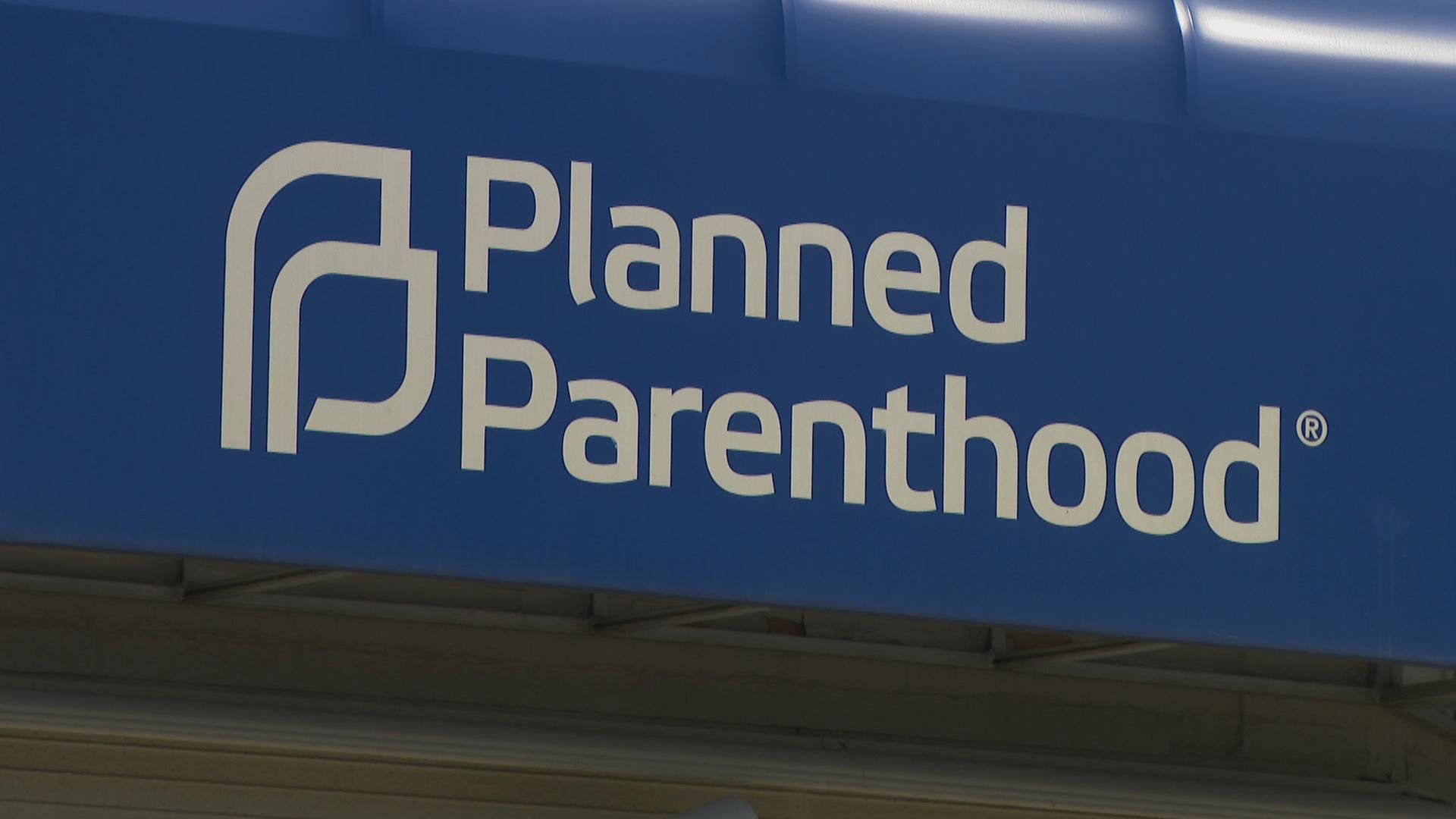 (WTTW News)
Fury and sorrow are how Adelaide Zwick, 25, describes the emotions she felt when word spread that the Supreme Court overturned Roe v. Wade.
The June 24 decision ended federal constitutional protections for abortion care that had been in place for almost half a century and gave states the power to enact abortion bans. 
While news of the decision may have stirred up emotions for Zwick, a program manager of advocacy and campaigns at Planned Parenthood Illinois, it also served as a call to action.
"This is a pivotal moment for abortion rights," Zwick said. "This could have really far-reaching implications for other bodily autonomy issues, and I know based on my experience that Gen Z is not going to go quietly as politicians attempt to strip them of their rights."
Abortion, which has long been a flashpoint in American politics, has once again taken center stage for both political parties. As the midterm election nears, the abortion issue is very likely to become a driving force in organizing and activism — on both sides. Zwick and other young people say the Supreme Court abortion decision could end up jumpstarting political engagement and organizing among members of Gen Z, who are in their teens and early 20s.
"In my lifetime, we've always had Roe v. Wade," said Jane Ruby, president of the League of Women Voters Chicago. "We've always had abortion federally protected, so to be put in this position, like in a political arena, it's scary. But, you know, I feel like I have a responsibility in my position of leadership to help rally young millennials and Gen Z voters to understand the position we're all in. We have to be the ones to preserve and protect abortion, not just in our own states but nationwide."
Taking Action
Some young people see the decision as a call to action. Take 19-year-old Olivia Julianna.
The activist and political strategist at youth-led nonprofit Gen Z raised more than $2 million to help provide abortion services to women across the country by turning body shaming comments made by U.S. Rep. Matt Geatz, R-Florida, into an online fundraiser.
She told Teen Vogue she plans to continue to use social media platforms "to raise awareness, fundraise for causes, and get under politicians' skin."
Sophie Beren founded the Conversationalist in 2019 and serves as its CEO. She launched the platform with the goal of establishing a non-partisan, educational safe space for members of Gen Z to have difficult conversations, like those around women's reproductive rights. It currently has a community of more than 100,000 young people via the talk show "POVz" and digital platforms.
Beren believes the Supreme Court abortion decision and other current political topics will spur engagement.
"Gen Zers more than ever want to speak up, enact policy and make their voices heard surrounding the issues that they care about," Beren said. "Young people want to do their part because they also acknowledge the reality that we are going to be the generation that inherits a lot of these issues. So, I may be an optimist, but I have full faith that this will only encourage young people to use their voices to another degree because I think a lot of young people are asking, 'If not now, when? And if not me, then who?'"
Beren added that Gen Z is not a monolith, and not all members side with pro-abortion rights or anti-abortion labels. However, she thinks many young people will see the abortion decision as something that will strongly impact their future and predicts they will choose companies and states that align with their values – both social and political.
"When we think about the political implications of this ruling, I mean, it's not only abortion that I think is impacting," Beren said. "It's impacting how Gen Zers will want to live their lives. Whether it be education and seeing the limitations being placed on what a teacher can introduce into the classroom. Whether it be gun violence, and the real implications of experiencing over 300 mass shootings in America since the start of 2022. I think these issues are causing young people to really think about how their environments and their identities intersect with the world around them."
On the other side of the political spectrum, anti-abortion rights groups involving young people see the Supreme Court decision as a victory and rallying cry to continue their work.
Students For Life of America, an anti-abortion rights group, works to organize college and high school students interested in ending the procedure in the U.S.
After the latest decision, the group put out a look at organizing plans for the upcoming school year that included an effort to provide women with unplanned pregnancies resources and parenting support.
Where Do Things Stand?
Following the Supreme Court decision, millions of women quickly lost access to abortion care with many states having so-called trigger laws on the books that immediately outlawed the procedure.
Other states moved to solidify their laws around abortion access.
Locally, Illinois has already seen the impact of the decision as neighboring Midwest states have severely restricted access to abortions. Gov. J.B. Pritzker and Chicago Mayor Lori Lightfoot vowed to protect access. 
On Aug. 6, neighboring Indiana became the first state to pass new legislation that enacted an abortion ban— not including states that banned abortion through existing trigger laws. Indiana's new restrictions will take effect Sept. 15.
To the north, Wisconsin Republicans who control the state Legislature are seeking to dismiss the Democratic attorney general's lawsuit challenging the state's 1849 abortion ban. Democrats argue a 1985 law superseded the earlier ban and should allow abortion to remain legal in the state.
According to data provided by Planned Parenthood Illinois, in the last year, the organization scheduled around 100 out-of-state patients per month. In the first week after Row fell, they scheduled nearly 750 out-of-state patient appointments and their call volume nearly doubled.
However, according to Linda Zerilli, professor of political theory and gender and sexuality studies at the University of Chicago, there are now concerns over interstate travel and accessibility, issues she says have been taken for granted in the same way women's reproductive rights had been.
"It's a fact that states will allow citizens to sue other citizens who are seen as abetting that travel right," Zerilli said. "So, in other words, if a woman gets a friend to drive her from Missouri to Illinois to get an abortion, [the friend] could then be sued when she gets back to Missouri, for assisting in an abortion." 
Both the right to privacy and to travel are simply embedded in a set of precedents and assumed by the public, Zerilli said. Therefore, it is entirely possible that a court could decide women don't have the right to travel from state to state to get an abortion.
While Zerilli does not know how likely the decision is to prevent abortions, she said it will increase the rate of mortality among women. 
"The thing that really prevents abortions, which has been shown historically and empirically, to prevent abortions, is sex education, contraception," Zerilli said. "In fact, women have less abortions now, statistically speaking than there were 10 years ago, five years ago. So, the abortion rate has actually gone down, it has not gone up. There's kind of this this idea like we're going to destroy the only way to prevent abortions, that's just simply not true."
Looking to November
With most Democratic candidates largely advocating for access to abortions and many Republican candidates in favor of restrictions, Zerilli questions what will animate voters come election time and to what extent will people become single issue voters.
"The big question is, we've got 9.1% inflation," Zerilli said earlier this month. "Do [voters] think that the Democrats bear responsibility for that? And yeah, [voters may] dislike the position of most Republicans on abortion, but they can't buy eggs anymore. They can't buy food; you know there are other things that may just be more important to them."
Ruby said that while the recent primary election turnout was low, especially among young people, she expects a high November voter turnout as more Gen Zers reach legal voting age and look to fight to "preserve those foundations and secure the right further."
"Nothing is forever written in stone," Ruby said. "In the day-by-day sense it might be easier to say something is safe for now, but who's to say it will be safe forever? The idea of protecting the most precious rights that we have right now should be a rallying cry within itself. Yes, we have great laws, but we need to make sure those laws stay protected no matter who the elected officials are and that's the reason to get out and vote." 
It is a rarity that the Supreme Court overturns one of its decisions, making political predictions difficult.
In fact, according to the National Constitution Center, the court has overruled only 232 of its own decisions since 1810 — which is roughly .8% of cases brought to the Supreme Court. 
At least one data point suggests that members of Gen Z could become a political force to be reckoned with.
According to the annual Harvard Youth Poll of 18- to 29-year-olds, at more than six months out from the November midterm elections, 36% of young Americans report they will "definitely" be voting. That compares to 37% at this stage in 2018, when there was record-breaking youth turnout, according to the poll.
Of note, that poll was conducted before the Supreme Court abortion decision.
---