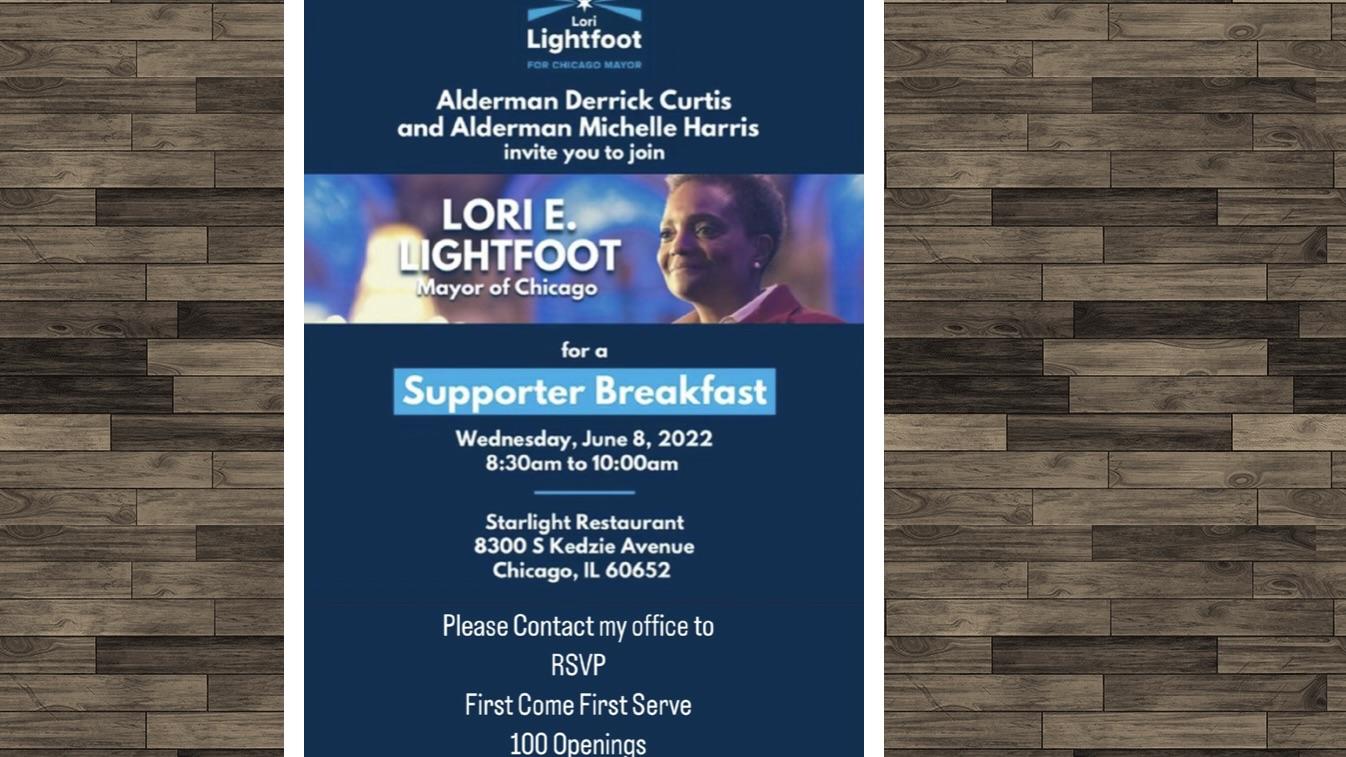 An image from 18th Ward Ald. Derrick Curtis' ward newsletter. (Provided)
The Chicago Board of Ethics voted unanimously Monday to fine Ald. Derrick Curtis (18th Ward) $1,000 for violating the city's ethics ordinance by using his official city of Chicago email account to advertise Mayor Lori Lightfoot's reelection kickoff.
Curtis, a Lightfoot ally, sent an email on June 2 to residents of his Far South Side ward that included an advertisement for the mayor's re-election kickoff event at the Starlight Restaurant on June 8. The newsletter included an image that invited 100 residents to reserve a spot at a "supporter breakfast" by contacting Curtis' ward office on a first-come, first-served basis.
The newsletter also included information about official ward events, including community meetings and how to obtain help paying utilities.
After a citizen complaint, the board unanimously found that there was probable cause to conclude an elected official violated the city's ethics ordinance by including "campaign-related content in an official ward newsletter, emailed from a cityofchicago.org email address, contrary to clear board guidance on the improper mixing of political and official content in newsletters and websites that was sent to all city elected officials in January 2020."
Chicago Board of Ethics records released Tuesday said Curtis had appeared at Monday's meeting and attempted to rebut the board's findings during a closed-door session.
Curtis could have faced a maximum fine of $5,000. The board's discussion of the incident took place behind closed doors, also in keeping with its rules.
Curtis did not respond to a request for comment from WTTW News.
Curtis told WTTW News June 13 that the email was sent from his personal email account and was not an official ward communication. Curtis did not respond after WTTW News shared a copy of the email that came from his city email account that included the information about the mayor's political event.
The email was first reported by Gregory Pratt of the Chicago Tribune.
Curtis also told WTTW News that he closed his ward office during the mayor's event to allow his staff to attend it, which they did, wearing T-shirts embroidered with the 18th Ward logo.
"It was their choice," Curtis said, adding that his staff did not start their city-paid work day until 10:30 a.m. June 8 — after the mayor's event.
A spokesperson for Lightfoot's campaign declined to respond to a request for comment from WTTW News.
In October, a revised ethics ordinance is set to take effect that will boost the maximum fine for violating the city's ethics ordinance from $5,000 to $20,000.
The new law also alters the Ethics Board's ability to decide there is probable cause to believe the city's Governmental Ethics Ordinance has been violated and levy fines, according to the regulations that govern the board.
While the board refers complaints that require a probe to the city's inspector general, it can act in cases that do not require a "factual investigation" and where an ethics violation is apparent. The board's rules require the elected official's name be kept confidential.
The new law requires the board to notify the elected official in writing at least 10 days before the Board of Ethics could find probable cause that they violated the law, giving them a chance to refute the allegation and avoid public embarrassment.
Lightfoot said July 18 the change was needed ensure "due process" for those facing sanctions.
"What the Board of Ethics does now is becomes judge and jury before they even give the target of the complaint an opportunity to respond," Lightfoot said. "But for me, due process matters. And I want to make sure that the board is viewed with legitimacy, not as judge, jury and executioner before they even get the other facts from the person who's the target of the complaint."
William Conlon, the chair of the Board of Ethics, said the board was "committed to enforcing the ordinance with vigor and integrity."
Contact Heather Cherone: @HeatherCherone | (773) 569-1863 | [email protected]
---