While federal legislation to create a modern-day Civilian Conservation Corps inches its way through Congress, the Cook County Forest Preserve is moving full steam ahead with programs that deploy crews of youth and adults to tackle restoration and maintenance projects across the district's acreage.
On an August morning that was about to turn swampy, 17-year-old Nasser Broadnax and 15-year-old Trevon Dixon were making steady progress raking and tamping down freshly laid gravel as they improved a trail at Sand Ridge Nature Center.
Both admitted they'd still be sleeping if it weren't for the summer job with Chicago Conservation Leadership Corps (one of the preserves' three corps options, all paid positions), but it's "way better to be productive," said Dixon. "I like the hard work."
The high schoolers were part of a 10-person crew (plus crew leaders) assigned to Sand Ridge for a five-week period, the majority of the teens hailing from either Calumet Park or South Holland. Corps crews posted to other nature centers are similarly drawn from surrounding communities to cut down on travel times, explained Alice Brandon, resource programs manager with the district.
Chicago Conservation Leadership Corps crew clearing buckthorn at Sand Ridge Nature Center, August 2022. (Patty Wetli / WTTW News)
With nature center staff focused on serving visitors, including providing public programming, corps members offer a much-needed manpower boost when it comes to managing the preserves' 70,000 acres, Brandon said. 
"We have volunteers, Conservation Corps crews, contractors and staff," she said. "They're all tools in our toolkit. We have to decide who to deploy where and for what."
Contractors tend to have more experience and access to heavy equipment, adult corps members may be sent to more far-flung locations to work on more complex or tedious jobs, while the youth are stationed at the district's nature centers, which have more amenities for the teens (like restrooms and air conditioning) as well as more varied projects, Brandon explained.
The centers frankly also give the youth corps higher visibility with the public, a strategic consideration for the funding-strapped donor-reliant programs that operate under partnerships with organizations like Friends of the Forest Preserves and Student Conservation Association. "It's free advertising," said Brandon.
VIDEO: Conservation Corps in action at Sand Ridge Nature Center.  (Patty Wetli / WTTW News)
Deeper into the woods at Sand Ridge, the half of the crew not on trail duty were wielding saws and loppers in the war on buckthorn, clearing a section of forest of the invasive shrub. The results of their efforts were readily apparent.
"Just after a morning, we can literally look back and see what we've done," said Giancarlo Narcisi, one of two adult crew leaders.
That ability to make such an immediate positive impact is what drew 16-year-old Keilah Jackson to apply to the corps.
"I've always wanted to help out with making the environment better," said Jackson. "I like the whole idea of being outside and being helpful."
Whether building a nature play space for children, clearing invasive species or grooming trails, the teens said they were benefiting from the experience as much as the preserves' were benefiting from their labor, gaining skills that would serve them well in "real life."
"Confidence, communication skills, persistence. Any skill you can name," said Broadnax.
"I learned for sure what poison ivy looks like," added Frances Boerman-Cornell, 18. "And I learned how to use new tools. It's the norm for the girls here to be doing hard labor. It's definitely empowering."
Being surrounded by nature was a learning experience of a different kind, they all agreed.
"I've taken a lot of pictures of slugs and turtles. Seeing wildlife in its natural habitat has been the coolest," said crew leader Keisha Liggins. "I'm in college for criminal justice and it can be quite stressful. Working outside has put me in a peaceful environment."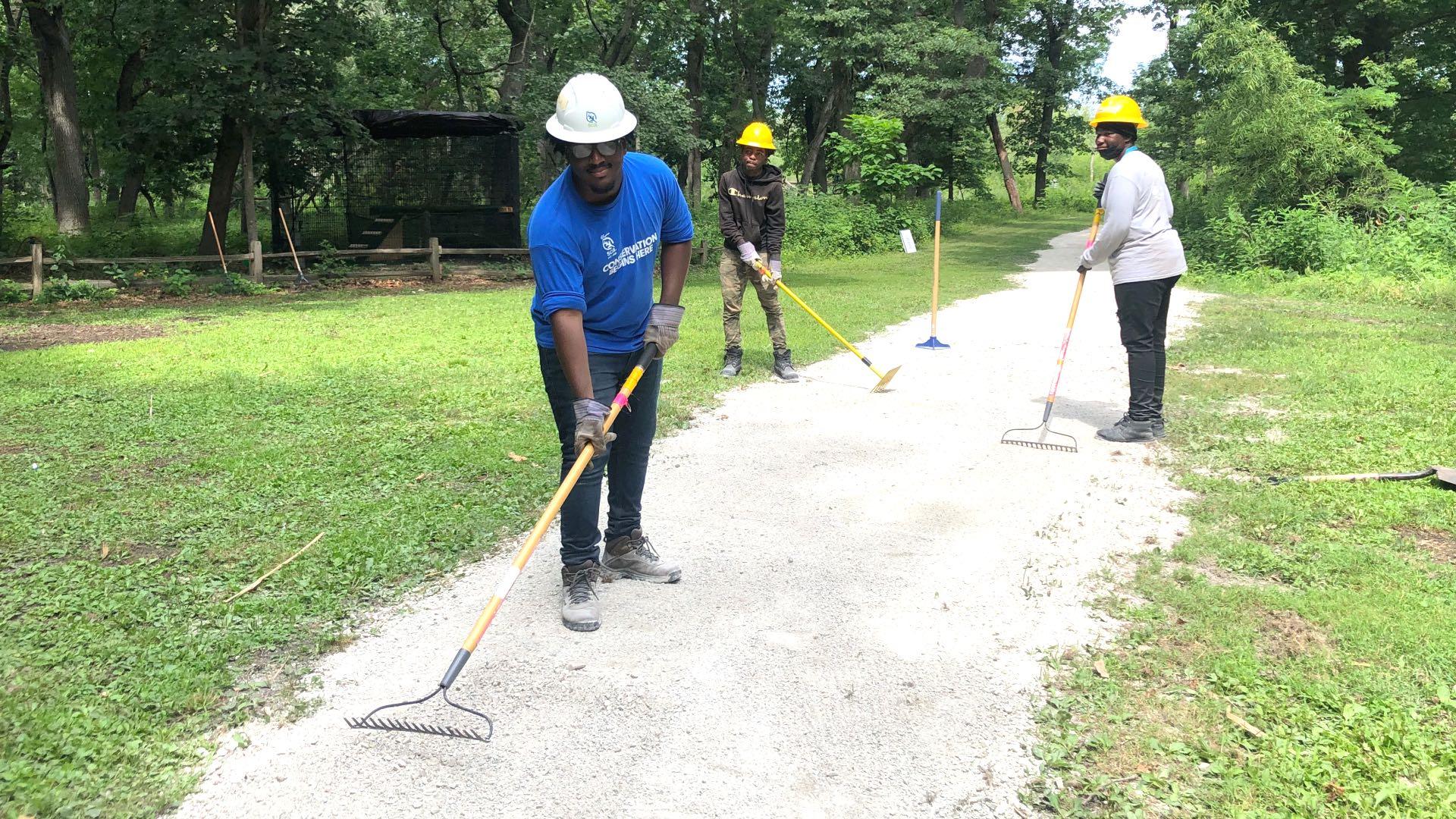 Conservation Corps members making trail improvements at Sand Ridge Nature Center, August 2022. (Patty Wetli / WTTW News)
For some, participating in the youth corps has introduced them to a career calling.
Jomareun Richardson, assistant crew leader at Sand Ridge, is in his fourth year with the corps. Now 20 years old, he's majoring in environmental science and sustainability at Illinois State University.
"To be honest, I wasn't into nature, it was just a good summer job. But I feel like when I first joined the corps, I dipped my toes into helping the environment and the community," Richardson said. 
Big picture, he said, keeping the preserves well maintained is part of a larger ecological puzzle tied to climate change and the biodiversity crisis. "Even though the work is local and it may seem small in scale, it's important," he said.
But the work is equally important at the micro-level, particularly in terms of making sure people have access to nature. 
"I knew there were forest preserves in Cook County, but it was a bit of a shock to realize this was out here," said Richardson, who grew up in Calumet Park. "These forest preserves are so important for people in Chicago. Not everyone can afford to go to a national park or state park. Having these preserves close to Chicago is cool."
Epiphanies like Richardson's are one of the reasons the Conservation Corps programs are vital to the forest preserves, Brandon said.
Cook County preserves harbor globally-imperiled ecosystems, but there is a portion of the population that eyeballs the land as ripe for development, she said, and creating future guardians is imperative.
"More and more youth are disconnected from nature," Brandon said. "If we don't get the next generation to care, we won't have forest preserves."
Contact Patty Wetli: @pattywetli | (773) 509-5623 |  [email protected]
---