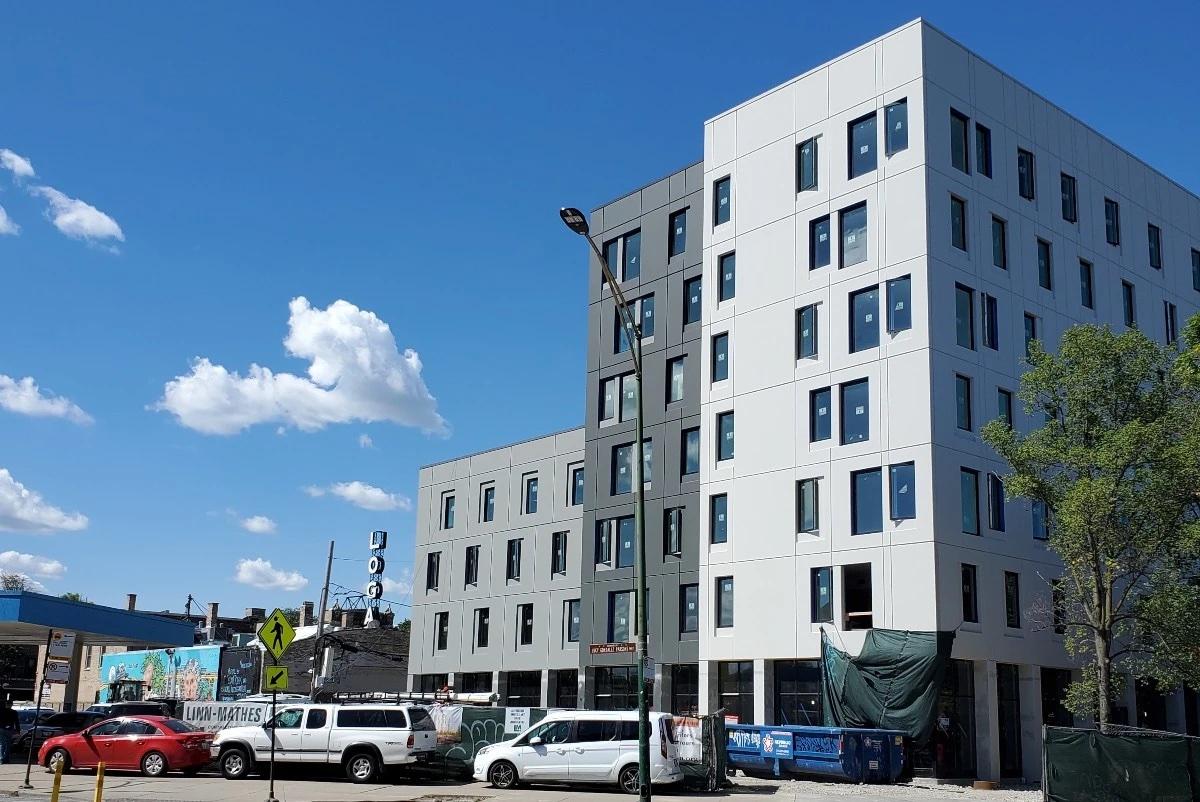 The under-construction affordable housing project at 2602-38 N. Emmett St. in Logan Square. (Credit: Bickerdike Redevelopment Corp.)
An effort to make more Chicago neighborhoods on the South and West sides places where people are more likely to hop a train to get to work or meet up with friends than jump in a car advanced Tuesday.
The City Council's Zoning Committee voted 15-4 to advance a proposal crafted by Housing Commissioner Marisa Novara. It's designed to bolster the city's policy to encourage transit-oriented development by boosting incentives and increasing pedestrian safety while increasing the amount of affordable housing being built near train stations and along bus lines.
A final vote on the proposal is set for Wednesday's full City Council meeting, but it could be delayed by opponents until September, after the City Council's planned August recess.
Since 2013, the city has allowed large apartment complexes to be built along CTA train stations — without the usual number of parking spaces, in order to increase the area's density. In 2019, the city's transit-oriented development policy was expanded to include 20 corridors with high-frequency bus lines.
But that resulted in the construction of only market-rate homes, with more than 90% of transit-oriented developments built on the North Side, Northwest Side, downtown and around the West Loop, according to a city report. That helped supercharge the deep inequities facing Chicago and its residents, including racial and economic segregation, officials concluded.
Ald. Roderick Sawyer (6th Ward), who is running for mayor, said he was skeptical that the measure would spur development in his South Side ward, which includes Englewood.
But Ald. Mike Rodriguez (22nd Ward) said the proposal was more than just a housing proposal.
"I can't remember a piece of legislation that combines public safety with affordable housing, creating density and safer communities in such a comprehensive package," Rodriguez said.
While transit-oriented developments essentially avoided the South and West sides entirely, the developments on the Northwest Side turbocharged the displacement of working-class residents, many of whom were Latino, from Logan Square and Wicker Park with the construction of high rises along the Blue Line that attracted Millennials and members of Gen Z who commuted to work downtown.
The measure that advanced Tuesday would allow transit-oriented developments to be built within a half-mile of any CTA or Metra train station and within a quarter-mile of high-capacity bus corridors, more than doubling the available land.
In addition, it would prohibit developers from including more than one new space for every two new apartments near transit hubs and require that infrastructure changes required for new construction be designed to protect pedestrians — not speed the flow of traffic.
However, a provision that would have allowed three-unit residential buildings to be built in wealthy neighborhoods near transit hubs without special permission from the City Council, which requires the support of the local alderperson in nearly all cases, was removed before Tuesday's hearing.
That would have struck a significant blow against aldermanic prerogative, the largely unwritten, decades-old practice giving aldermen a veto over ward issues, but faced significant opposition from Lightfoot's allies on the City Council.
However, the measure seeks to increase the number of affordable units approved by city officials by giving developers the right to demand an up-or-down vote by the City Council within a year of their proposal.
Ald. Brian Hopkins (2nd Ward) called that part of the proposal a "poison pill." Ald. Brendan Reilly (42nd Ward) also objected to that part of the plan. Both voted against the measure, as did Ald. Anthony Beale (9th Ward), a frequent critic of the mayor.
The measure also expands the area of the city where special permission is needed before multifamily homes can be demolished and replaced with single-family homes from Pilsen to all areas of the city where there is evidence that longtime residents are being pushed out of their homes. Originally, the measure would have included that restriction in affluent areas of the city.
That provision drew the ire of Ald. Raymond Lopez (15th Ward), a candidate for mayor, who voted against the measure, saying it would prevent working-class Chicagoans from getting the highest possible value for their properties.
Contact Heather Cherone: @HeatherCherone | (773) 569-1863 | [email protected]
---