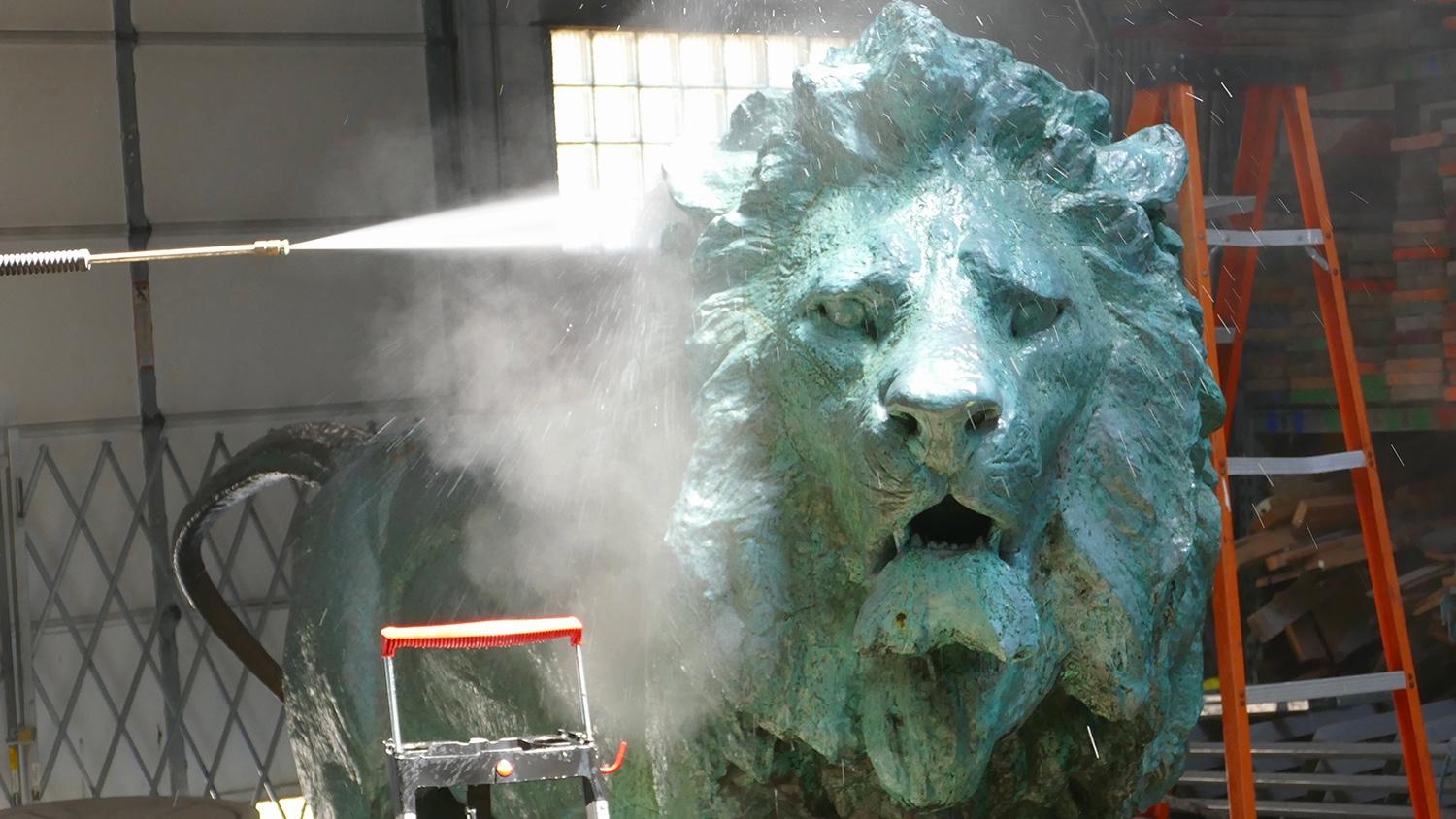 One of the Art Institute's iconic lions receiving a "spa treatment." (Courtesy of Art Institute of Chicago)
They're back.
After a month-long "spa vacation," the Art Institute of Chicago's famed lions returned to their posts Tuesday and are once again guarding the museum's Michigan Avenue entrance.
The bronze felines had been in the care of the Art Institute's conservation partner, Conservation of Sculpture and Objects Studio, since mid-June for a routine cleaning and fresh coating of wax. They're now "cleaner and greener than ever," the Art Institute declared in a statement.
The lions get a deep cleaning!

Thanks to Conservation of Sculpture & Objects Studio, Inc. (CSOS) for their great work.

See the lions cleaner (and greener) than ever next week when they're back in front of the Art Institute. pic.twitter.com/aAg3igCp9H

— The Art Institute of Chicago (@artinstitutechi) July 15, 2022
---
The lions have been a fixture of Chicago's cityscape since their unveiling in 1894. Their sculptor, Edward Kemeys, described the north lion as "on the prowl" and the south lion as being "in an attitude of defiance."
The pair's removal back in June created quite the stir, especially when the lions were spotted strapped to a flatbed truck, cruising down I-290 en route to Conservation of Sculpture's Forest Park facility.
Spotted on 290 from the blue line! pic.twitter.com/j9uv7SJAa3

— Sperry Walker (@sperry_walker) June 14, 2022
---
Plenty of folks had fun imagining what could take the lions' place.
We got this laying around. pic.twitter.com/6BJN7p0yOX

— Goose Island Beer Co. (@GooseIsland) June 15, 2022
---
But the lions themselves, courtesy of a spoof Twitter account, had the last laugh. 
LIVE footage of SOUTH Lion getting scrubbed up at the spa pic.twitter.com/S6qAVfOoMr

— Art Institute Lions (@ChicagoLions) June 15, 2022
Behind-the-scenes peek at what's happening at the spa. Lions are in the blowout phase. Manes getting groomed and primed. pic.twitter.com/3HJZWhAfIk

— Art Institute Lions (@ChicagoLions) July 12, 2022
---
Contact Patty Wetli: @pattywetli | (773) 509-5623 |  [email protected]