Marble, serpentine and wood. These are just a few of the elements manipulated by artist Roman Villarreal.
"What I was doing in most of my work was sharing South Chicago and the South East side with the world, but I never realized it at the time." Roman Villarreal says. "I was documenting events. I realized whatever I was doing, it had to be done on an equal basis, the good with the bad."
So that's what he tilted the exhibition: "South Chicago Legacies."
"I don't dwell much on the immigration end, but what it is to be an urban person and live in this community being a steelworker, blue collar, what we experience. The good and the bad. I show everything."
Villarreal refers to himself as an urban anthropologist, a self-taught skill he says he learned as a child.
"I realized it was a gift to think in 3D. My mind is a 3D mind. I think in 3 dimensions, like in layers and after years of being a sculptor, that affects my work," he said.
The exhibition showcased in West Town's Intuit Center for Intuitive and Outsider Art features Villarreal's work from as early as the '70s.
"I didn't realize the importance of developing your own style because I wanted to paint like everyone else but I realized that's not necessary. They want more of your soul," Villarreal says. "Once you master your medium, what will sell is your soul."
Villarreal works to pay homage to both his community and heritage through his work.
"What South Chicago story does this sculpture tell? This one basically is sharing our past," he said. "This is Tatas, the great grandfathers, but she birthed us, the three races, which is us, the Latino people now in the Americas."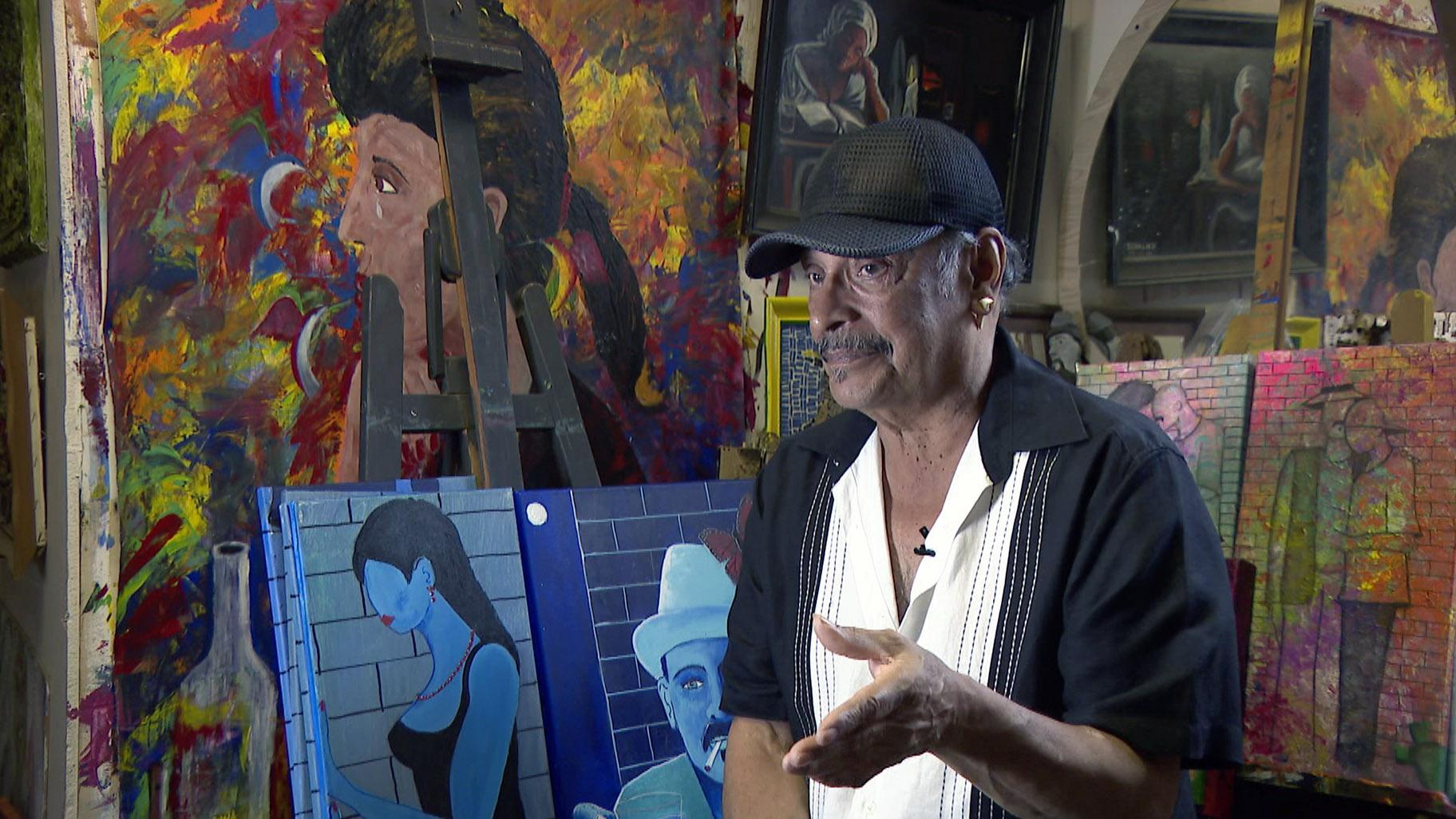 (WTTW News)
Made from serpentine, Villarreal says this is his newest piece for the exhibition. These wooden cutouts from 1977, are the oldest.
"What do you think the shadows add to the piece? It gives it that extra dimension from flat. Being a sculptor you don't want to deal with flat."
Whether it be depicted through his "collage-style" sculpting, paintings or cutouts, Villarreal says the theme within his work remains the same.
"The main message of this show is that as an artist you can work with anything," Villarreal says. "It's not important to me, the money value right now. It's about the legacy we leave behind."
You can see South Chicago Legacies at the Intuit Center for Intuitive and Outsider Art in West Town until Jan. 8.
---