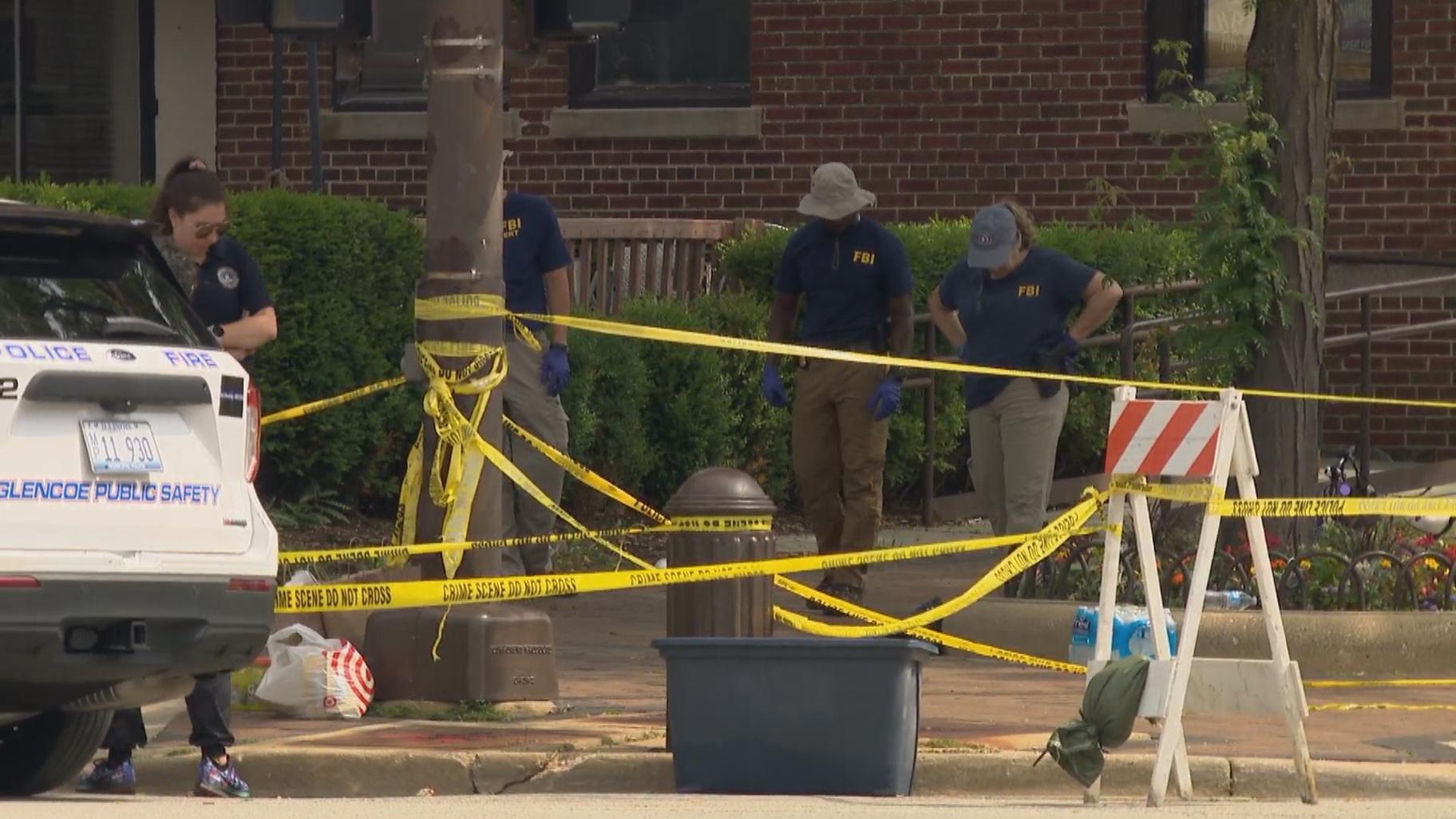 FBI investigators examine the scene in downtown Highland Park on July 5, 2022, a day after a mass shooting occurred at the Fourth of July parade. (WTTW News)
Fundraisers for victims of last week's mass shooting in Highland Park have collectively raised millions of dollars, but state officials are warning those looking to help to beware of possible scams seeking to steal your donations.
Illinois Attorney General Kwame Raoul on Wednesday urged potential donors and surviving victims to use caution and be on alert for scams related to the July 4 shooting that left seven people dead and dozens more wounded.
"As victims of a violent crime — including those affected by the horrific shooting in Highland Park — attempt to recover from trauma, they should not have to sort through misinformation or potential scams relating to programs that may provide assistance in a time of need," Raoul said in a statement. "I am reminding all Illinois residents to exercise caution, and utilize free information and resources available through the Attorney General's office to avoid being defrauded by those seeking to take advantage of the gun violence plaguing too many of our communities."
Raoul's office said it has been made aware of reports of Highland Park survivors who've been contacted by potential scammers providing inaccurate information about state assistance available to crime victims through the AG's own Crime Victims Compensation Program, which offers financial reimbursement to some victims of violent crimes.
Scammers have misrepresented the program's eligibility requirements and covered expenses, Raoul said. Those who do get a call from someone purporting to be with the program should verify the call is actually from the AG's office.
Anyone who wants additional information about that program or to report a suspicious call about it can contact the Attorney General's Crime Victims Assistance Line at 800-288-3368.
Raoul's office also provided a list of tips to those considering making donations to ensure their funds go to reputable organizations:
• Ask how much of your donation will go to the charity and how much will be used to pay fund-raising costs.
• Pay attention to the name of the charity, as some fraudulent entitled may use names that sound or look like those of legitimate organizations.
• Ask questions about the charity and donate only when your questions have been answered.
• Exercise caution when giving online.
• Don't pay in cash, but instead use checks, both for security and tax record purposes.
• Request written information. A legitimate charity will provide information outlining its mission, how your donation will be distributed, and proof that your contribution is tax deductible.
• Don't donate to anyone relying on "high-pressure" tactics.
Potential donors can call the AG's Charitable Trust Bureau to report suspicious solicitations by calling 312-814-2595. Additionally, a list of approved GoFundMe campaigns supporting Highland Park victims and their families is available here.
Contact Matt Masterson: @ByMattMasterson | [email protected] | (773) 509-5431
---