While they are best known for staging the works of William Shakespeare, the Chicago Shakespeare Theater has been developing new shows for years.
The recent Broadway smash "Six" is perhaps their most notable success. Now, the theater is bringing aliens to center stage with a musical-comedy adaptation of the 1950s sci-fi film "It Came From Outer Space."
The 1953 film was Universal Pictures' first 3-D movie. Now, it's a multidimensional musical.
"I think to a large degree, no pun intended, the stars just lined up perfectly. We had worked with Chicago Shakespeare before and really wanted to work with them again," said Kellen Blair, who wrote the book and lyrics. "There'd been an invitation to look at Universal's catalog and see if there was anything in that catalog that spoke to us and then we saw this movie and it was kind of like, we gotta run with this."
Joe Kinosian wrote the book and music for the show.
"It took me some time and real consideration because I write the music, so like what is it going to sound like? So I'm like, OK it's 1953 so 'The Pajama Game' and 'Damn Yankees' are the hottest scores," Kinosian said.
Kinosian said he started to listen to a lot of pop music from the time.
"It's just an earlier era, I was kind of relieved by how traditional it sounds because we love channeling the Golden Age, you know, sort of paying tribute to that era and kind of thumbing our nose to that era all at once," Kinosian said.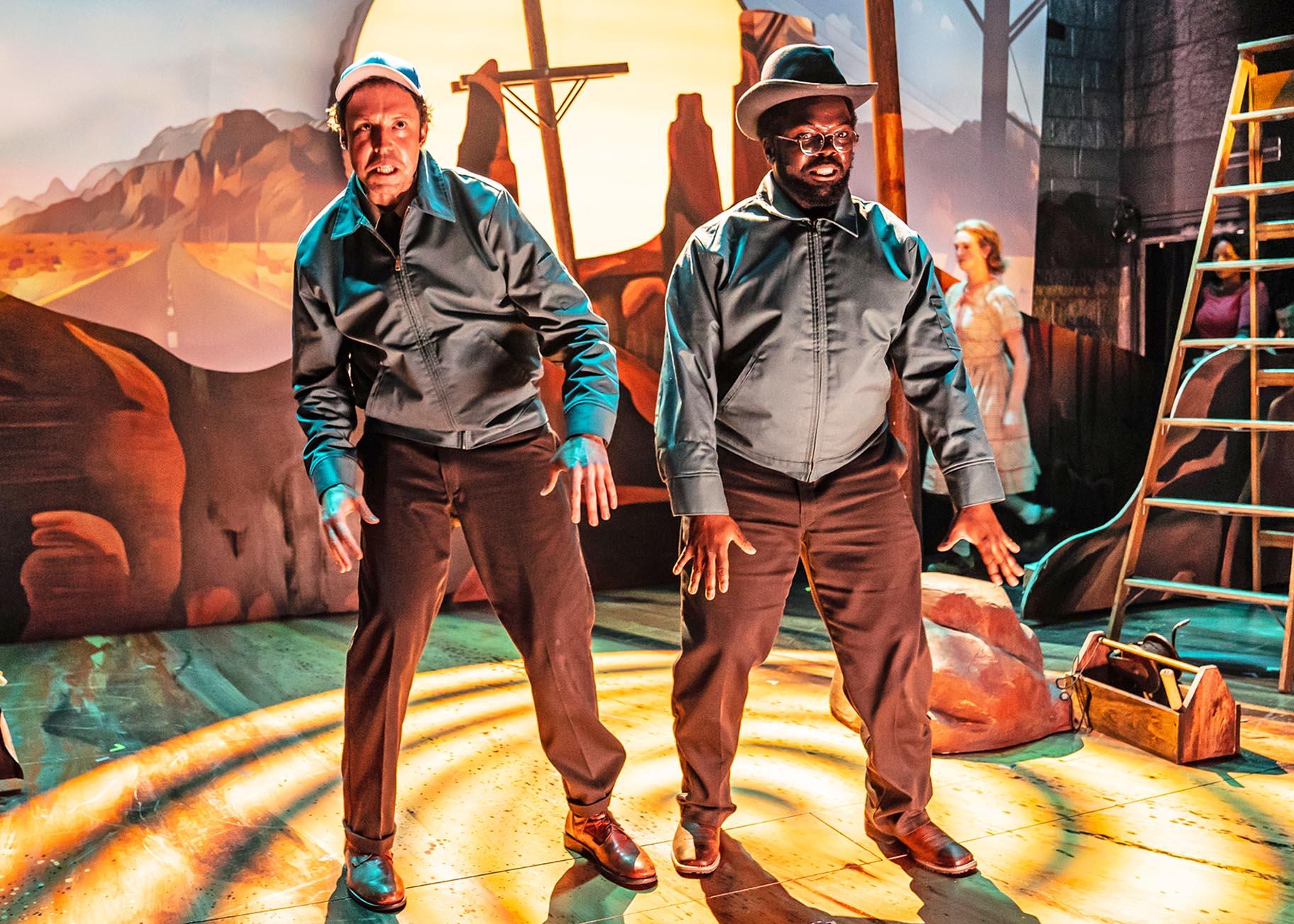 George (Alex Goodrich) and Frank (Jonathan Butler-Duplessis) in Chicago Shakespeare's world premiere production of It Came From Outer Space, in the theater Upstairs at Chicago Shakespeare, June 22–July 24, 2022. (Credit: Liz Lauren).
The original film was based on a story by celebrated author Ray Bradbury, who embedded a note of tolerance in his tale.
"It's just so Bradbury in the sense of pushing this progressive message forward disguised as pop entertainment," Blair said. "It's a sci-fi, there's 3D effects, there's gimmicks, it is fun but at the heart of it there's this really important core message about looking at each other with openness and acceptance and not judging each other."
The creative team also developed their hit show "Murder for Two" with Chicago Shakespeare in 2011.
"I had worked with these writers before, working on "Murder for Two," and we were looking for another title and they came to me with this, and I was like, 'Oh my god, this is perfect for their sense of humor, not only how funny they are but how they layer in that beautiful heart.' It was perfect," said Creative Producer Rick Boynton. "New work is really important to Chicago Shakespeare Theater. It's really become integral to the artistic fabric of Chicago Shakes."
"It Came From Outer Space" keeps its cast on their toes, with most of them playing multiple roles.
"I'm so biased, but this is one of the finest casts I've ever experienced," Kinosian said. "I can't believe how funny and big-hearted and joyous they are in addition to having beautiful voices and beautiful faces, so it's really something to watch them night after night."
"It Came From Outer Space" is at Chicago Shakespeare Theater at Navy Pier through July 24.
Read More: 'It Came From Outer Space' a Wonderfully Zany New Musical With an Ideal Message for Our Time
---