The gun law enforcement officials said was used to kill at least seven people and wound more than three dozen more during the Independence Day parade in Highland Park was purchased legally, officials said Tuesday.
Lake County Major Crime Task Force spokesman Chris Covelli said more than 70 rounds were fired at spectators shortly after the parade began at 10 a.m. Monday from a "high-powered rifle" that was similar to an AR-15 semi-automatic rifle.
Police recovered a gun at the parade that was registered to Robert Crimo III, 21, Covelli said. Crimo, who has been living in neighboring Highwood, was charged with seven counts of first-degree murder Tuesday evening. 
A second high-powered rifle was found in the car with Crimo when he was apprehended nearly eight hours after the massacre, Covelli said.
The shooting at the Highland Park parade is among the deadliest in Illinois history. At least 38 people, ranging in age from 8 to 85, were taken to area hospitals.
In all, Crimo purchased five weapons, including a shotgun and a pistol, legally over the course of the past year, Covelli said. 
Those weapons were purchased after police twice had contact with Crimo, Covelli said.
In April 2019, police responded to a report that Crimo had attempted to die by suicide, Covelli said.
In September 2019, police removed 16 knives, a dagger and a sword from Crimo after a family member reported that Crimo had threatened to "kill everyone," referring to members of his family, Covelli said.
Crimo was not arrested, although the incident was reported to the Illinois State Police, Covelli said.
Crimo did not have a Firearm Owners Identification card at that time, so it could not be revoked at the time the knives, dagger and sword were seized, officials said.
In December 2019, Crimo — who was then 19 — appiled for a Firearm Owners Identification card with the support of his father, a one-time unsuccessful candidate for mayor of Highland Park, according to a statement from the Illinois State Police.
It is not clear whether the seizure of the knives and sword was uncovered by the background check Crimo would have had to undergo to get a FOID card and purchase the guns legally. It was also not clear whether the incident would have prevented the FOID card from being issued if it was discovered by the background check.
All of the weapons were purchased legally in the Chicago area and registered in Crimo's name, Covelli said.
Steve Greenberg, an attorney for Crimo's parents, did not respond immediately to a request for comment from WTTW News about why Crimo's father agreed to sign off on his son's application to own such a powerful weapon after he threatened to die by suicide and harm family members.
Video: "Chicago Tonight" hears from the Mayor of Highland Park and a local congressman on restoring residents' sense of safety. (Produced by Alex Silets)
---
Highland Park's long history of gun control activism
The shooting at Highland Park's Fourth of July parade appeared to be a nearly unbearable coincidence for many residents of the affluent North Shore suburb, which has large Jewish population that reliably votes for Democratic candidates in local, state and federal elections by a more than a two-thirds margin. 
That helped establish Highland Park as a front in the battle for gun control during the past several decades.  
In 2013, the Highland Park City Council banned the sale and possession of high-capacity weapons, including all AR-15-style guns, like the one law enforcement officials said was used in the parade shooting.
The United States Supreme Court declined to strike down that law in 2015, after it was challenged by a Highland Park doctor, over the objections of two conservative justices.
However, a Supreme Court ruling issued this month gutted states' ability to issue rules designed to prevent guns from being carried outside the owners' homes. The effect of that ruling on Highland Park's laws is still not clear.
Despite the fact that Highland Park has some of the toughest-in-the-nation gun control laws, those restrictions cannot stop guns from being purchased legally in other cities and states and brought into the city.
In April 2021, Chicago sued a gun store in Gary, Indiana, for selling "hundreds, if not thousands," of illegal firearms that made their way into Chicago, where they were used to commit at least 850 violent crimes.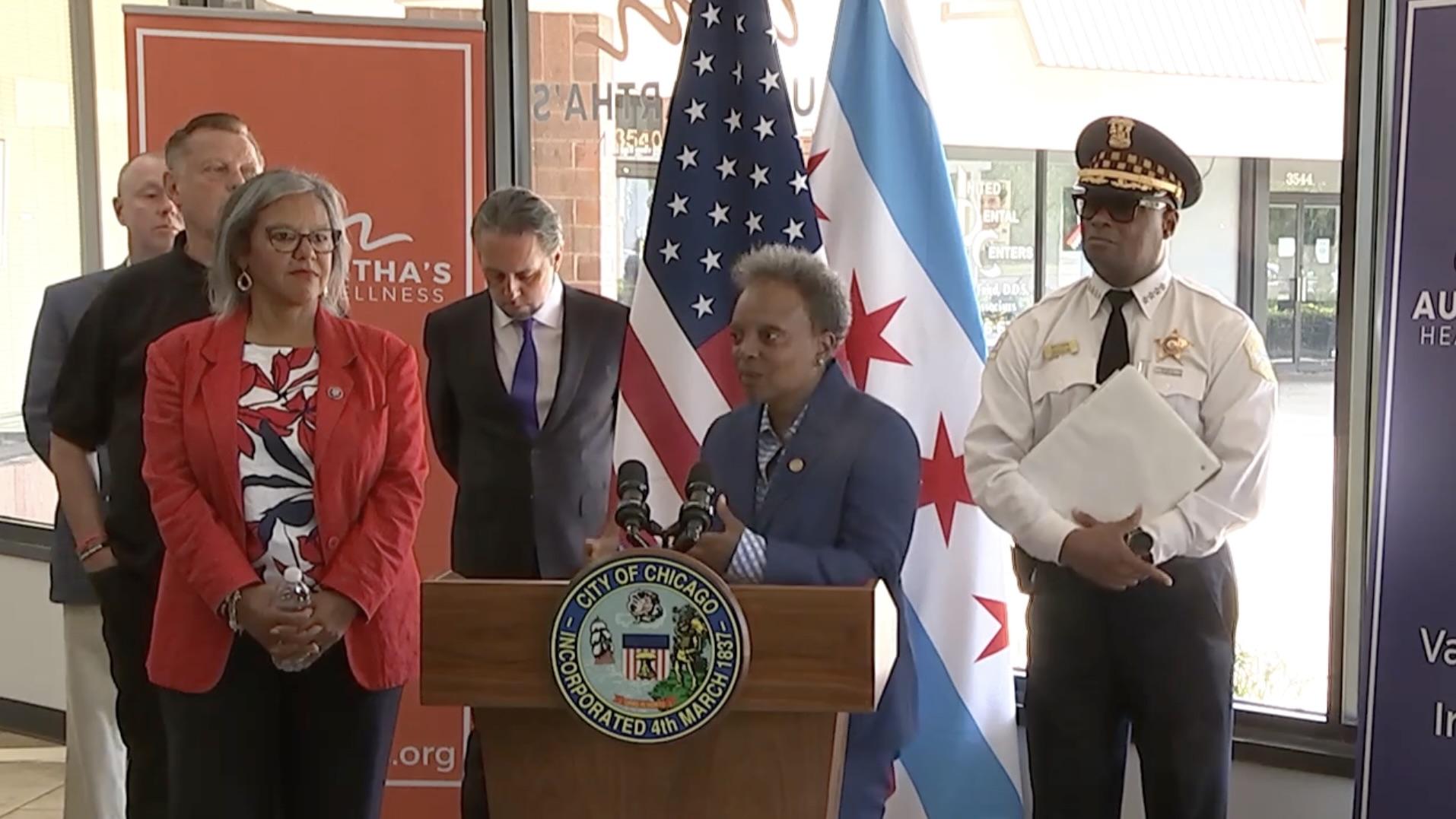 Mayor Lori Lightfoot addresses the news media Tuesday, July 5, 2022. (Chicago's Mayor's Office)
Mayor Lori Lightfoot has long complained about the flow of illegal guns into Chicago from Indiana, where gun control laws are much more relaxed than they are in Illinois.
Lightfoot traveled to Chicago's Southeast Side Monday morning to tout the passage of the most sweeping gun violence bill in decades, but found that planned celebration overshadowed by the Highland Park mass shooting.
That law is designed to toughen background checks for the youngest gun buyers, keep firearms from more domestic violence offenders and help states put in place red flag laws that make it easier for authorities to take weapons from people adjudged to be dangerous.
President Joe Biden called the legislation "a historic achievement."
The law will also earmark $13 billion to boost mental health programs and aid schools, which have been targeted in mass shootings.
Lightfoot said the bill will have a "real impact here in Chicago, across our region and across our country."
U.S. Rep. Robin Kelly, D-Chicago, a leading supporter of gun control, said she was unsure whether the new law could have prevented the carnage in Highland Park. If the guns were purchased by someone younger than 21, they would have had to undergo enhanced background checks under the new law.
"I don't know the whole story," Kelly said. "These laws would have helped save lives, and will save lives."
Officials have not yet pinpointed when Crimo purchased his arsenal. He turned 21 in September 2021.
Illinois red-flag law
Illinois has had a law on the books since January 2019 that allows relatives of those who own a gun but have made threats of violence toward themselves or others to ask a judge to temporarily remove the weapons during the crisis.
That law has been used approximately 100 times since it was passed.
Covelli said he could not tell reporters whether Crimo's family members knew he had purchased several high-capacity weapons and did not alert authorities or were unaware of the purchases.
Note: This story was originally published July 5, it has been updated to include our "Chicago Tonight" conversation. 
Contact Heather Cherone: @HeatherCherone | (773) 569-1863 | [email protected]
---