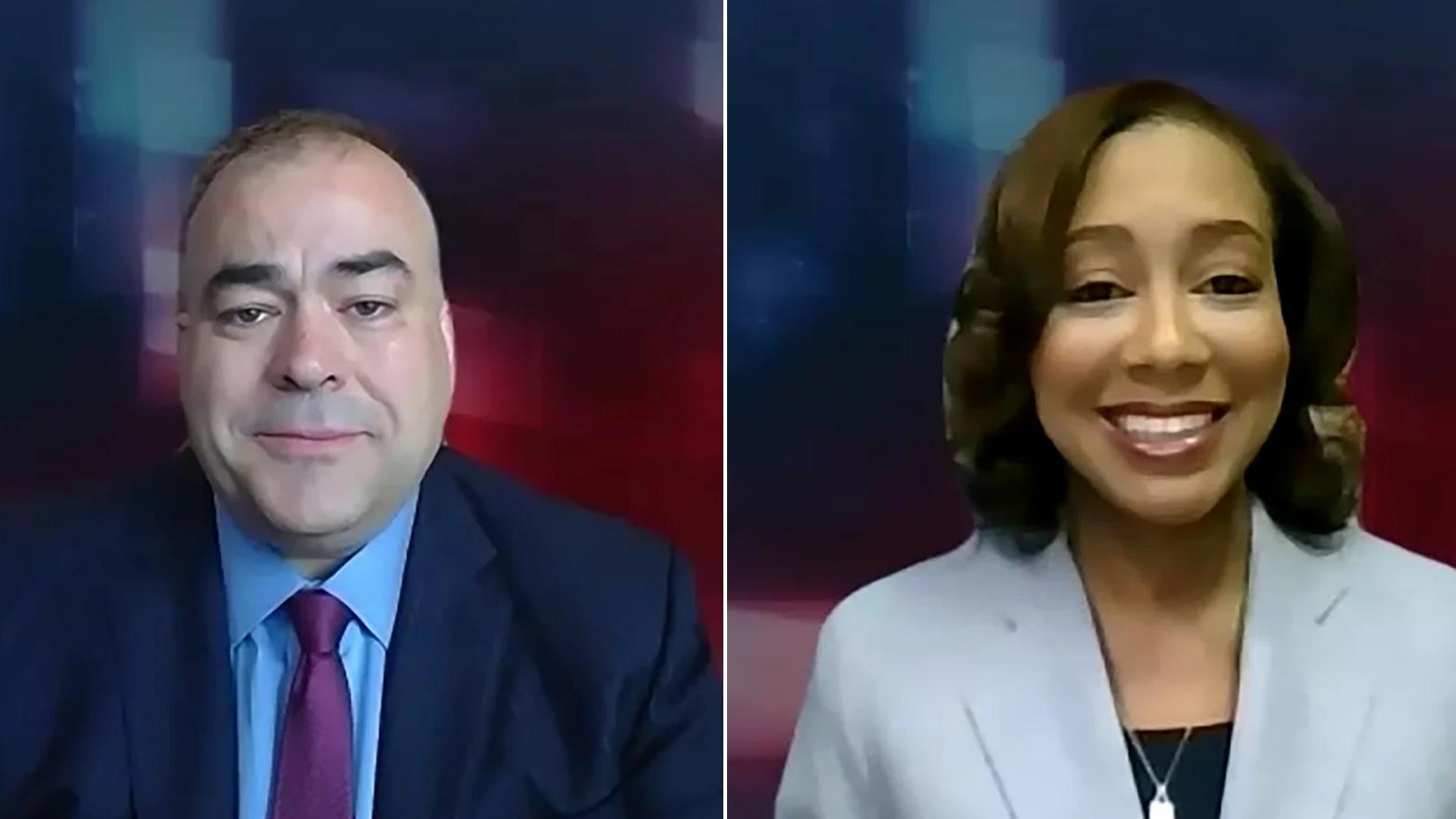 Fritz Kaegi, left, faced Kari Steele in the June 28 Democratic primary for Cook County Assessor. (WTTW News)
Cook County Assessor Fritz Kaegi defeated challenger Kari Steele Tuesday, winning the Democratic nomination in his battle for a second term in what was the county's most expensive and high-profile primary contest.
Kaegi unseated one of the most powerful politicians in Cook County in 2018 by vowing to overhaul the county's unjust and error-ridden property tax assessment system to make it more equitable, transparent and free from political influence.
Kaegi led Steele with 54% of the vote with 62% of the vote counted, according to early and unofficial returns.
Kaegi declared victory just after 9:30 p.m., shortly after Steele conceded the race.
Steele, the president of the Metropolitan Water Reclamation District of Greater Chicago, said the changes overseen by Kaegi's office created chaos and hurt businesses struggling to stay afloat amid the COVID-19 pandemic.
Kaegi will face Libertarian candidate Nico Tsatsoulis in the Nov. 8 general election. No Republican filed to run in the race.
Despite the backlash from commercial property owners who profit from building and development, Kaegi said the changes he made will ease the property tax burden on homeowners by shifting it to businesses. Commercial properties had been significantly undervalued under former Cook County Assessor Joe Berrios, while residential properties — particularly those in the county's south suburbs and on the South and West sides of Chicago — were overvalued, Kaegi said.
During the campaign, Steele echoed criticism of Kaegi from Chicagoland Chamber of Commerce officials as well as the Building Owners and Managers Association of Chicago, accusing Kaegi of "mismanagement."
While Kaegi was endorsed by the Cook County Democratic Party, Steele won the backing of the Chicago Federation of Labor.
Both Kaegi and Steele were allowed to raise unlimited amounts of cash for their campaigns, after Steele contributed $100,001 to her campaign on May 4, according to records filed with the Illinois State Board of Elections.
That contribution lifted the state-mandated limits on campaign contributions to candidates in the race. The law is designed to even the playing field between wealthy candidates and those who cannot self-fund their campaigns by allowing them to raise bigger amounts from contributors.
Steele's contribution paved the way for a $1 million contribution from the Fight Back Fund, which is supported by the International Union of Operating Engineers Local 150.
The union benefits from building and development and is a major force in local and state elections in Illinois.
Kaegi responded in kind, contributing $2 million to his campaign since May 12, according to records filed with the Illinois State Board of Elections. 
Steele's campaign was bedeviled by controversy generated by her husband, Maze Jackson. Jackson made a series of antisemitic, homophobic and anti-Latino comments on his radio show, which he also used to promote Steele's campaign. Both Steele and Jackson apologized. 
Steele also faced questions about how she would handle her husband's work as a lobbyist for clients including Onni Group, one of Chicago's biggest real estate developers.
In the race for Cook County sheriff, incumbent Tom Dart declared victory over Chicago Police Sgt. Nolan Rivera for the Democratic nomination. Unofficial returns show dart winning 88% of the vote. Dart will face Libertarian Brad Sandefur, a sergeant with the sheriff's office, in the general election.
In other races, Cook County Board President Toni Preckwinkle handily defeated Oak Park lawyer Richard Boykin in her bid for a fourth term. She will face Libertarian Thea Tsatsos in the general election.
The Democratic primary races for Cook County Clerk and Cook County Treasurer were uncontested. Treasurer Maria Pappas will face Libertarian Michael Murphy in the fall and Clerk Karen Yarbrough will face Libertarian Joseph Schreiner.
Contact Heather Cherone: @HeatherCherone | (773) 569-1863 | [email protected]
---