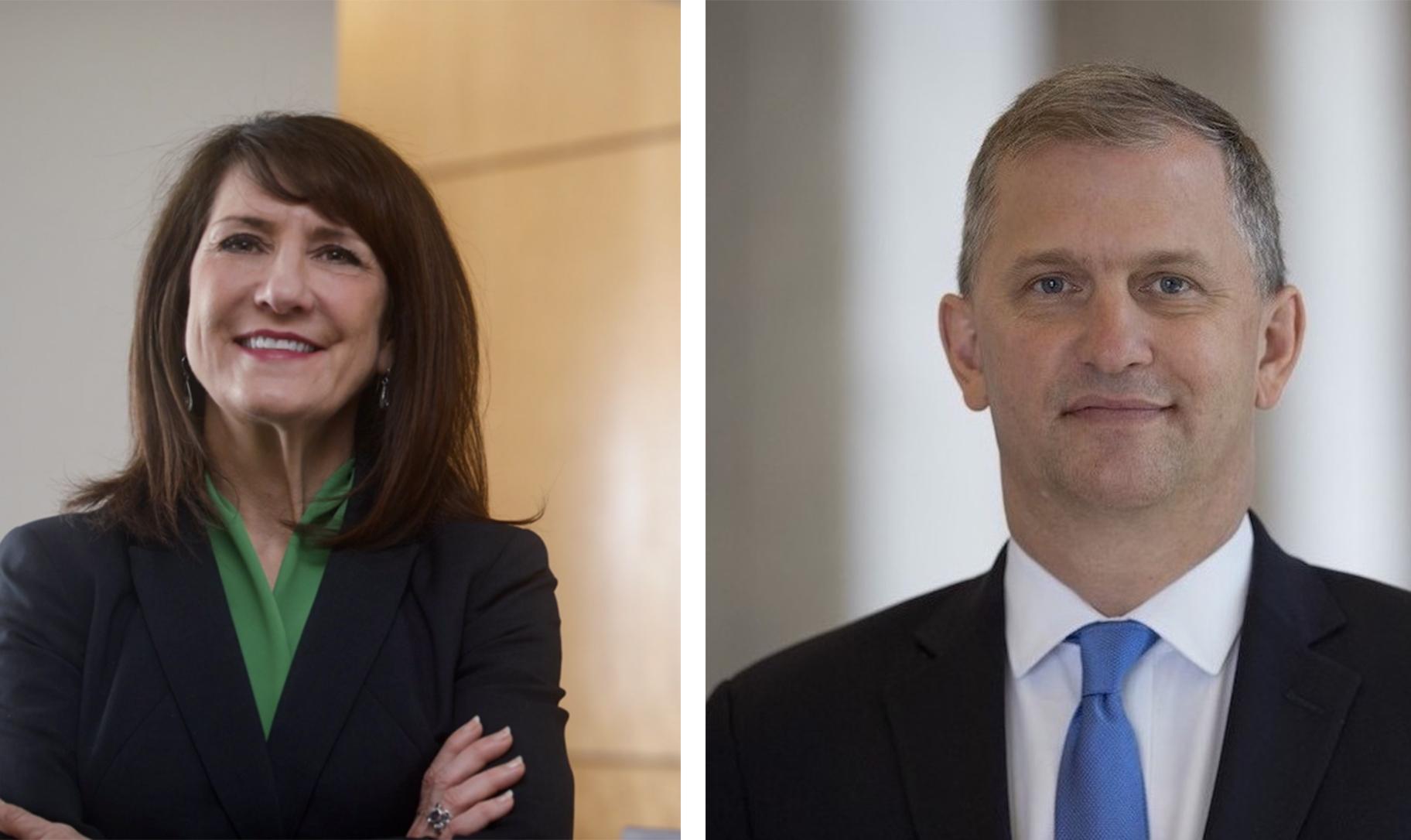 U.S. Reps Marie Newman, left, and Sean Casten. (Photos courtesy: marienewmanforcongress.com and castenforcongress.com)
Incumbent U.S. Rep. Sean Casten is projected to win the Democratic nomination in Illinois' 6th Congressional District, according to NBC News and CNN, defeating fellow Democratic U.S. Rep. Marie Newman in one of Illinois' most unique primary races.
As of 11:15 p.m., Casten has pulled in 68% of votes, while Newman is at 29%, according to unofficial totals from CNN, which is reporting 83% of precincts reporting. Charles M. Hughes, an operation mechanic at Nicor Gas Company who is also running in Tuesday's Democratic primary, is at 3%.
Casten himself declared victory Tuesday evening, saying voters in the 6th district "sent a resounding message."
"We have been given a mandate to continue our fight against the climate crisis, to end gun violence, to lower costs for families, and to protect every  woman's right to make her own health care decisions," he said in a statement. "To the voters — since 2018, you have given me a tremendous amount of trust to represent your values in Congress. For this, I am forever grateful, and you can expect more town halls and accessibility from my office."
Casten's campaign declined additional comment to WTTW News.
Both candidates are current U.S. representatives — Casten in the 6th District, Newman in the 3rd District — and are running in the 6th District, which includes many of Chicago's western suburbs.
Newman conceded the race a short time later, saying she had already spoken with Casten and congratulated him on his victory.
"While this was not the result we wanted, know that we have to unite in November to keep this seat blue and protect our Democratic majority," she said in a statement. "Win or lose, we achieved something truly historic, and done so much good for this community."
The two incumbents were brought into contention last year, after Illinois lawmakers reworked the state's congressional map during redistricting. Newman was moved into the 4th District where she would have to contend with its current representative, Jesus "Chuy" Garcia.
Newman instead opted to run against Casten. She blasted the new map last year and took a shot at Casten, saying it marked a "clear attempt to appease one person … and a small handful of affluent insiders at the expense of workers and working families on Chicago's Southwest Side and suburbs."
Casten, of Downers Grove, was first elected as the 6th District representative in 2018, when he defeated Republican incumbent Peter Roskam, before winning reelection in 2020.
Prior to serving in Congress, he worked in multiple recycling and clean energy-focused endeavors, and has made climate change the main focus of his campaign.
"I have also dedicated much of my public time to explaining to the public why climate change is both an existential threat but addressing climate change is a massive economic opportunity — because the sooner we realize that as a society, the sooner we will stop wasting any more time that we do not have," Casten, 50, said in a response to WTTW's Voter Guide.
Casten and his family suffered a tragedy earlier this month when his daughter, 17-year-old Gwen Casten, died.
After losing a close battle against Democratic incumbent Dan Lipinski in the 3rd District in 2018, Newman defeated him in a rematch during the 2020 primary and won the seat during the general election that fall.
She previously worked as a small-business owner and served as the Illinois representative for Moms Demand Action.
Newman, of La Grange, has cited the cost of living and growing inequality as the main issue she wants to continue addressing in Congress.
"We have a system that largely benefits the top earners, while the rest of us struggle to pay for rent, student loans, groceries, child care, health care, and more," she said in a statement to WTTW's Voter Guide. "I believe we need to do much more to raise wages and support the middle class, and if I am reelected to serve the people of the new 6th District, I will continue fighting to build an economy that works for everyone by fighting for policies that put middle-class families over corporate special interests."
Newman, 58, has touted her role in passing five pieces of bipartisan legislation that helped create jobs and boost local small businesses, and improved transit and rail infrastructure.
But she's also faced controversy during her brief tenure in office, after a Congressional ethics committee this year found "substantial reason to believe" she had promised federal employment to a political opponent.
The allegations against Newman stemmed from a legal dispute involving an employment contract between Newman and Iymen Chehade, a policy adviser during her 2020 campaign.
The ethics office report stated that at the start of her campaign, Newman made Chehade "certain promises about future employment," in her congressional office. When she didn't hire him, he filed a lawsuit and claimed he decided to not run for the congressional seat in 2020 based on employment promises from Newman.
On the Republican side, CNN has projected Orland Park Mayor Keith Pekau to top five other candidates running in Tuesday's primary for the chance to face Casten in November's general election. The other candidates include: energy consultant Niki Conforti, attorney Gary Grasso, attorney Scott Kaspar, real estate broker Catherine O'Shea and small business owner Robert Cruz.
Pekau is leading with 39% of votes, as of 10:40 p.m., according to CNN's unofficial results, with 77% of precincts reporting. He is followed by Grasso (27%), Conforti (12%), O'Shea (10%), Kaspar (7%) and Cruz (6%).
"I'm running for Congress because I'm tired of broken promises," Pekau said in a tweet following his projected victory. "For too long, politicians have acted in the interest of themselves and not the people they serve. I'm here to change that."
Amanda Vinicky and the Associated Press contributed to this report.
Contact Matt Masterson: @ByMattMasterson | [email protected] | (773) 509-5431
---