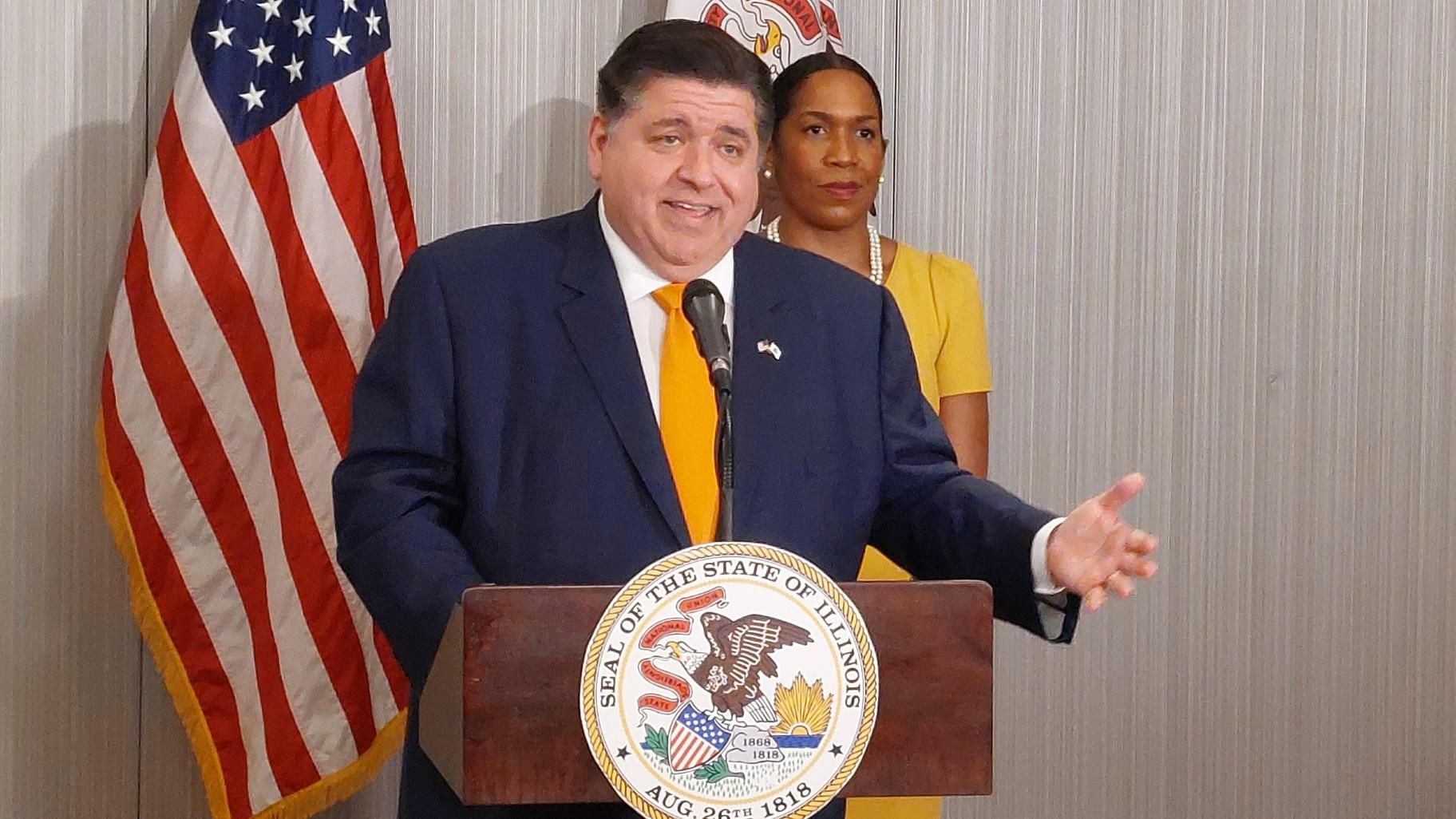 Gov. J.B. Pritzker speaks the day after his re-election on Nov. 9, 2022. (Alonzo Stallings / WTTW News)
Led by Gov. J.B. Pritzker, Democrats on Tuesday appeared to solidify their lock on statewide offices in Illinois, with early election results showing Democratic candidates handily beating their Republican rivals.
"This is a moment requiring a steel spine for the years ahead as our nations' fundamental ideals are under siege. I love this job and I've never shied away from its demands," Pritzker said in his victory speech. "Facing this moment means fighting these battles together, together we must be bold and we must never shy away from our big-D Democratic or little-d democratic values."
Pritzker said he will bring his "happy warrior" spirit to the job in his second term. He has promised a priority will be to offer free college tuition to all Illinois students whose families are at or below the median income.
Republican rival Darren Bailey, a conservative farmer and state senator from downstate Xenia who centered his campaign on bringing more religion into government, had a significant financial disadvantage.
Bailey said he called Pritzker Tuesday night to concede the race, but in a speech to supporters he nonetheless held out hope for a "miracle" as more votes are counted.
"I may not be going to Springfield as your next governor, but I will never stop fighting for you. I will never stop listening to your voices," he said, as he called on Republicans to be "loyal to our state, loyal to our country, loyal to our constitution, but in opposition to the radical policies of the Democrats."
With 70% of the vote in, unofficial results show Pritzker with 55% to Bailey's 42%.
Pritzker proved popular in and around Chicago, with Bailey getting the majority of the vote in central and southern Illinois.
"J.B. Pritzker, you need to be better," Bailey said.
In the open contest for secretary of state, former Illinois State Treasurer Alexi Giannoulias claimed a comeback, keeping the office in Democrats' hands upon the retirement of six-term Secretary of State Jesse White.
"The people of Illinois have now entrusted me with the office that touches so many parts of your daily lives, and I promise the Secretary of State's office will make your lives better, and the lives of those who are poor and underserved better. I will fight for those that don't have a voice," Giannoulias said. "Transparency, good government and eliminating the time tax that many of you are paying just to access simple government services will be at the core of everything I do as Illinois secretary of state."
Giannoulias lost President Barack Obama's former U.S. Senate Seat to Republican Mark Kirk in 2010, but in his first  political bid since then, claimed victory over Bloomington funeral director and longtime state Rep. Dan Brady in the race to replace White.
Early totals also appear to show a path to victory over Republicans for the rest of the Democratic slate of incumbents: Attorney General Kwame Raoul leads downstate attorney Tom DeVore, Comptroller Susana Mendoza leads accountant Shannon Teresi, and Treasurer Mike Frerichs leads state Rep. Tom Demmer of Dixon.
Follow Amanda Vinicky on Twitter: @AmandaVinicky
---