Gov. J.B. Pritzker didn't just win a second term, he won decisively. With nearly all precincts reporting totals as of Wednesday night, he is ahead by more than 10 points over Republican nominee Darren Bailey.
It's not just Pritzker.
Illinois Democrats dominated in Tuesday's election, winning every statewide race. Even though Illinois is losing a Congressional seat, the state will also send more Democrats to Washington. Illinois' Congressional delegation is poised to have 14 Democrats to Republicans' three.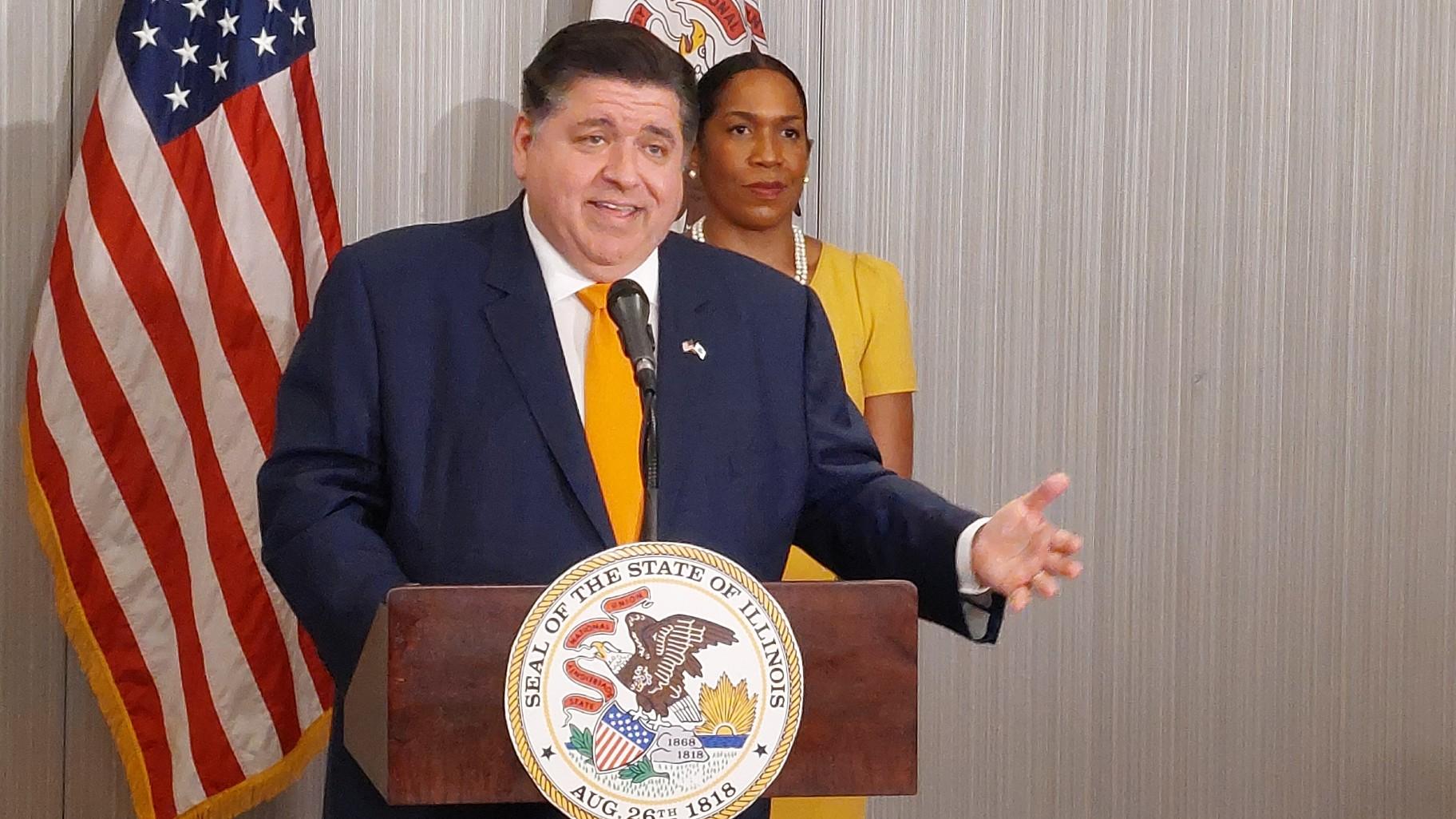 Gov. J.B. Pritzker speaks to the media on Nov. 9, 2022. (WTTW News)
The party is also poised to increase its control of the state Supreme Court, with a 5-2 advantage, up from the current 4-3 split.
And though some races are too close to call, it's certain that Democrats will hold onto their super-majorities in the State Legislature, and in the House likely even add to their ranks.
Pritzker is not only the party figurehead. He's also a billionaire, who over the past two years, has spent at least $150 million on his and other Democrats' campaigns.
"Illinois is worth it," Pritzker said. "We had two MAGA billionaires who were coming against us, attacking everything that we stand for. They spent over $100 million and we're not just going to sit and get pummeled by them, we're going to defend ourselves."
Wealthy Republican donor Richard Uihlein of U-Line Corporation gave Republican nominee for governor state Sen. Darren Bailey $12 million, though Uihlein filtered more, $42 million, in contributions to radio host Dan Proft's People Who Play by the Rules Political Action Committee.
Ken Griffin moved to Florida after contributing $50 million to failed Republican primary candidate Richard Irvin, the mayor of Aurora.
With those challengers defeated and Pritzker having secured another four years as governor, the focus now turns to what he'll do.
Pritzker says it may be boring, but he wants to focus on shoring up the state's finances.
On the campaign trail, he also talked about making college free for any student whose family is at or below the median income.
In the near future, Democrats will have promised they will take another look at the major criminal justice law, the SAFE-T Act, that was a centerpiece of GOP attacks this election season.
Voters did not end up punishing Democrats for it, despite constant Republican ads aimed to stoke fears that moving to a cashless bail system will free dangerous criminals from jail.
Even so, about half of Illinois' state's attorneys say the law has significant flaws and are suing to stop it from taking effect.
Pritzker himself has said it needs fixes, but in a victory-lap news conference Wednesday he again didn't get into specifics.
"There's a lot of work that's been done by the General Assembly over the last number of months in working groups, so they're going to bring that to the veto session and I'll be watching carefully. I've made my thoughts clear and we'll see if we can get something done during the veto session to address the changes that we ought to be making," he said.
The veto session is scheduled to begin on Tuesday and last for three days. Legislators are set to return to Springfield again the week after Thanksgiving.
Pritzker also gave assurance that Illinois will take action on reproductive rights.
The day the U.S. Supreme Court announced its Dobbs decision overturning Roe v. Wade, Pritzker said he would call a special session to pass measures that would give out-of-state residents protections if they receive abortions in Illinois. That never happened.
But Pritzker said it will, either in the veto session, a potential lame duck session or early in the next General Assembly's new session come 2023.
Given the national dynamic and uncertainty over abortion laws, he was asked if Illinois should consider a constitutional amendment guaranteeing the right to an abortion.
While the vote tally is still too close to determine whether it passed, Pritzker supported a constitutional amendment this election cycle that would add a constitutional protection for public employees' right to unionize and collectively bargain. 
His response to the abortion constitutional amendment seemed to indicate it's not an immediate priority.
"It's certainly something that we could think about. It's obviously very difficult to get things onto the Illinois constitution, and so that's one of the considerations, I think," Pritzker said. "But here's the thing: We are a pro-choice state, and certainly as governor for the next four years, and with a democratic General Assembly I think we will successfully expand our capacity to deal with the challenges that are now facing Illinois because every state around us is becoming an anti-choice state."
Pritzker also said he wants Illinois to pass a statewide ban on assault-grade guns. But he couldn't give a timeline for when the Legislature might take that up.
The big question overriding all of it: How long will Pritzker be around to pursue this agenda?
There's chatter he'll make a play for the White House, particularly if President Joe Biden doesn't run for re-election.
Reporters asked the governor about his prospects repeatedly, to the point Pritzker appeared exasperated. He said neither he nor his staff have had conversations with national leaders about a presidential run.
"I commit to you that I'm planning to be the governor for the next four years. We have too many things we need to accomplish," he said.
Regardless of his political ambitions, it's clear Pritzker's feeling confident, even if his opponent obviously believes Pritzker has no reason to be.
Bailey gave Pritzker a congratulatory call Tuesday night, but ended his concession speech with a verbal slap.
"Illinois must be better. Our leaders must be better. And J.B. Pritzker, you need to be better," Bailey said, to applause and cheers.
Bailey will not be returning to the Legislature. But he says he's not getting out of Illinois politics, and he called on Republicans to step up as a loyal opposition to Democrats.
Pritzker, for his part, called Bailey a "disciple" of President Donald Trump, and implored the party to change.
"I really believe that the Republican Party, and that especially includes the Illinois Republican Party, who nominated Darren Bailey, that they stand for the MAGA Republican ideas. Donald Trump. That party has been taken over entirely, clearly," Pritzker said.
Given their failures, Illinois Republicans will surely have contentious conversations about the party's future in the weeks and months ahead, amid a schism between "establishment" Republicans who tried to steer clear of Trump, and conservatives, like Bailey, who sought Trump's endorsement.
Already on Wednesday morning, House Republican Leader Jim Durkin announced he will step down as leader after the current General Assembly.
"I began this journey as a voice of moderation and conclude this journey the same way I started, a voice of moderation," Durkin said in a statement.
Follow Amanda Vinicky on Twitter: @AmandaVinicky
---