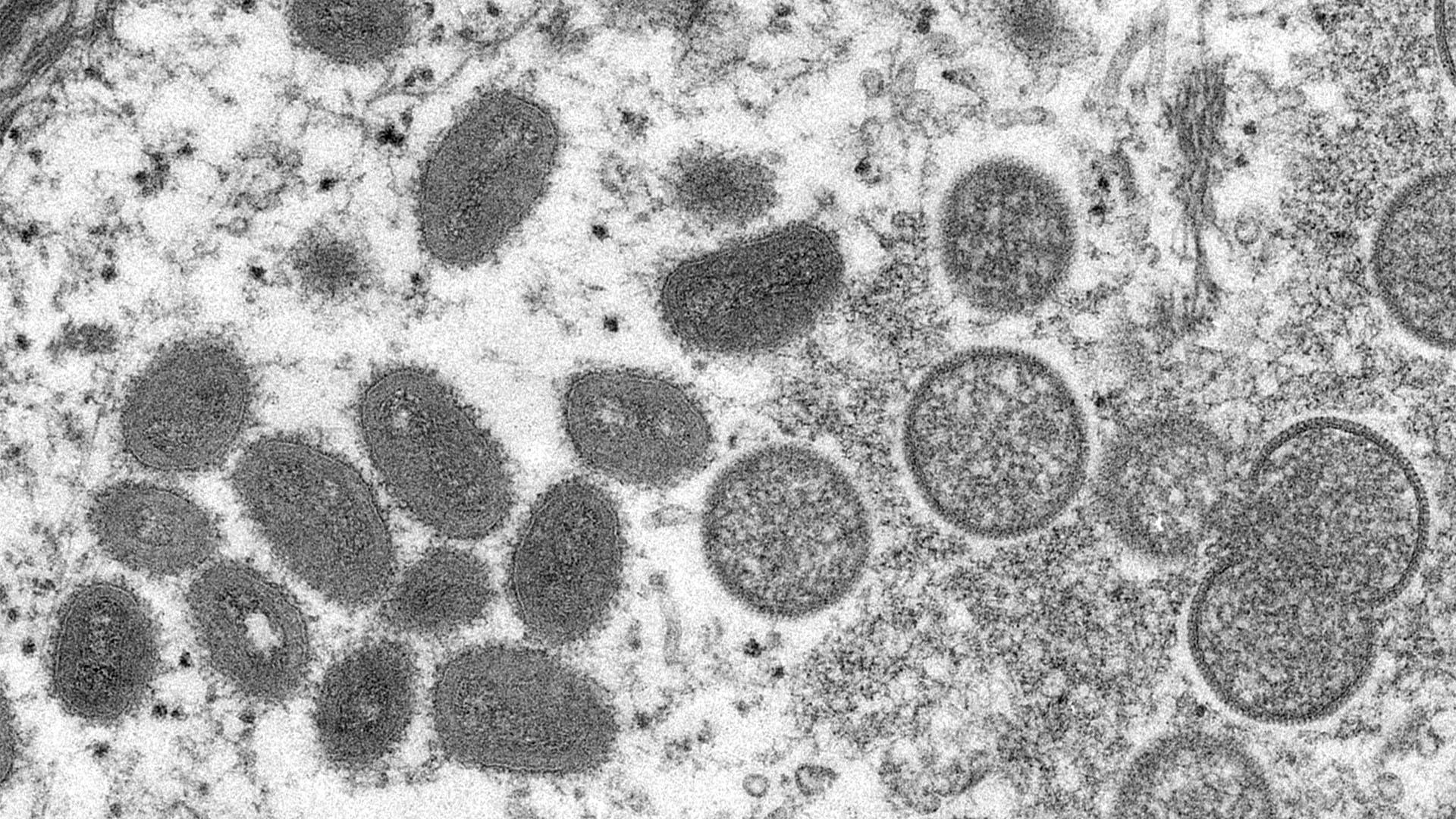 This electron microscope image shows mature, oval-shaped monkeypox virions, left, and spherical immature virions, right, from a human skin sample associated with a 2003 prairie dog outbreak. (Cynthia S. Goldsmith, Russell Regnery / CDC)
Chicagoans exposed to someone diagnosed with monkeypox can now be vaccinated against the virus, city health officials said Friday.
There are now 30 confirmed cases of the monkeypox virus in Chicago, according to a statement from the Chicago Department of Public Health. The first case was diagnosed on June 3, and 26 cases were diagnosed between June 10 and June 24, officials said.
People identified as close contacts to someone suspected or confirmed with monkeypox are being offered the vaccine, as well as treatment with antiviral medication for those with more severe illness, according to city health officials.
Chicago's limited supply of vaccine is adequate to inoculate those who have been exposed to monkeypox, officials said.
"We will continue to expand vaccination to at-risk groups as more vaccine become available and prioritize those at highest risk," officials told WTTW News.
The Centers for Disease Control has confirmed 173 monkeypox cases in 25 states and Washington, D.C. No deaths have been reported from monkeypox, according to federal officials.
Health officials do not know how the outbreak began, but early data suggest that gay, bisexual and men who have sex with men make up a high number of cases. However, anyone who has been in close contact with someone who has monkeypox is at risk, officials said.
After a two-year hiatus, Chicago's Pride Parade is set to return to Northalsted on Sunday.
"Individuals attending festivals or other summer events should consider how much close, personal, skin-to-skin contact is likely to occur at the events they plan to attend," according to a statement from Chicago health officials.
New York officials began vaccinating all men who have had multiple or anonymous male sexual partners over the last two weeks on Thursday. New York is the first city in the United States to launch such a program, joining the United Kingdom and Canada.
The vaccine supply ran out in a matter of hours, according to the New York Times.
The virus, which originates in wild animals like rodents and primates, is spread to people via infected animals, with most cases occurring in central and west Africa. However, person-to-person transmission is possible through close physical contact with monkeypox sores, items that have been contaminated with fluids or sores or through respiratory droplets following prolonged face-to-face contact, officials said.
Monkeypox belongs to the same virus family as smallpox and can cause fever, body aches, chills and fatigue. People with a serious monkeypox infection may develop a rash and lesions on the face and hands that can spread to other body parts.
Anyone who has symptoms or develops an unusual rash should isolate themselves and see a doctor, officials said.
Contact Heather Cherone: @HeatherCherone | (773) 569-1863 | [email protected]
---