For the first time in three years, Northalsted and the surrounding neighborhood will host the city's Pride Parade.
Northalsted, previously known to many as Boystown and located in the Lakeview community area, has faced calls in recent years to make the area more inclusive to all of the city's LGBTQ community. Some residents and community leaders are also calling for increased security, especially ahead of Sunday's parade.
Chicago's last Pride Parade was in 2019, and there is a lot of excitement that the annual celebration is returning.
Ald. Tom Tunney has represented the area for nearly 20 years. He says after two plus difficult years, visitors have returned and hopes this month's pride festivities are both a celebration and a call to action.
Interactive map: More from our community reporting series
"Those rights that have been accrued over a number of years are pretty much threatened," Tunney said. "You've heard the mayor speak about this, you've heard the connecting with the LGBTQ community rights and Roe v. Wade. You're seeing the LGBTQ community being manipulated by certain elements of the larger society. My belief is that our community has been in our city forever, it's safe for them to come out in most of our city and for them to be productive citizens."
Tunney's also concerned about security for Sunday's parade and in general. He says the police district that covers Northalsted is down by more than 100 officers.
"I have to be respectful of the people who put me in office and they are not feeling secure," Tunney said. "We definitely want to make sure this weekend is safe for all the visitors and Chicago visitors and all of pride, to make sure people get home safe."
Superintendent David Brown said Wednesday that the Chicago Police District has put in a lot of prep time for the parade, and that it's been coordinating with community leaders and businesses.
Video: Watch our full interview with Jo Mama.
---
One of those longtime business owners is Ramesh Ariyanayakam, co-owns the Kit Kat Lounge, among several other local businesses, and previously served as president of the Northalsted Business Alliance during much of the pandemic. He says a return to more normalcy is very, very welcome.
"You can actually plan without having to worry about a rule or a big change, staff accordingly," Ariyanayakam said. "People are much more stable and satisfied now. It seems like it was a dream, or a little bit of a nightmare."
During that time, nationwide protests for racial justice came to the area as well, with calls for greater representation and inclusivity for people of color, and in particular, in Chicago's drag community.
"I was like 'thank God, something is finally being done about racism in this country,'" Ariyanayakam said. "It would be good to see other gay business owners who are people of color and women. We have a few women business owners who are lesbian. …we employ a lot of people who trans at Kit Kat, but I'd like to see more people of color own businesses here on Halsted."
Jo MaMa, an advocate and organizer for the Chicago Black Drag Council and Drag March for Change, has been at the forefront of this movement and hopes for increased diversity in management and in businesses.
"For the past three years, since around the time of racial reckoning, I organized a march so people can collect their voices and call attention to racial justice," MaMa said in reference to June's "Reclaim Pride" march. "We've overcome quite a few, but we're still looking for more increased protection for Black trans people, specifically Black trans women. We've figured out that if you improve their lives, you actually improve the lives of everyone. …We are also looking into reclaiming pride itself. A lot of people don't know that the Pride Oarade is owned by one single person, and we were pushing that it be owned by a nonprofit controlled by a diverse board of individuals."
Inclusivity is also a key to the success of the Center on Halsted, which says it's the Midwest's largest LGBTQ community center. Its large front lobby serves as a gathering place for Northalsted locals and people from around the Chicago area, of all ages, and needs.
"We have behavioral health, HIV testing and education," said Steve Kauffman of the Center on Halsted. "We do a huge program for seniors and housing near the center on Addison and Halsted … a number of community and cultural events too. It's a place where anybody can come to feel free and be themselves. Allies are welcome here too, not just the LGBTQ community."
Video: Watch our full interview with David Ernesto Munar.
---
Similarly, Howard Brown Health has been a pillar for the community through becoming the Midwest's largest LGBTQ health care organization. The center recently broke ground on what's expected to be a much larger clinic in Northalsted in hopes of reaching more patients.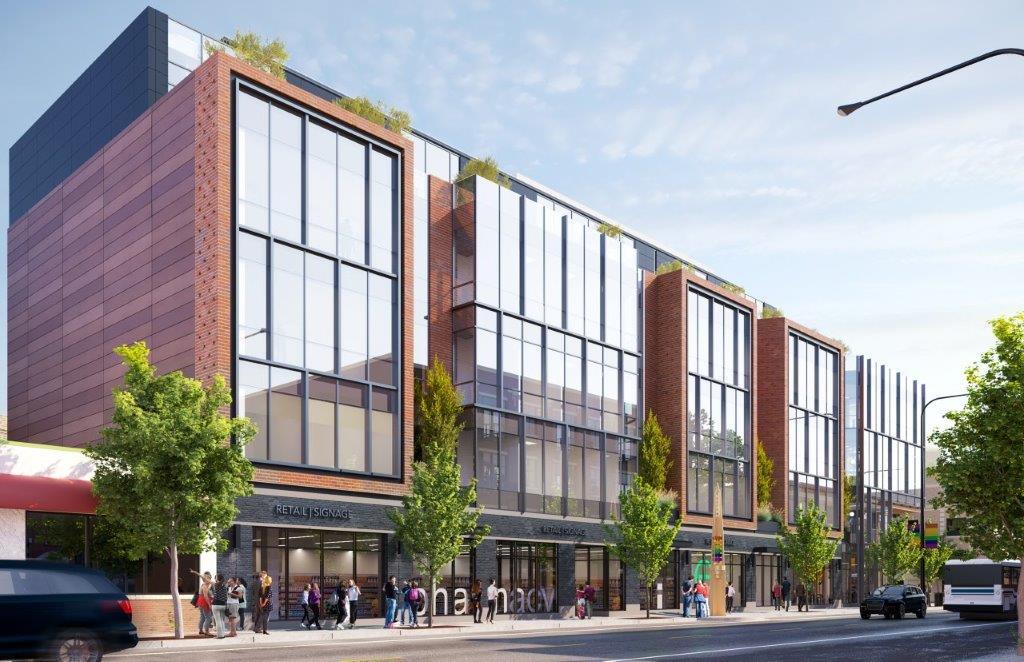 (Courtesy Howard Brown Health)
"It'll be the largest clinic in the network," said David Munar, president and CEO of Howard Brown Health. "It's replacing the clinic we have down the street that's too small. We have not been able to accept new patients for three years at this site. We're super excited about this 70,000-square-foot, five story building that will have two floors for primary care, a floor for dental care, but also house a pharmacy, labs, and social services."
Munar says they're expecting to serve an additional 15,000 patients when they open next year in late July or August. 
His team has also currently been heavily monitoring for monkeypox. 
"It's a great message for pride," Munar said. "The outbreaks that have been happening in the U.S. and Europe have been mostly among gay men, but not exclusively. Monkeypox is a contagious viral infection and is transmitted through contact with rash or blisters. They look like pimples. They can be very painful and cause scarring. …if anyone is concerned, they should seek care."
Community Reporting Series
"Chicago Tonight" is expanding its community reporting. We're hitting the streets to speak with your neighbors, local businesses, agencies and leaders about COVID-19, the economy, racial justice, education and more. See where we've been and what we've learned by using the map below. Or select a community using the drop-down menu. Points in red represent our series COVID-19 Across Chicago; blue marks our series "Chicago Tonight" in Your Neighborhood.
---