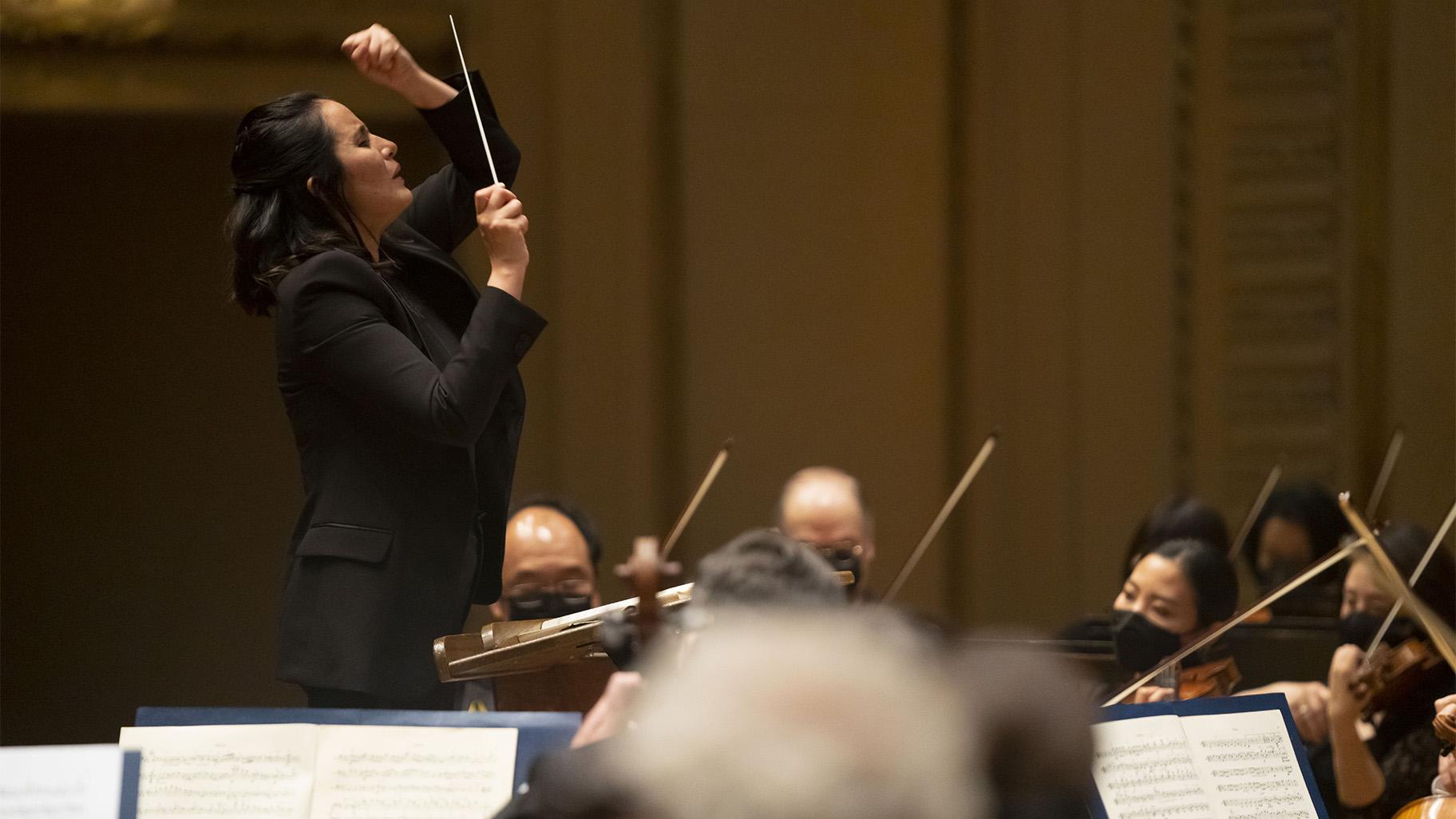 The CSO's Sir Georg Solti Conducting Apprentice Lina González - Granados leads the Chicago Symphony Orchestra in Brahms' Symphony No. 1 in C Minor. (Credit: Todd Rosenberg)
With the pandemic still bedeviling live performance these days understudies have become heroic figures.
This past weekend's Tony Awards were a prime example of the phenomenon as Chicago-bred actress Abby Mueller (who plays one of King Henry's wives in the Broadway production of "Six") came down with COVID-19 and her understudy had about 12 hours to polish her performance in what would be broadcast on television. Months earlier a similar last-minute call turned Kathy Voytko, an actress familar to Chicago audiences, into the hero of a preview performance of the Broadway production of "The Music Man."
Now, the Chicago Symphony Orchestra has its very own "last minute hero" story, too. Her name is Lina Gonzalez-Granados. And she was the winner of the fourth Chicago Symphony Orchestra Sir Georg Solti Conducting Competition. She served for a year as the Solti conducting apprentice under the guidance of maestro Riccardo Muti.
On Thursday morning, as she was observing Muti's dress rehearsal of Brahms' "Symphony No. 1 in C Minor," the Maestro learned that he had tested positive for COVID-19. And by that evening, which was to mark the opening of Muti's June residency, she had to jump into action, conducting the Brahms, as well as Beethoven's "Violin Concerto in D Major," featuring the renowned German soloist Anne-Sophie Mutter.
Before the concert began (and it had attracted the sort of full house Muti's programs customarily do), Jeff Alexander, president of the Chicago Symphony Orchestra Association, made a brief announcement in which he said "The Maestro's symptoms are very mild and his spirits are high." Then, seconds after he left the stage, Mutter arrived, resplendent in a sapphire blue sheath gown. She was followed by Gonzalez-Granados, a petite figure dressed in a black pants suit who would prove herself to be more than ready to lead the orchestra in two monumental works in a style at once precise, economical and expressive.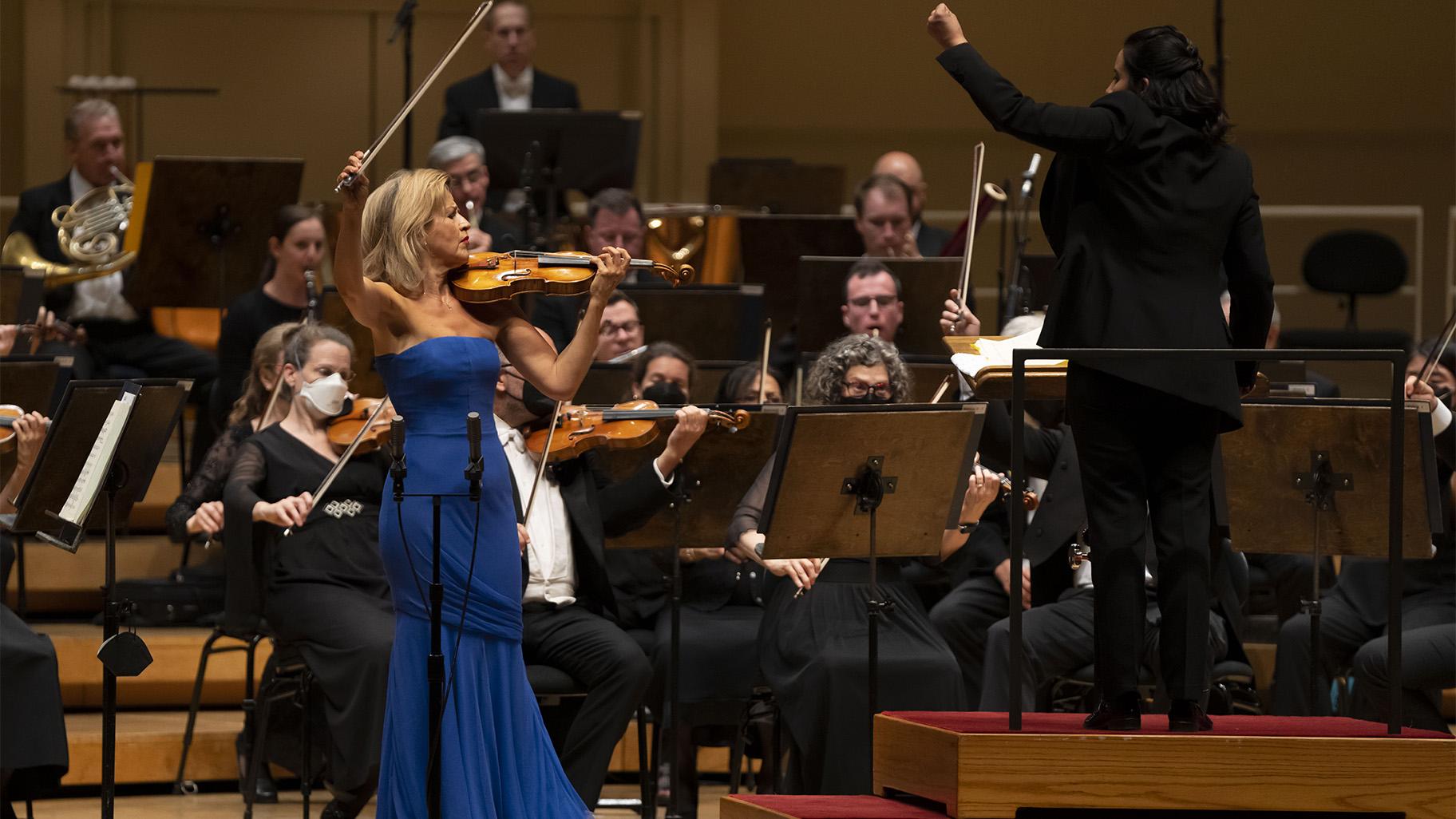 The CSO's Sir Georg Solti Conducting Apprentice Lina González - Granados leads the Chicago Symphony Orchestra and soloist Anne - Sophie Mutter in Beethoven's Violin Concerto in D Major. (Credit: Todd Rosenberg)
Mutter has been playing Beethoven's concerto since her teens, when she was coached by the then Berlin Philharmonic conductor Herbert von Karajan. It begins with four beats on timpani, followed by the formidable sound of the winds who are then joined by the violins in what suggests a triumphant mood. Then the soloist joins, with a passage that moves from softness to strength on a widely familiar emotional theme. Mutter's highest notes are at moments so delicate they are almost inaudible before she returns to a fuller sound and a formidable crescendo.
An ingenious interplay between orchestra and soloist is emblematic of this work from early on, with the plucking by the orchestra's low strings in one passage, and Mutter's dramatic take on Beethoven's wide range of modulations of intensity and speed on the violin in others. The second movement begins in a solemn mood, with another of Mutter's hi-pitched yet delicate solos, and a lyrical sound from the orchestra.
Beethoven created many variations on the major theme in this work, giving the soloist a long, wild solo at one point and delicate riffs the next, with an overall intense excitement as the concerto builds to a powerful finale. Throughout, Mutter can be felt digging ever more deeply into this work. It's a concerto that often feels like a great experiment in exploring the potential of every instrument.
Brahms' symphony is a magnificent, lushly emotional work written seven decades after Beethoven's concerto. It also happens to open with the sound of timpani (David Herbert was kept busy throughout the evening, as was the wind section), and proceeds to conjure an anguished mood with a stormy undertow at the start, along with the urgency and singing quality inherent in this composer's work.
Brahms is a superb mood shaper, using each section of the orchestra - notably mellow winds and brass here - to put a particular stamp on his seductively fluid melodies that alternately sing, swell and resolve. There is an animated rapture about everything Brahms touches, whether he is using the mellow warmth of French horns or the sound and fury of the strings. At once seductive and grandiose, Brahms drives this symphony to a heated finale, and the CSO musicians and Gonzalez-Granados (who was met with many rounds of enthusiastic applause), were with the composer every step of the way.
This concert will be repeated June 18 at 8 p.m. at Orchestra Hall. For tickets visit cso.org or call (312) 294-3000. There will be updates from the CSO about when Maestro Muti might return to the podium for upcoming programs.