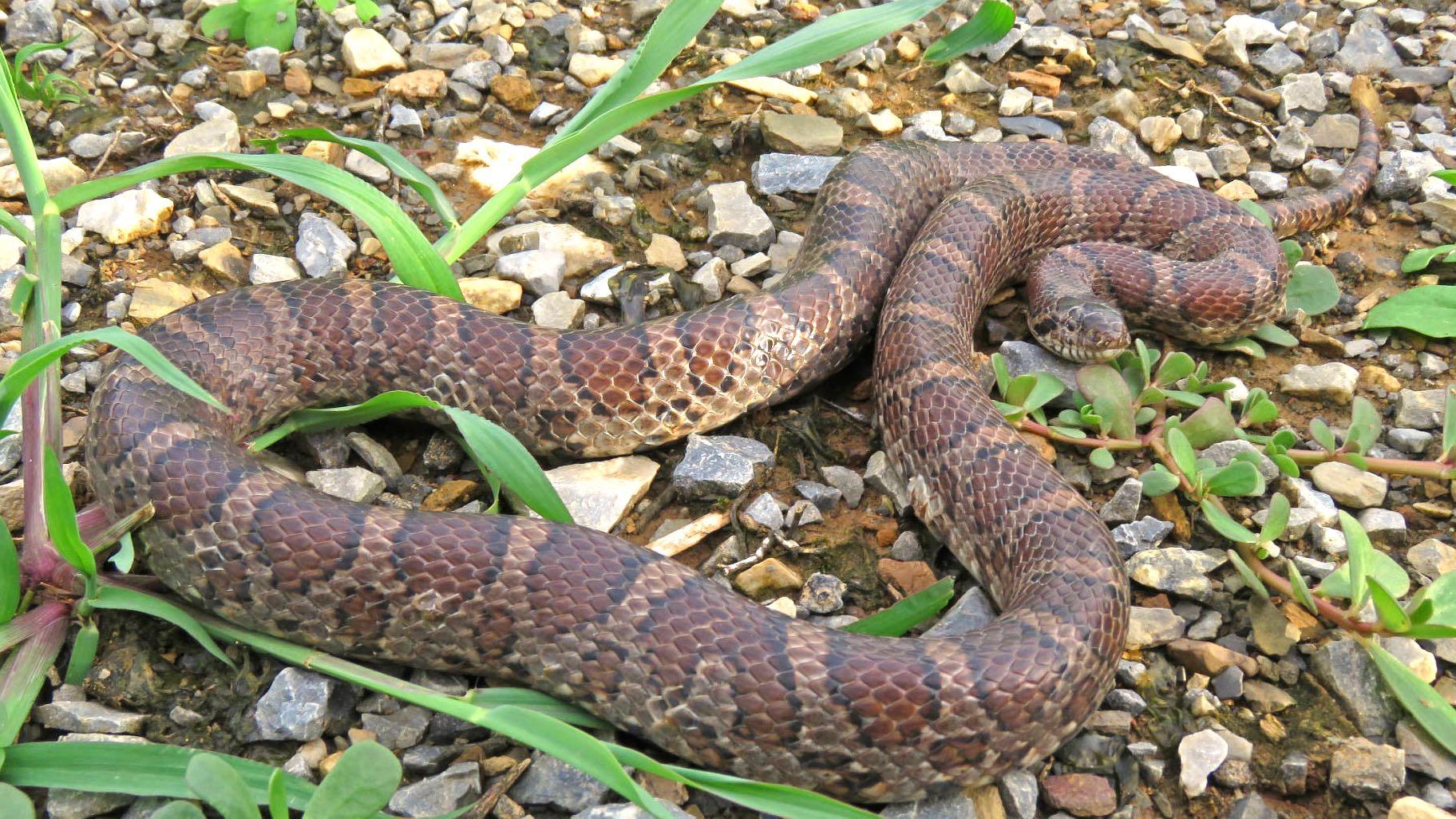 An eastern milksnake. (Jeff Servoss / U.S. Fish and Wildlife Service)
Look what (possibly) crawled out from under Illinois' new state rock — its newly designated state snake.
On Thursday, Gov. J.B. Pritzker officially added the eastern milksnake to the list of state symbols. The initiative was spearheaded by Gentry Heiple, a seventh-grader at Carterville Junior High School in southern Illinois. Other enterprising youngsters take note: The categories of state horsebreed and state seashell are still vacant.
According to the Illinois Department of Natural Resources, the eastern milksnake (Lampropeltis triangulum triangulum) is one of two subspecies of milksnake found in Illinois, the other being the red milksnake (Lampropeltis triangulum syspila). The eastern is common to the northern one-third of the state and is the longer of the two. It's distinguished by "large blotches (brown with black borders) on a gray or white back alternating with small blotches (33-46) on the sides and a head about the same width as the neck," per IDNR.  
Now that we've gotten the introductions out of the way, here are five fun facts about the eastern milksnake.
1. Let's start by answering the most obvious question: Is it poisonous? No. 
2. Where does the name "milksnake" (or milk snake) come from? According to the National Zoo, people used to believe that these snakes sucked cow udders for milk. Blame farmers for the myth: They concocted this story as an excuse for why a cow was producing less milk than usual. 
3. To ward off predators, the milksnake's coloring resembles that of far more dangerous venomous snakes, including copperheads and coral snakes. This is known as aposematic mimicry. Alas, this same trait often leads to cases of mistaken identity that get the milksnake killed ... by humans.
4. We weren't kidding about crawling out from under a rock. Milksnakes are very secretive and like to hide under rocks, rotting logs or blend in with ground litter.
5. And finally, its many nicknames include thunder-and-lightning snake.
Contact Patty Wetli: @pattywetli | (773) 509-5623 |  [email protected]
---