Paul Cezanne was thought of as the greatest by some very great artists, including Pablo Picasso and Claude Monet, to name just two. The Art Institute along with the Tate Modern in London is presenting its first exhibition of Cezanne in 70 years.
TRANSCRIPT
Marc Vitali: Bathing beauties and rich landscapes.
Seemingly simple still lifes and complicated portraits.
And … stranger things.
The Cezanne show at the Art Institute looks from a distance – and very closely – at a giant of modern art.
Caitlin Haskell, Curator, Modern & Contemporary Art: He was coming of age in the 19th century, he was associated with the Impressionist group, but he really paved the way for what modern art would become in the 20th century, movements like Cubism, Fauvism, Expressionism, and abstract painting.
Gloria Groom, Curator, European Painting & Sculpture: Cezanne is an artist we usually put in a separate category. We put him in another gallery, literally because he doesn't play well with Monet and Renoir. He's like the odd man out, but he is very much informed by Impressionism. He has his moment, but he takes what he needs and he moves on.  
Vitali: Cezanne was much admired by fellow artists. In fact, many paintings on view were once owned by them. 
Haskell: Artists understood what he was doing. They were absolutely the most important audience for his work during his lifetime. There are works that were owned by Monet, Pissarro, Gauguin, and then in the 20th century works owned by Matisse, Picasso, Henry Moore, many loans from the collection of artist Jasper Johns, so I mean it's something that continues. And in the exhibition and catalog we worked with 10 contemporary artists to look at artworks in the show and help us see them through an artist's eyes now.
Groom: Cezanne really was trying to be modern, and he was trying to fit in and he can't. And it was when he refuses to fit in and when he starts to work for himself — an audience of one — that he becomes the artist that the artists look at and go, 'oh my gosh, he's such a risk taker.'        
Haskell: One of the wonderful things about Cezanne's work is he's so honest about his process. You can really see how the picture came together, stroke by stroke, mark by mark, sensation by sensation, color by color, associating sight and touch, and using that as an entirely new language of pictorial communication.
Groom: It's a lot and it's also very minimalist.
Even in the subject matters of still life, landscape, and portrait, it's kind of limited, but it's within that that he makes all of his completely new and different expressions.
Vitali: Many figures and objects are outlined in cobalt blue. A white tablecloth might contain greens and yellows. Colors bleed into each other, and perspectives are often skewed.
Infrared examination gave the curators a look at the under-drawings of the paintings and showed how Cezanne planned his compositions.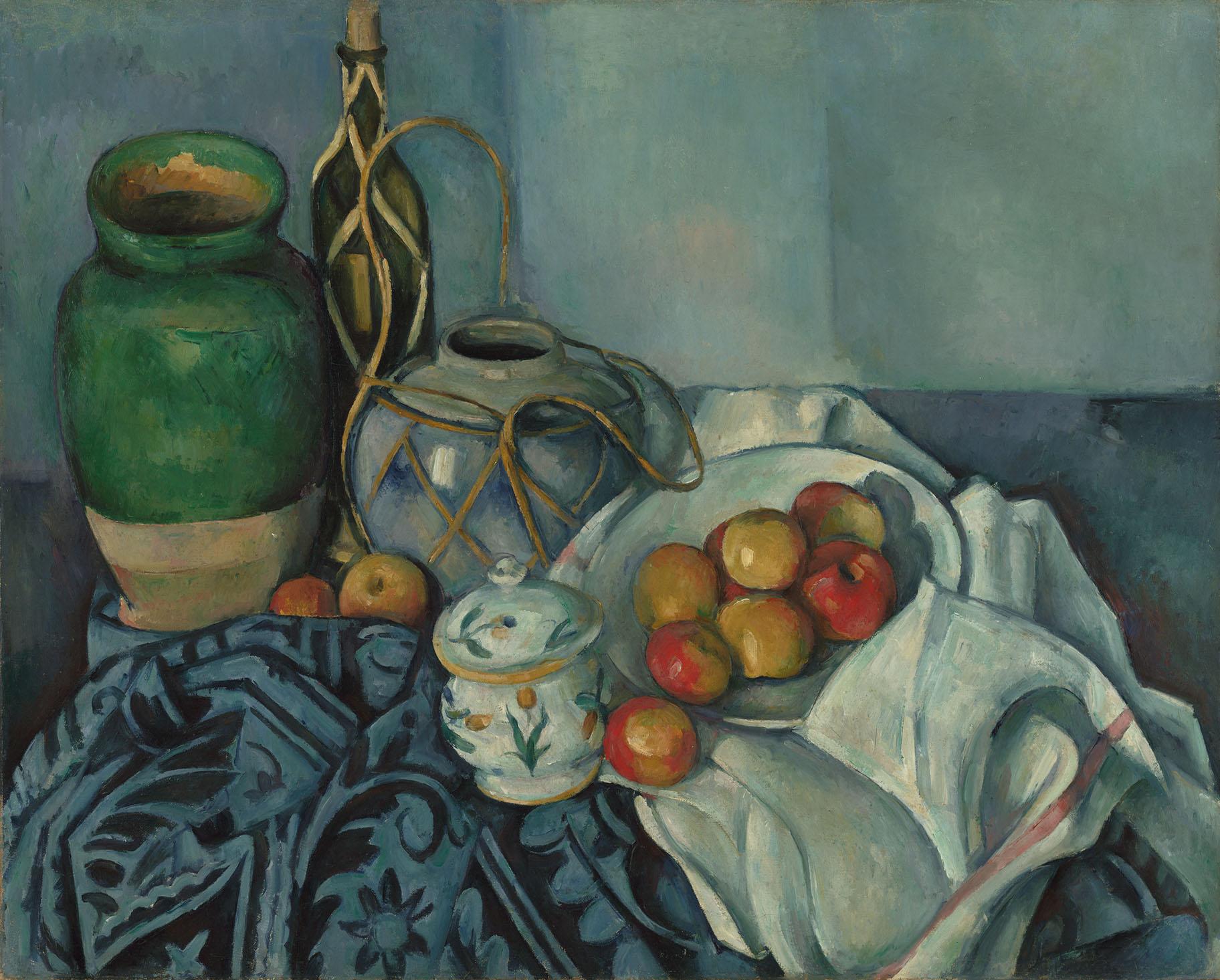 Paul Cezanne. Still Life with Apples, 1893–94. The J. Paul Getty Museum, Los Angeles.
Groom: In the end, he's going back and forth between fantasy, between observation, between different ways of approaching a painting.    
Haskell: It's a really special thing to have 125 Cezanne works together.      
We take you through the entirety of his career, from the mid-1860s all the way to the end of his life in 1906.    
I think there's a chance to really appreciate the extent of Cezanne's commitment to finding a new way of painting.
And to understand that while these works are more than 100 years old, they absolutely are still full of mystery and surprise.
His life's work was creating the paintings and watercolors that we see here, and they just set the tone for an entirely new mode of painting in the 20th century.
More on this story
The works of Paul Cezanne will be on display at the Art Institute through Sept. 5.
---