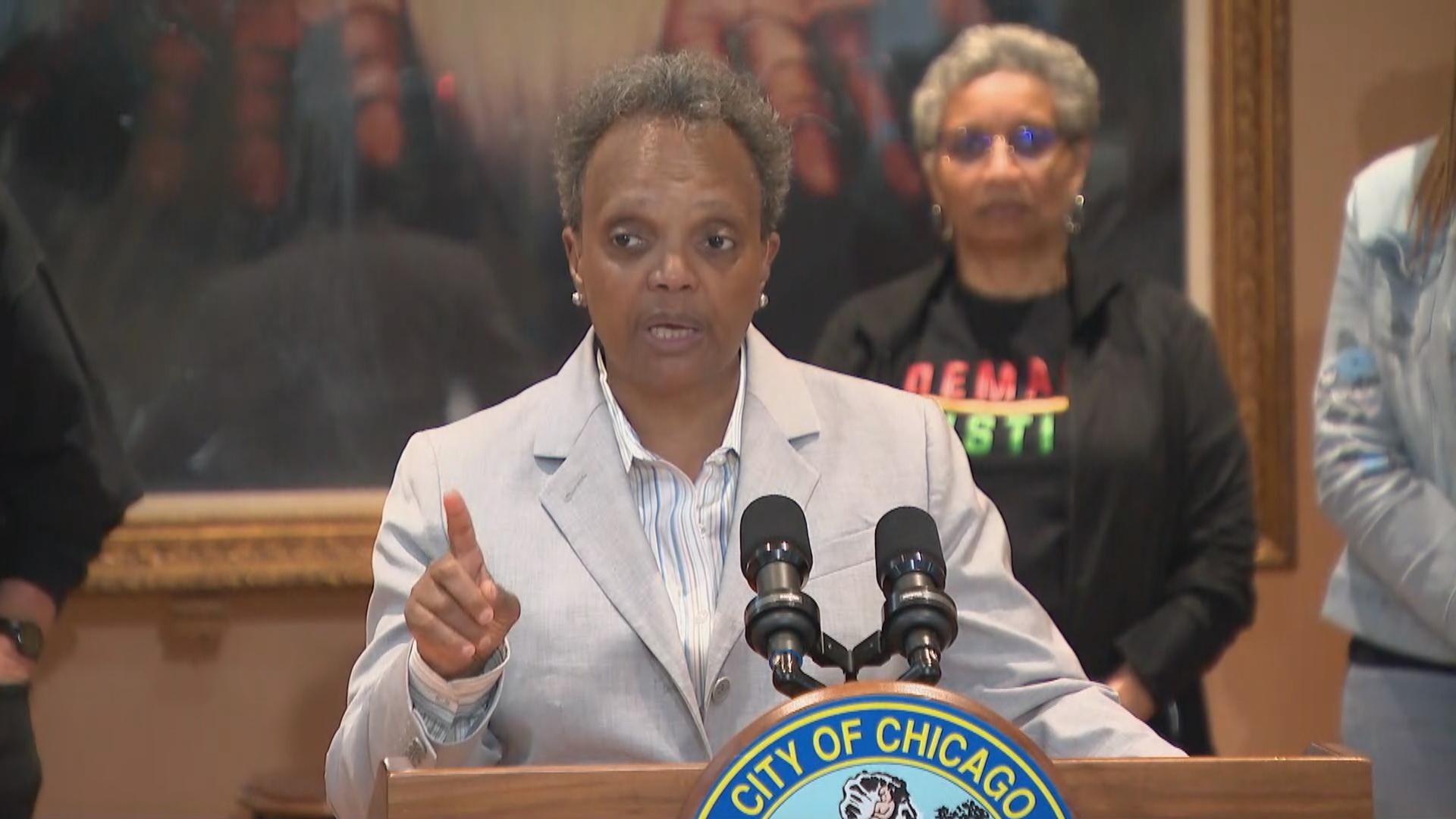 Mayor Lori Lightfoot speaks at a news conference on June 6, 2022. (WTTW News)
City officials have officially kicked off a rebate program that will offer home and business owners more than $1,000 in reimbursements on outdoor security cameras, lights and other safety devices.
Starting Monday, Chicago residents and other organizations can begin applying for various rebates on private security devices under the new Home and Business Protection Program, which city officials believe will help improve safety and solve crimes.
"We hear this over and over again at community meetings, town halls, individuals who are telling us, these are the things that we need to help us feel safe," Mayor Lori Lightfoot said during a press conference Monday at St. Sabina Church. "I'm happy that we're responding to the needs of our residents and providing, at no cost to them, these valuable tools."
The city — which announced plans for this program in April — has budgeted $5.3 million for this reimbursements over the next two years. Residents will be eligible for rebates up to $225 per camera, or $450 per home, on two cameras, as well as $100 per light (up to two lights) and up to $50 for a vehicular tracking device (up to two trackers).
The city will also provide up to a year's worth of cloud-based video storage for cameras at $150 and subscription costs for GPS tracking applications worth up to $120.
Beyond homeowners, eligible applicants include businesses, religious institutions and nonprofit organizations within the city. Tenants may also apply for rebates, if they have consent from the property owner. For the vehicular trackers, applicants must own or lease a vehicle registered to a primary address in Chicago.
"Working with our communities across Chicago is the only way we can strengthen public safety," Glen Brooks, the Chicago Police Department's director of community policing, said in a statement. "By registering your camera with CPD, it will help detectives solve crimes more efficiently and take violent offenders off the street quicker."
Only security devices purchased on or after Monday qualify for reimbursement, according to Tamara Mahal, head of the city's Community Safety Coordination Center. The installation costs of cameras, lighting and GPS tracking devices are not eligible for reimbursement.
City officials are also "strongly recommending" those who participate in that program, as well as those who already have existing security cameras set up at their homes or businesses, to register those cameras with the Chicago Police Department.
Police would not have direct access to anyone's camera system, nor can they access camera footage without the owner's consent. There's also no requirement to provide any footage to the CPD at any time, according to the city.
For more information or to apply for a rebate, click here.
Contact Matt Masterson: @ByMattMasterson | [email protected] | (773) 509-5431
---