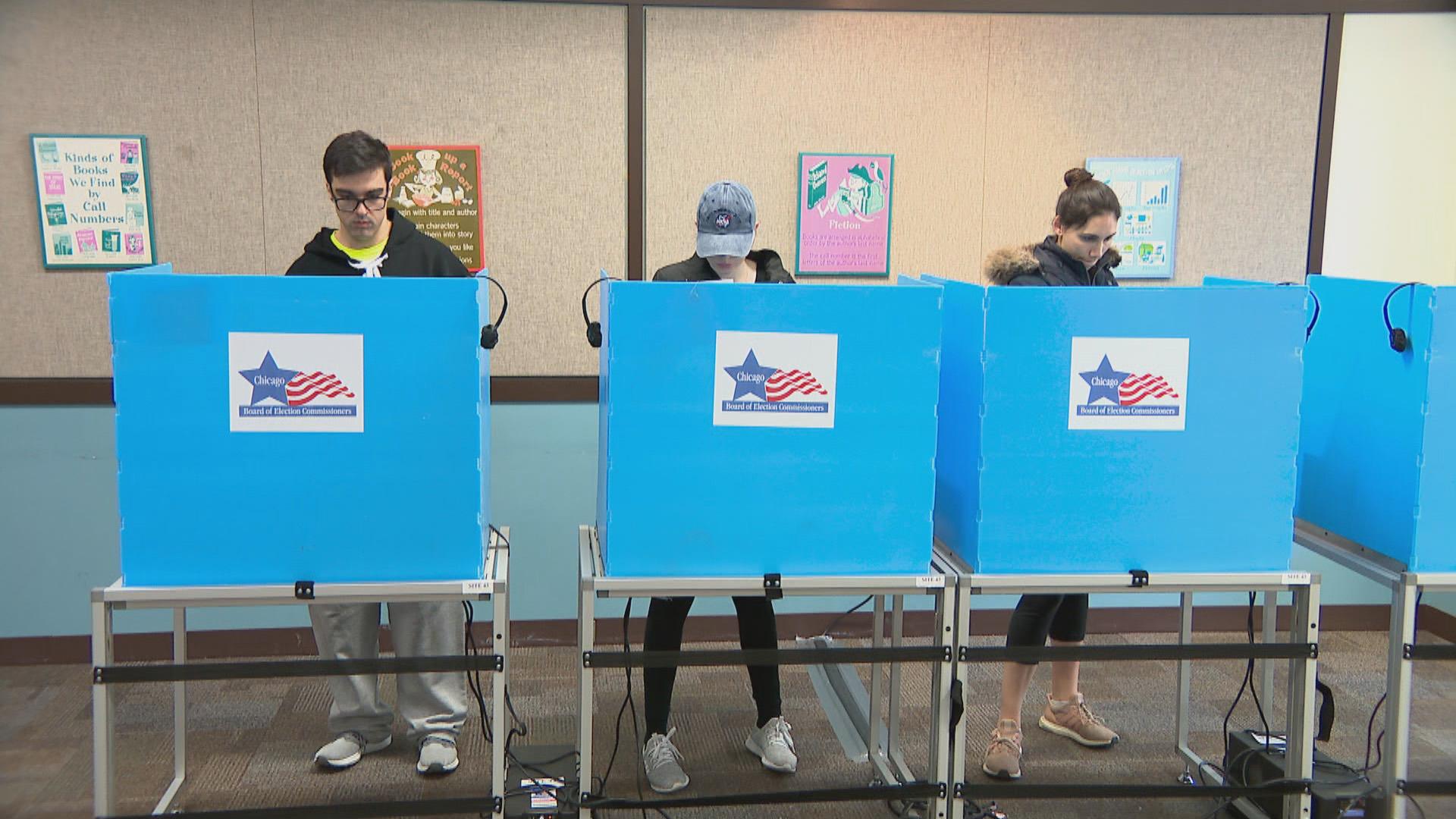 Chicago voters hit the polls on primary election day, Tuesday, March 17, 2020. (WTTW News)
As Chicagoans prepare to head to the voting booth on June 28 for Illinois' primary election, it's emerged that scores of precincts across the city have been left without a polling place.
According to the Chicago Board of Elections, there are a total of 73 vacant precincts, spread over nearly half of the city's 50 wards. The 42nd Ward, in the heart of downtown, has the most vacancies, with 14.
In a filing with the Circuit Court of Cook County, the Board of Elections cited a number of circumstances that led to the vacancies, including a wave of opt-outs from traditional polling places during the COVID-19 pandemic, as well as accessibility issues and summer availability.  
Stranded voters will receive a notice from the board regarding their options, such as voting by mail, early voting and voting at ward-wide sites.
The board will continue to work to identify new precinct polling places for the 2022 general election and 2023 municipal elections, officials said.
Here's a list of affected precincts, with links to ward maps:
— Ward 2: Precinct 10
— Ward 3: Precinct 25
— Ward 7: Precincts 1, 3
— Ward 8: Precincts 14, 18
— Ward 14: Precincts 4, 24
— Ward 18: Precinct 7
— Ward 19: Precinct 1, 45, 49
— Ward 21: Precincts 13, 32
— Ward 26: Precincts 30, 42
— Ward 30: Precinct 9
— Ward 31: Precincts 15, 31
— Ward 32: Precincts 1, 2, 4, 6, 27
— Ward 33: Precincts 5, 19
— Ward 35: Precinct 6
— Ward 38: Precincts 9, 27
— Ward 39: Precinct 38
— Ward 40: Precincts 9, 18, 22, 26, 33, 36
— Ward 41: Precinct 11
— Ward 42: Precincts 2, 5, 17, 18, 20, 22, 24, 26, 29, 32, 33, 36, 38, 39
— Ward 43: Precincts 6, 13, 27, 34, 36, 42
— Ward 44: Precincts 4, 5, 6, 18, 21, 22, 23, 28
— Ward 45: Precincts 15, 17, 19, 20, 30, 35
— Ward 48: Precinct 32
— Ward 49: Precinct 16
Contact Patty Wetli: @pattywetli | (773) 509-5623 |  [email protected]
---