When Maggie Olivia found herself in a Missouri doctor's office in the wake of a positive pregnancy test, she didn't mirror her doctor's enthusiasm. She remembers being in a new relationship and not in a position to financially support a child.
"I was crying … It was really upsetting." Olivia said. "My doctor at the time was like, 'Congratulations, mom.' They gave me a little gift bag with prenatal vitamins …"
Olivia weighed her options and looked into getting an abortion at the last Planned Parenthood in Missouri, but was discouraged by the state-mandated 72-hour waiting period and informed consent laws which require the reading of Missouri's Informed Consent Booklet.
"Rather than go through all of those hoops, and because I was lucky enough to have the resources to be able to cross state lines, that's what I decided to do," Olivia said.
She got an abortion at the Planned Parenthood Clinic in Fairview Heights, Illinois, just 15 miles over the Missouri border and 45 minutes from her home near St. Louis.
Her journey across state lines isn't unique — Olivia was among the 6,578 Missourians seeking abortion care in Illinois in 2020, according to Illinois Department of Public Health data.
Olivia's experience will become more common if Roe v. Wade is overturned by the U.S. Supreme Court in June. Every other state in the Midwest is poised to further restrict abortion access, making Illinois the least restrictive state in the Midwest.
"We could see between 20,000 and 30,000 additional patients each year for abortion care in the state of Illinois," said Jennifer Welch, CEO of Planned Parenthood Illinois.
Illinois organizations, both for and against abortion, are bracing for an influx of people seeking abortions. Once again, Illinois becomes a destination for abortion access.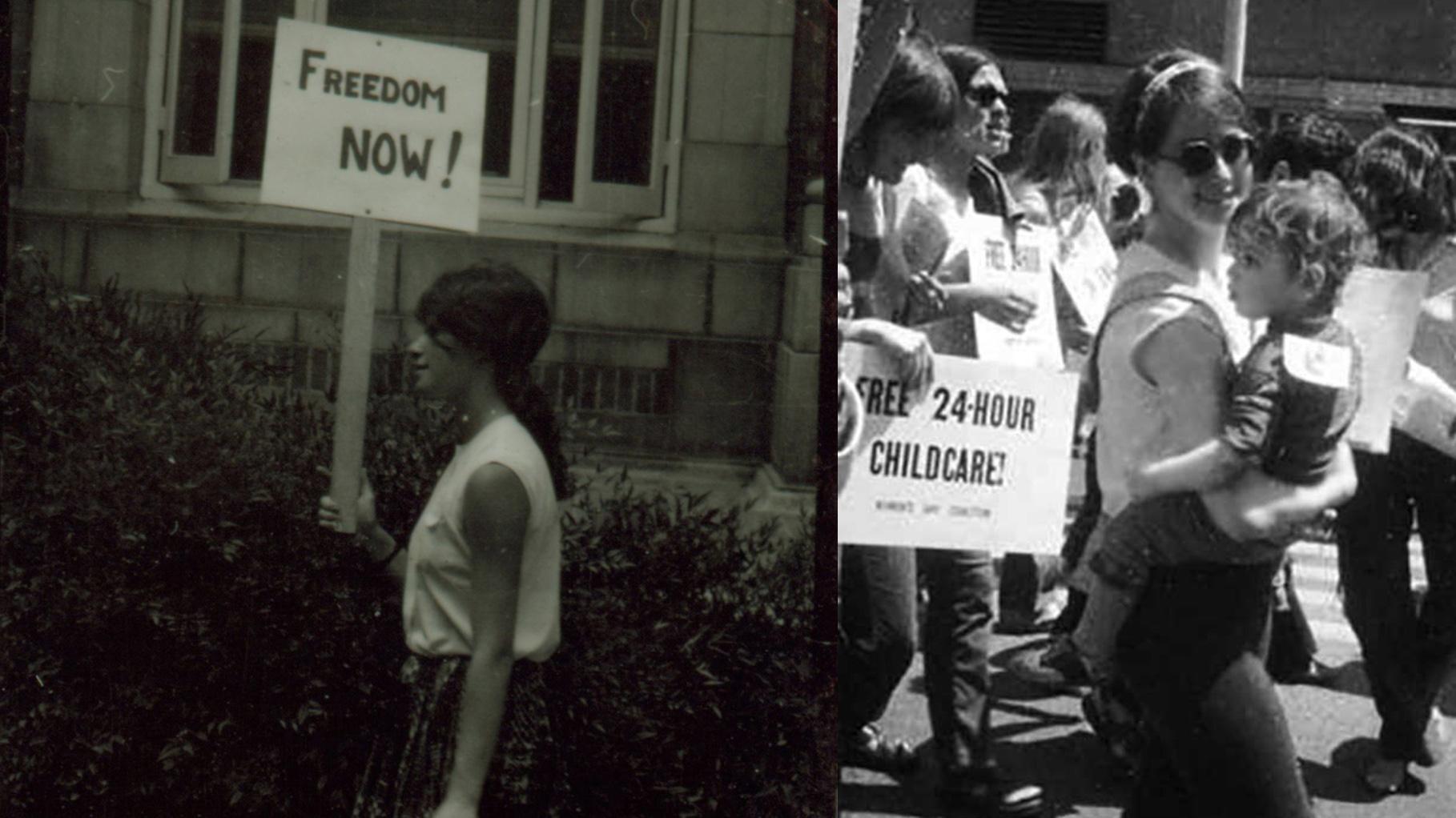 Heather Booth at Mississippi Freedom Summer rally in 1964, left, and at a child care demonstration in 1970 with one of her children. (Courtesy Heather Booth)
Historical context
More than five decades before Olivia traveled to Fairview Heights, and before Roe v. Wade was decided in 1973, the modern abortion rights movement began in Chicago.
It started with one woman's favor for a friend.
In 1965, while Heather Booth was a student at the University of Chicago, a friend of a friend came to her with a dilemma. Her friend, Booth said, was "nearly suicidal," pregnant, and didn't want to be. Booth found a doctor who agreed to perform the then-illegal procedure — and a movement was born.
"When I started this, I thought it was a one-off favor for a friend," Booth said. "I knew it was illegal. So I wasn't trying to be public about it." 
Word spread. More and more people seeking abortions asked for Booth's help and connections, to the point she and other Hyde Park residents began an underground abortion service called the Jane Collective. The Collective began as a channel to connect people to doctors willing to perform the service, though it evolved into volunteers training to perform the procedure themselves. 
Seven members of the Jane Collective were in jail awaiting trial for performing abortions when Roe was decided.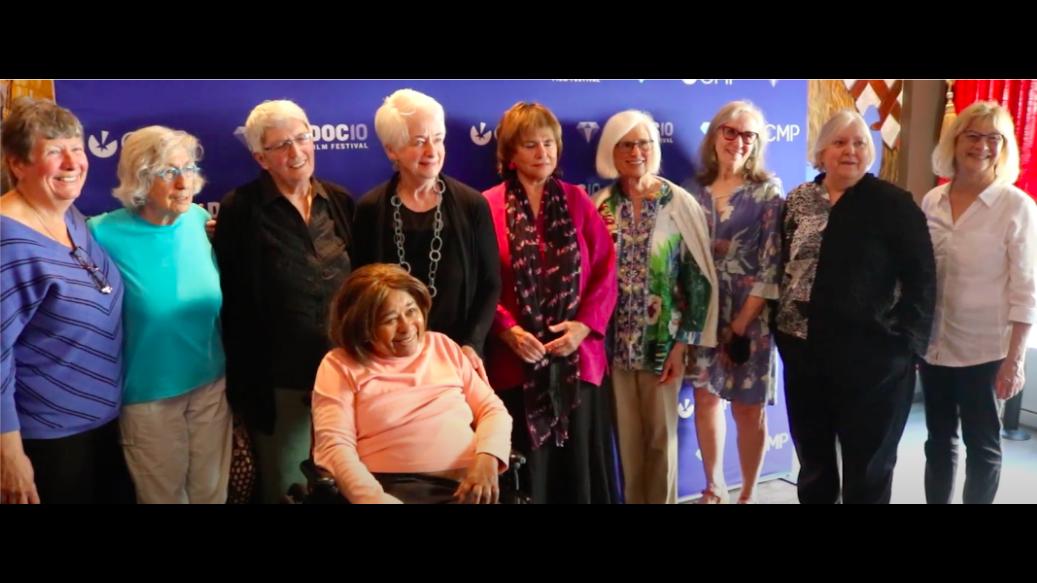 Heather Booth and others at Jane movie premiere at the Davis Theater in May 2022. (Courtesy Heather Booth)
Meanwhile, as the Jane movement was underway, a young Eric Scheidler was attending anti-abortion protests with his father, Joe Scheidler, a leading activist in Chicago. 
On Sept. 30, 1972, a year before Roe v. Wade was decided, Eric Scheidler was at his first anti-abortion protest with his father. Someone handed his father a photo of an aborted fetus and it launched them into advocating to ban abortion. 
"I was right there at 6 years old," Scheidler said. "At that moment, abortion became personal for him and for our whole family."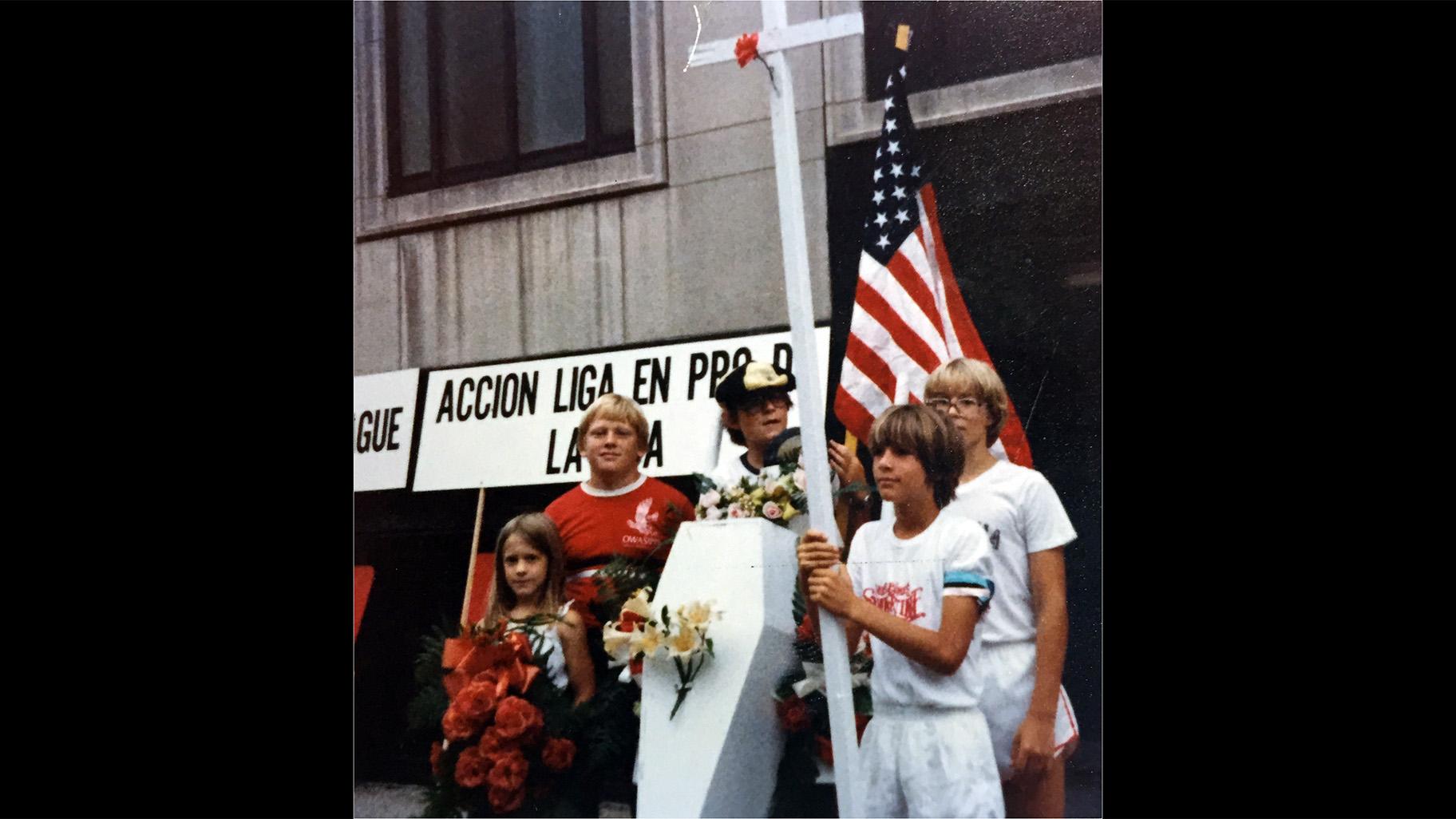 Eric Scheidler (center) attends an anti-abortion protest in 1980. (Courtesy of Eric Scheidler)
In 1980, Joe Scheidler founded the Pro-Life Action League and remained active in it until his death in 2021.
Eric Scheidler took over in 2009 as executive director and continues to lead it today.
"My ultimate goal is to transform American culture in such a way that abortion becomes unthinkable …" Scheidler said. "That means that every state would ban abortion, that means that every state would also provide richly for the conditions that we need, so that women don't feel pushed towards abortion."
Though Scheidler and anti-abortion activists in other states are celebrating the likely demise of Roe this summer, he also laments Illinois' reputation as an abortion destination.
"It's incredibly distressing to me as a pro-life person to see Illinois transformed in this way — to see billboards inviting people to get abortions as they come into our state," Scheidler said. 
Above Ground
Just as people traveled for underground abortions in the days of the Jane Collective, people travel to Illinois today for abortion care to escape their state's restrictions. Advocacy groups in Illinois provide abortion access, including funding for the procedure and a place to stay.
"There are some ways in which the threats are increasing, and the opposition in some ways is even greater than it was before," Heather Booth said.
But a difference from the days of the Jane Collective is the internet.
In the time of Jane, organizers left advertisements in alternative and student newspapers with a phone number for those seeking an abortion.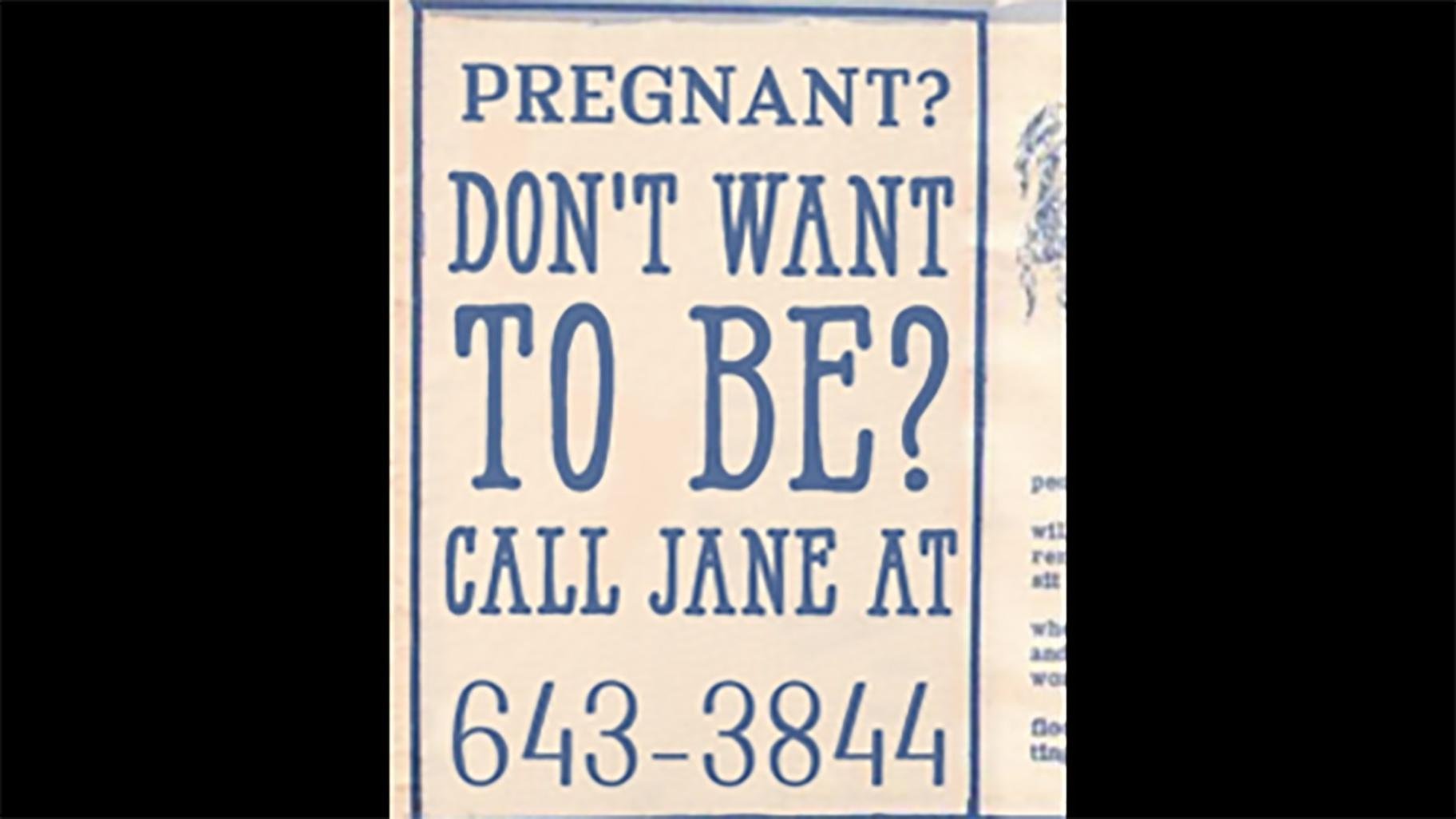 An advertisement from the underground Jane Movement of the 1960s and 1970s for people seeking an abortion.
Now, people can connect online with the Midwest Access Coalition, an organization dedicated to making abortion accessible.
In a Chicago suburb, Midwest Access Coalition volunteer Adrienne Guldin opens her home to people traveling for abortion care. Guldin said she's hosted people from Southern Illinois, Indiana, Ohio, Wisconsin, Iowa, Oklahoma, Tennessee, Kentucky and Missouri.
Different from the underground Jane Movement of the 1960s and 1970s, "This is aboveboard," Guldin said. "I'm giving my name. I want this. I want more people like me out there helping people as much as they can."
For five years, Guldin has provided a bedroom in her home where those seeking abortions can stay for free. She estimates she has provided shelter for two dozen patients plus family members. 
"Some people travel alone, some people travel with a partner, a friend, some people travel with their children, because they don't have childcare where they live," Guldin said.
The room where her guests stay, on the third floor, features a sleeping dragon above the bed. The previous owners of the house had a friend who was a muralist.
"I always feel that the dragon watches over whoever sleeps on the bed underneath, and I always hope that that dragon takes care of the people in that room," Guldin said.
She added that the patients she's hosted came from a range of ages and backgrounds.
"The youngest person I've had was 15 years old. I've had people in their 40s …" Guldin recalls. "Generally speaking, people are on the lower end of the income spectrum. 
"Nobody says 'I think I'm going to have an abortion today for fun.' It's not fun. It's a very difficult decision. … If I can make it any iota of an instance easier, I will."
Abortion Access in the Midwest
MAP: Abortion legislation in the Midwest will change if Roe v. Wade is overturned. States in dark red will ban abortion while states in lighter red plan to severely restrict abortion laws. Iowa is in the process of passing restrictive legislation and Illinois will see no changes in abortion access.
---
Every state bordering Illinois — Indiana, Kentucky, Iowa, Wisconsin and Missouri — is poised to further restrict abortion. Illinois would become an island for abortion access.
"A whole swath of the Midwest is going to live in an abortion desert," Jennifer Welch said.
Map: The map above shows the number of abortion patients from Midwest states that received an abortion Illinois in 2020. Thousands traveled from neighboring states to Illinois for abortion access. Data obtained from the Illinois Department of Public Health.
---
Data from the Ilinois Department of Public health shows that in 2020, 6,578 people traveled from Missouri to Illinois for an abortion, 1,878 from Indiana, 531 from Wisconsin, 142 from Kentucky, 71 from Iowa and 56 from Michigan.
"People are going to flock here," said Corinne Marsala, an Illinois anti-abortion activist while protesting outside the Planned Parenthood Gala. "We don't want that to happen. That's why we've got to make this stop."
Abortion will remain legal in Illinois even if Roe is overturned. Other states, however, have trigger laws that will outlaw abortion if the Supreme Court strikes Roe down.
Existing laws, not to mention proposed legislation, vary from state to state. This interactive map from the New York Times tracks abortion legislation across the country.
Illinois' neighboring states have varying laws, but all plan to severely restrict and even ban abortion if Roe is overturned.
Missouri has a trigger law in place to ban all abortions in days except in cases of medical emergency. Indiana lawmakers are pushing for laws restricting abortion, but laws as of now will stand despite the Supreme Court's decision. Wisconsin's pre-Roe ban on abortions will make performing an abortion a felony, though the Democratic govenor and attorney general do not plan to enforce it. Iowa's six-week abortion ban was blocked by the state's highest court, but lawmakers are pushing for a constitutional amendment to ban abortion.
In Illinois, the Reproductive Health Act protects abortion access and does not allow the government to punish anyone that gets an abortion.  The viability of a fetus is cited as a benchmark and health care professionals in the state can only perform an abortion, at that point, if the patient's life or health is in danger.  Beginning June 1, anyone under the age of 18 can receive an abortion without a doctor notifying a parent or guardian
As the Supreme Court moves quickly to an official decision, states are scrambling to finalize legislation in preparation for the possible overturning of Roe. With that, the current laws regarding each state are muddled and constantly changing.
The Clinic Fence
The ideological divide over abortion access takes the shape of a black fence surrounding the Fairview Heights Planned Parenthood Clinic — 15 miles from the Illinois-Missouri border. Anti-abortion protesters wait outside, equipped with bullhorns and bible verses, while volunteer escorts in multicolored safety vests escort patients from their cars into the clinic. 
Maggie Olivia is now one of those standing inside the fence. She uses her past experience to guide patients into the clinic and through their day as a volunteer clinic escort with Pro-Choice Missouri, an abortion access advocacy group. 
"There are always protesters outside wearing traffic vests with a sign trying to divert patients from the clinic," Olivia said. 
She remembers the protesters on the day she arrived for her abortion at that clinic two years ago. 
"My partner was driving and as we were coming into the clinic, he was like, 'Are you sure, they look very official? … It feels like we should stop. They're waving us down,'" Olivia said. 
Another Pro-Choice Missouri clinic volunteer just inside the fence hoists a sign that reads "They are protesters, do not stop." 
Among those outside the parking lot fence is Cody Averett, a 17-year-old Shiloh, Illinois, resident. He drives himself to the clinic on Saturdays with a bullhorn and a bible. He says he prays for the end to all abortion, with no exceptions for rape or incest. 
"We want to be on the front line standing against [abortion]. Because we care for the children," Averett said. 
As the Supreme Court decision looms, whether inside the fence or outside, Illinois residents find themselves in ground zero for abortion access, 53 years after Heather Booth founded the Jane Collective. 
"I certainly had hoped that abortion would have been settled," she said. "But the struggle continues."
---
Note: This story has been updated to reflect that per Illinois' Reproductive Health Act the accepted standards for clinical practice as to when an abortion can be performed depend upon the viability of the fetus and the life and health of the patient.