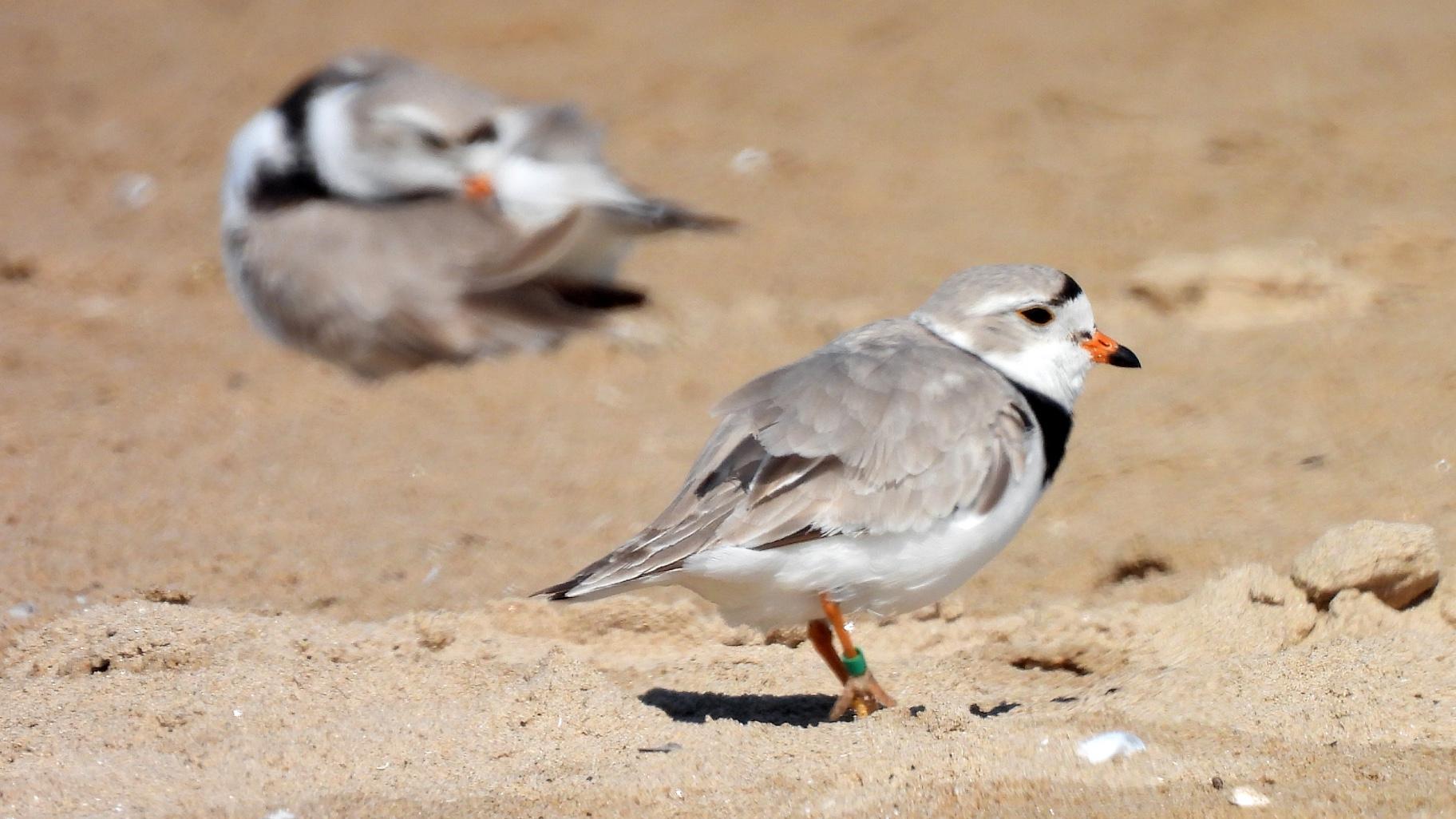 Monty in the foreground, Rose in the rear. (Credit: Ann Gunkle)
The cause of death has been revealed for Monty, the beloved patriarch of Chicago's piping plover family.
The results of a necropsy and battery of tests led officials to determine Monty died of a severe fungal respiratory infection, including a laryngitis that restricted his airway, according to Lincoln Park Zoo, which coordinated the tests in partnership with the U.S. Fish and Wildlife Service and the University of Illinois Zoological Pathology Program.
Further testing ruled out bird flu, the zoo said.
On May 13, the day he died, Monty was seen gasping for air by plover monitors. After stumbling around the dune habitat at Montrose Beach, he fell and didn't recover.
Monty first captured Chicagoans' hearts in 2019 when he and his mate, Rose, became the first pair of endangered Great Lakes piping plovers to nest in the city since the 1950s, choosing the crowded Montrose Beach as their breeding ground. The couple's legend only grew when they returned to Montrose Beach in 2020 and 2021, successfully fledging chicks three years in a row. 
Though the death of Monty and the disappearance of Rose, who never arrived in Chicago in 2022, seemingly signaled an end to the piping plover story in Chicago, the saga is far from over.
Monty will continue to benefit research on Great Lakes piping plovers, with tissue samples being reserved for a genetic study; his remains will be sent to the Field Museum.
At a recent memorial for Monty and Rose, Monty was remembered as a loyal mate and a fiercely protective father. His legacy lives on at Montrose Beach, where one of the couple's 2021 chicks, Imani, has spent the past week, much to the delight of the community that Monty and Rose brought together.   
@ChicagoPiping Imani the Piping Plover this morning at Montrose. pic.twitter.com/hXs3LkimM7

— Geoff Tonn (@geofftonn) May 31, 2022
---
Contact Patty Wetli: @pattywetli | (773) 509-5623 |  [email protected]