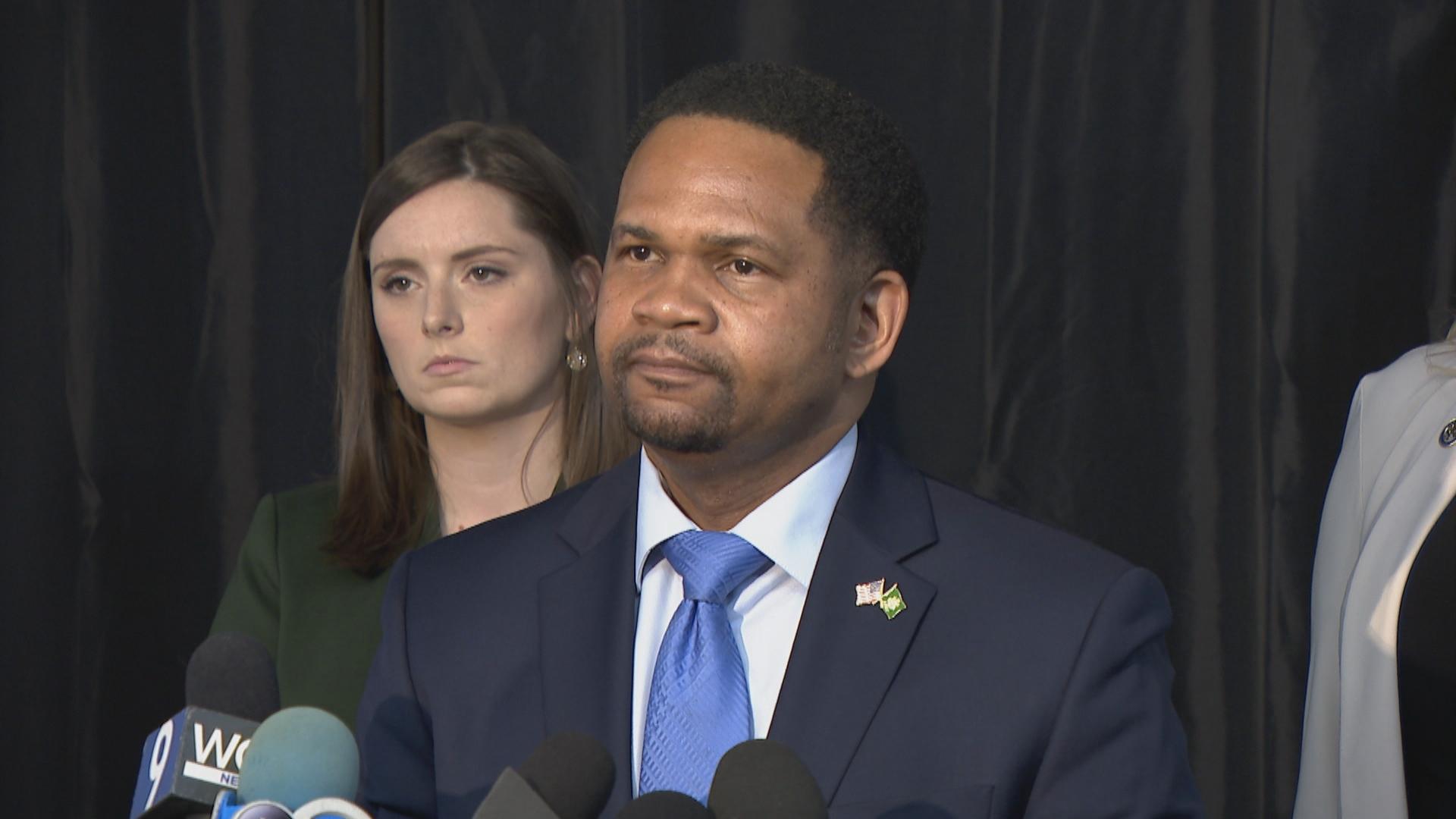 Aurora Mayor Richard Irvin, a candidate for governor in the Republican primary, holds a news conference on May 9, 2022. (WTTW News)
GOP gubernatorial candidate and current Aurora Mayor Richard Irvin has carefully attempted to veer away from any conversation about controversial former President Donald Trump. 
At a press conference this week, Irvin dodged multiple questions about whether he voted for Trump.
"That's exactly what J.B. Pritzker wants all of you to be talking about. Voters know my record," said Irvin during one of his attempts to swat away the question. "What I'm hearing around the state is people want to focus on the future."
But text messages written by Irvin in 2018 during the middle of the Trump presidency, and obtained by WTTW News, appear to show Irvin has very strong feelings about Trump, and they are not positive. The messages offer some insight into aspects of Irvin's political beliefs his campaign has been reticent to address. 
"And I hate Trump too!" Irvin wrote. "He's an idiot!!!" 
Shortly after, Irvin added, "and a bigoted racist."
(Click to enlarge.)
The text messages also appear to reveal Irvin's belief in equity and equal rights for the LGBTQ community. 
They were part of a February 2018 text conversation between Irvin and a retired longtime Aurora city employee. The former employee requested their name not be used, but WTTW News verified the person's phone number and verified the physical existence of the text messages on the retired employee's phone. 
WTTW News also verified that the phone number sending the text messages matched Irvin's publicly listed cellphone number and the number WTTW News has used to reach Irvin. 
WTTW News examined months of text conversations between the two, where they discussed everything from fatherhood to issues of zoning and development in Aurora. The former employee said the two had been cordial until a falling out in recent years.
Irvin's comments about Trump came in response to the former employee's complaint that Irvin had decided to plan a city Gay Pride parade on Father's Day. The former employee asked Irvin to consider having it on Mother's Day and indicated that they were uncomfortable with the parade in general. 
The employee opined that former President Barack Obama had acted too quickly to support marriage equality, which, in that person's mind, turned off a lot of Christians and led indirectly to the election of Trump.
"We have to be fair to everyone," Irvin responds. "As I've told others, if you don't like the idea of a parade, don't come see it. I don't like musicals, so I don't go see them. As simple as that. And as far as listening to your constituents, I am. The majority say it's fair. And there are many LGBT in the constituency."
Later in the thread, the former employee says, "I don't hate Trump, but I certainly don't agree with certain behavior. My worldview is based on my upbringing and the word of God and not what's popular in the world today. In my world, it's Adam and Eve, not Adam and Steve."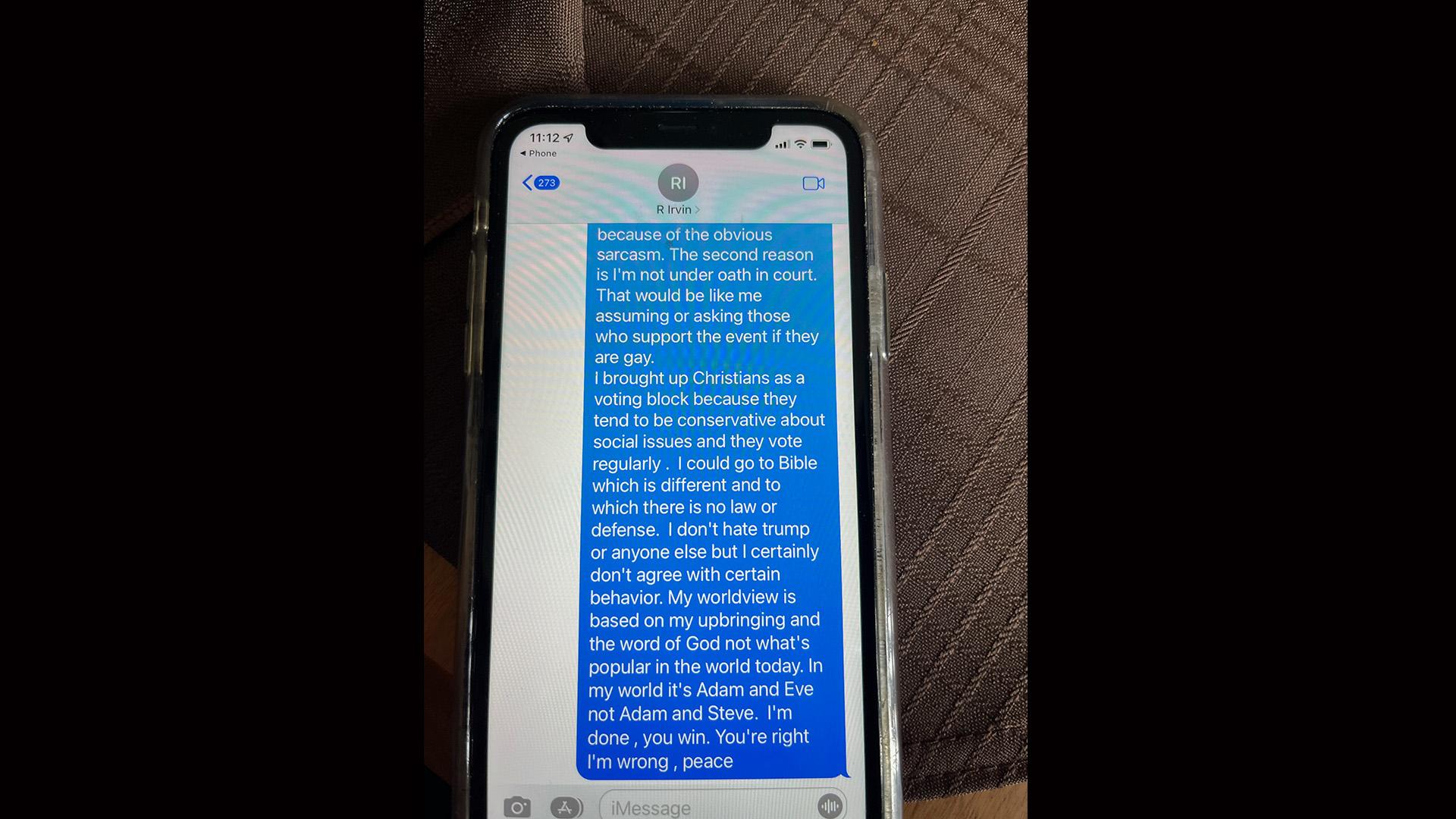 (Click to enlarge.)
Irvin responds: "Well said brother! I can appreciate your world view. I don't think your view is wrong at all. As a matter of fact, I tend to agree with you personally. However, when a world view is challenged by a fundamental right of fairness and equity, the latter must win. There was a world view once that human servitude was acceptable … Although I may not understand Adam and Steve, I have to recognize their fundamental right to exist."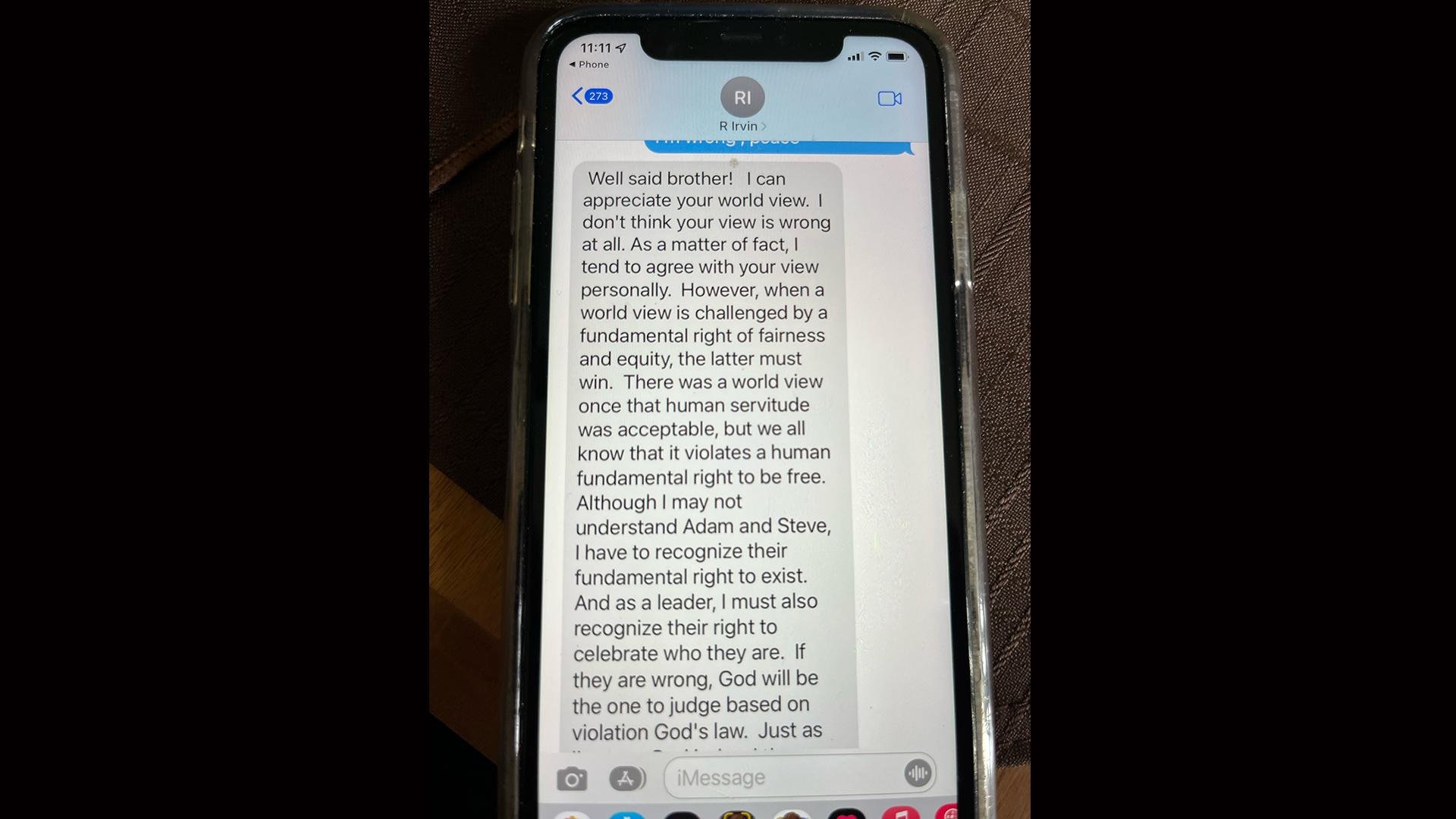 (Click to enlarge.)
Irvin then clarifies his position on Trump once again: "And although I don't hate Trump the man, I do hate what he stands for."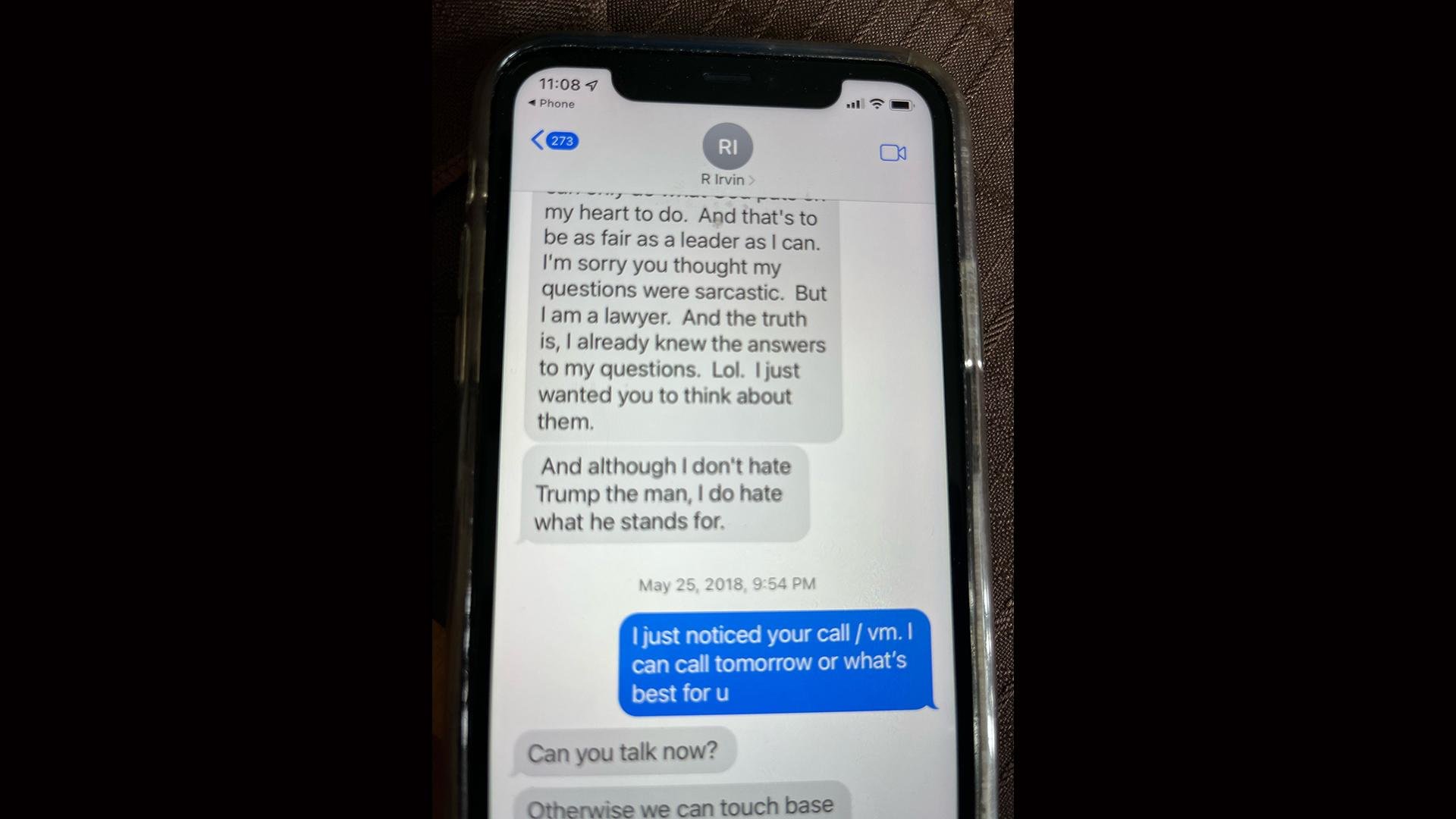 (Click to enlarge.)
In a statement to WTTW News Irvin said, "I don't recall sending those texts, and while there are areas where I disagreed, the Trump Administration delivered positive results for Americans like tax cuts, opportunity zones, and a focus on public safety – all of which we utilized to great effect in Aurora and are now a focus of our campaign to take back Illinois from the disastrous Pritzker regime."
The comments could inflame a continuing theme in the GOP gubernatorial primary race. Trump has promoted and appeared with a collection of far-right candidates for public office across the country in recent weeks. Darren Bailey, who in a recent WGN-TV poll was found trailing Irvin by 4 points, with 37% of voters undecided, has openly sought Trump's endorsement and hinted Wednesday that one might be imminent.
"I am the only America first candidate. I am the only true conservative. And I believe at the end of the day that's going to earn Trump's endorsement. There's a possibility that he may be coming to the Quincy area before the primary and that, yes, we have very high hopes that we will be receiving his endorsement," Bailey told a reporter for WMBD-TV in Central Illinois.
The Irvin campaign though has sought to question Bailey's Trump bona fides. It sent out a mailer with the headline "Bailey breaks from Trump," quoting Bailey saying that he may have voted for Joe Biden in 2008. Bailey says he did so as a strategy to defeat Hillary Clinton. Irvin's campaign then had to acknowledge the mailer was improper because it failed to mention that the campaign had paid for it.
The Irvin campaign also pointed WTTW News to since-deleted tweets from Bailey's running mate, Stephanie Trussell, in which she described Trump as a "despicable human being" in 2016. 
Irvin is the hand-picked candidate of the state's wealthiest resident, Ken Griffin, who has put $45 million into the campaign so far.
The leaked text messages are the latest example of a position Irvin has taken in the past that runs counter to the image his campaign is now trying to create to win the Republican primary and take on incumbent Gov. J.B. Pritzker. 
In campaign ads, Irvin has stated that "All lives matter," when in the past he had stated that he supported the Black Lives Matter movement "strongly and passionately." Irvin has vowed to end the corrupt pay-to-play style politics in Springfield, but WTTW News has extensively investigated a pattern of millions in Aurora city contracts and incentives going to major campaign donors, one of whom hired Irvin's recent ex-wife. 
Businessman Gary Rabine, former lawmaker Paul Schimpf, venture capitalist Jesse Sullivan and attorney Max Solomon are also seeking the nomination.
Follow Paris Schutz on Twitter: @paschutz
---