ShawnTe Raines-Welch, an attorney running for judge on the Democratic ticket, has vastly outraised her opponents in the obscure race for a newly created Cook County subcircuit court seat.
Much of that campaign cash comes thanks to the largesse of Democratic elected officials who work under the political leadership of her husband, Illinois House Speaker Emanuel "Chris" Welch.
House Speaker Welch personally asked some of the state representatives if they would donate to his wife's campaign, WTTW News confirmed. They delivered in a big way.
According to an analysis of state campaign filings, since Jan. 25, Raines-Welch has received more than $200,000 from the campaign funds of current state lawmakers and from one retired lawmaker. Of that total, an influx of $155,000 was reported on May 6.
Those donations include:
State Rep. Greg Harris (D-Chicago) - $50,000
State Rep. Marcus Evans (D-Chicago) - $47,000
State Rep. Elizabeth Hernandez (D-Cicero) - $25,000
State Rep. Jehan Gordon-Booth (D Peoria) - $25,000
State Rep. Robyn Gabel  (D-Evanston) - $25,000
State Rep. Thaddeus Jones (D-South Holland) - $2,000
State Rep. LaToya Greenwood (D-East St. Louis) - $10,000
State Rep. Rita Mayfield (D-Waukegan) - $3,000
Retired state Rep. Lou Lang - $20,000
State Rep. Greg Harris, who is retiring after this term, said his campaign transferred the money to Raines-Welch simply because Welch asked him.  
"I got asked if I could help out so I was happy to do so," Harris said. "The speaker asked and you can say yes or no."
State Rep. Marcus Evans said his donation was not influenced by Welch's position as speaker of the Illinois House of Representatives.
"We're friends, independent of Chris Welch. I just believe in her personally and believe in having Black women as judges," Evans said.
Alisa Kaplan, executive director of the campaign and government watchdog group Reform Illinois, says the donations likely do not cross any legal lines, but they raise many questions about political power and influence.
"There is very possibly totally innocent explanations," Kaplan said. "The difference here is you basically have a boss-employee relationship between the Speaker and his members. So how would you feel if your boss asked you money for his wife's campaign? You would feel a lot of pressure to hand over that money, and that creates a complicated relationship."
Indeed, Welch has vowed to have a more open and transparent style of leadership than his predecessor, the disgraced longtime former Speaker Michael Madigan.
Madigan has been charged in a sweeping 22 count federal corruption indictment and accused by federal prosecutors of having run "a criminal enterprise" out of his office.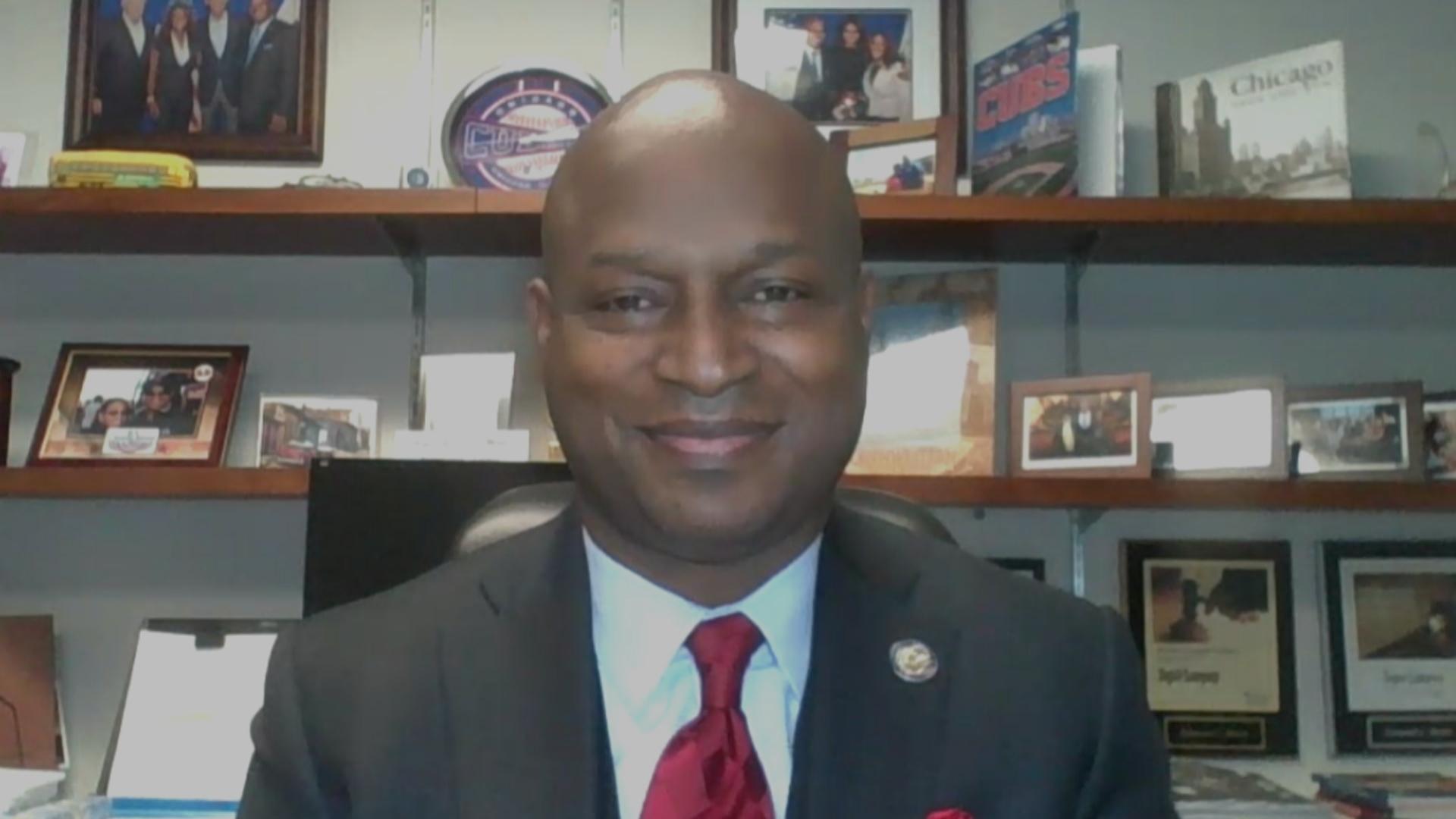 Illinois House Speaker Emanuel "Chris" Welch appears on "Chicago Tonight" on Jan. 11, 2022. (WTTW News)
In his role as speaker, Welch has enormous sway over the success or failure of legislation in Springfield, and over members' positions on coveted legislative committees.
Welch and a political spokeswoman did not return several calls and messages seeking comment on the donations.
Raines-Welch is a 2009 graduate of John Marshall Law School and is currently a partner at the law firm Ancel Glink, which specializes in representing municipal governments in litigation. Her husband is a former partner but has worked "of counsel" at the firm since becoming House speaker.
The Raines-Welch campaign did not directly answer questions about the donations from lawmakers, but issued a statement in response to the questions.
"The ShawnTe Raines-Welch for Judge campaign is building a broad and enthusiastic coalition of supporters, volunteers, and donors, including elected officials, for whom we are deeply grateful, grateful for their energy, time, and financial support that they have invested in this historic 4th subcircuit race," said campaign spokesman David Ormsby.
In March, Reines-Welch moved to downplay her husband's position in an interview with the Riverside-Brookfield Landmark.
"I would expect that voters will give fair consideration to my credentials, accomplishments and qualifications as the candidate," Raines Welch wrote to the paper. "It is my name on the ballot and voters should judge me on my own record."
This is not the first time Raines-Welch has been in the spotlight over campaign donations.
The Chicago Sun Times reported last month that she had received a $10,000 donation from a hospital company that benefited from a change in state law pushed by her husband. That law paved the way for the company to reopen the shuttered Westlake Hospital in Melrose Park. Raines-Welch subsequently returned that donation, acknowledging that it was illegal thanks to a law banning donations to judicial campaigns from out-of-state companies.
Kaplan emphasized how important it is for Illinois voters to pay attention to issues of clout and campaign donations given the way Madigan ran Springfield for 50 years.
"Speaker Welch and Speaker Madigan are two different individuals with different leadership styles, but certainly this kind of thing does have echoes of the way that speaker Madigan exercised his power and demanded loyalty in the legislature and at all levels of government," Kaplan said.
Attorneys Jerry Barrido, Patrick Campanelli and Chloe Pedersen are running against Raines-Welch for the judicial post.
Pedersen is the niece of Cook County Clerk Karen Yarbrough. Yarbrough's husband, former Maywood Mayor Henderson Yarbrough, has donated $950 to Pedersen's campaign, according to state campaign records.
Follow Paris Schutz on Twitter: @paschutz
---