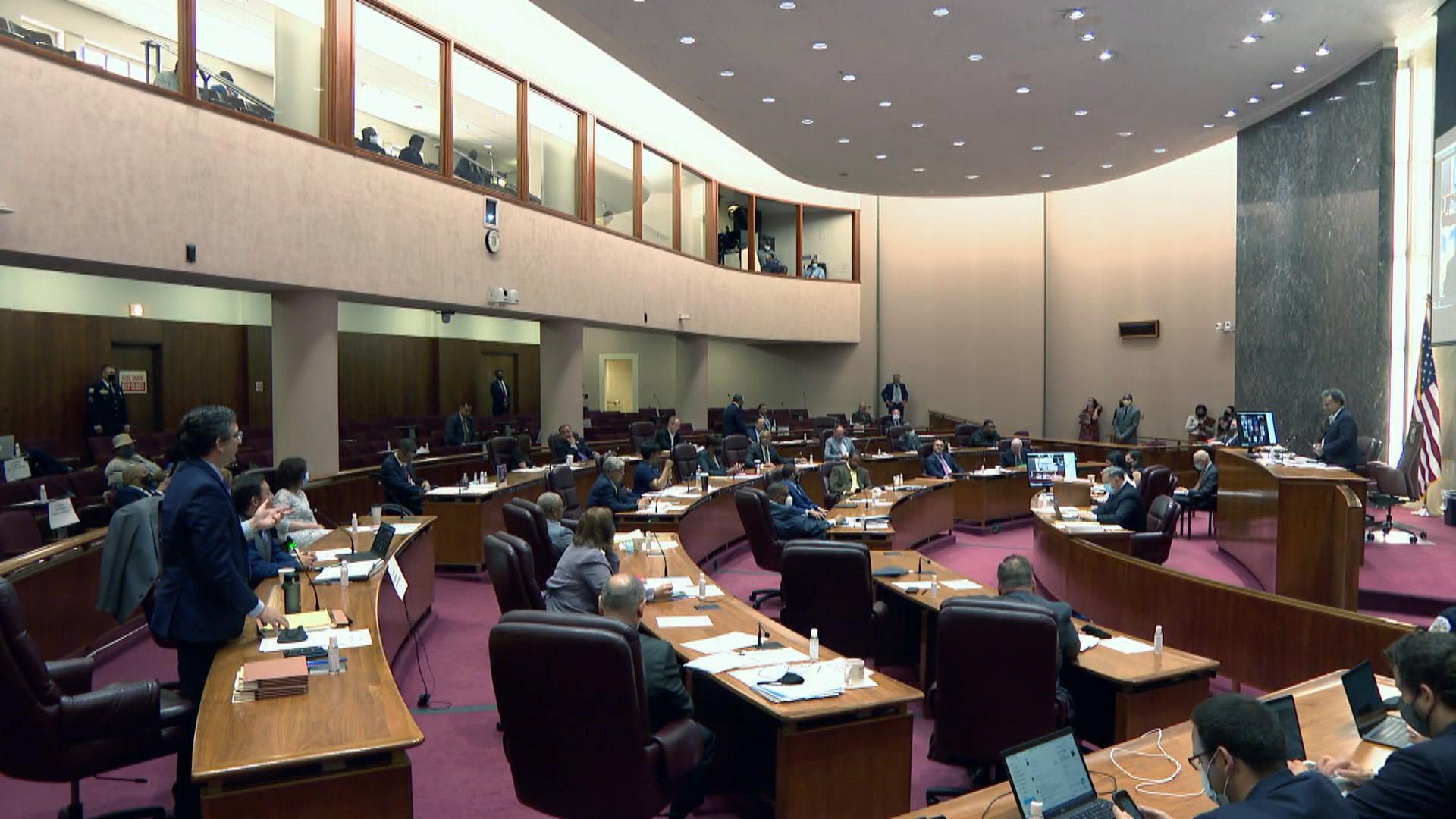 Members of the Chicago City Council meet on Wednesday, May 26, 2021. (WTTW News)
Members of the Chicago City Council have reached a tentative compromise over a new ward map based on the 2020 census that will shape Chicago politics for the next decade, keeping Black politicians' advantage at City Hall intact.
The agreement creates 14 wards with a majority of Latino voters, rather than the 15 wards that the City Council's Latino Caucus had demanded. 
The tentative ward map would have 16 wards with a majority of Black voters, one ward with a plurality of Black voters and one ward with a majority of Asian American voters — the first in Chicago's history — and largely follows the boundaries endorsed by the City Council's Black Caucus on the South and West sides.
Rules Committee Chair Ald. Michelle Harris (8th Ward) comfirmed the deal late Monday.
"I'm thrilled my colleagues have come together in compromise in what has been a long and challenging process," Harris said.
The deal makes some changes to the map supported by the Black Caucus on the Northwest and Southwest sides, which include heavily Latino neighborhoods, sources told WTTW News.
The pressure to reach a deal grew to a fever pitch in recent weeks as powerful — and wealthy — labor unions lined up behind the map supported by the Black Caucus, making it clear that the effort backed by the Latino Caucus would be outspent during a hard fought and politically perilous campaign, sources told WTTW News.
Ald. Gilbert Villegas (36th Ward), the chair of the Latino Caucus, told WTTW News the tentative agreement had been reached over his objections, even as he pushed for a compromise before the May 19 deadline for 41 alderpeople to approve a map.
"I'm not happy with this deal," said Villegas, who is running to represent the newly drawn 3rd District in the U.S. House of Representatives. "The Latino community in Chicago had a chance for real representation that has been lost."
Villegas acknowledged that running for Congress, serving as an alderperson and leading the remap effort for the Latino Caucus had been difficult.
Always fraught, this year's remapping effort had been particularly tense because of the city's changing racial makeup. While Chicago's Black population dropped 10%, its Latino population jumped 5% and its Asian American population surged 30%, according to the 2020 census. 
The current ward map has 18 wards with a majority of Black voters and 13 wards with a majority of Latino voters. The proposed map would unite all of Chinatown for the first time in Chicago's history to create a ward with a majority of Asian American voters.
State law requires Chicago wards to be "nearly equal as practicable" while being as "contiguous" and "compact" as possible while complying with the Voting Rights Act, which is designed to protect the voting rights of Black, Latino and Asian residents.
Since Chicago's population in 2020 was 2,746,388 residents, each ward should have 54,928 residents, according to data presented to the Chicago City Council.
The people of Chicago are 31.4% white, 29.9% Latino, 28.7% Black and 6.9% Asian, according to the 2020 U.S. census.
A statement from the campaign in support of the map backed by the Latino Caucus said the deal means that "Latinos lost for the second decade in a row." 
Latino members of the City Council have long believed the 2011 remap did not accurately reflect Chicago's Latino population and vowed at the start of the remapping effort based on the 2020 census not to "get played again."
Ald. Jason Ervin (28th Ward), who declined to comment to WTTW News about the tentative deal, said repeatedly he would not accept a map that creates 15 wards with a majority of Latino voters, telling WTTW News on April 26: "As I've stated before, the African American community will not live on its knees."
If the tentative deal is ratified, it will avert what would have been the first ward map referendum in 30 years.
A compromise would also avoid a brutal campaign that would have pitted Black Chicagoans against Latino Chicagoans. 
Villegas had accused Ervin of echoing racist rhetoric used by former President Donald Trump by crafting a map using the share of Chicagoans who are citizens older than 18, rather than the number of Chicagoans who are older than 18.
Harris called members of the Latino Caucus "crybabies." Harris is a member of the Black Caucus, and serves as Mayor Lori Lightfoot's floor leader.
A coalition of Chicago Asian American groups warned that a referendum would serve only to fan "the flames of racial division."
A campaign flyer that could have started appearing in mailboxes this week features a picture of Villegas, a Latino man, stomping on Harris' head, asking "Why doesn't Gil Villegas respect women?" 
Harris, a Black woman, has repeatedly accused Villegas the Latino Caucus of disrespecting her because she is a woman.
The compromise map that if supported by enough members of the Chicago City Council will avert a referendum. (Provided)
Contact Heather Cherone: @HeatherCherone | (773) 569-1863 | [email protected]
---