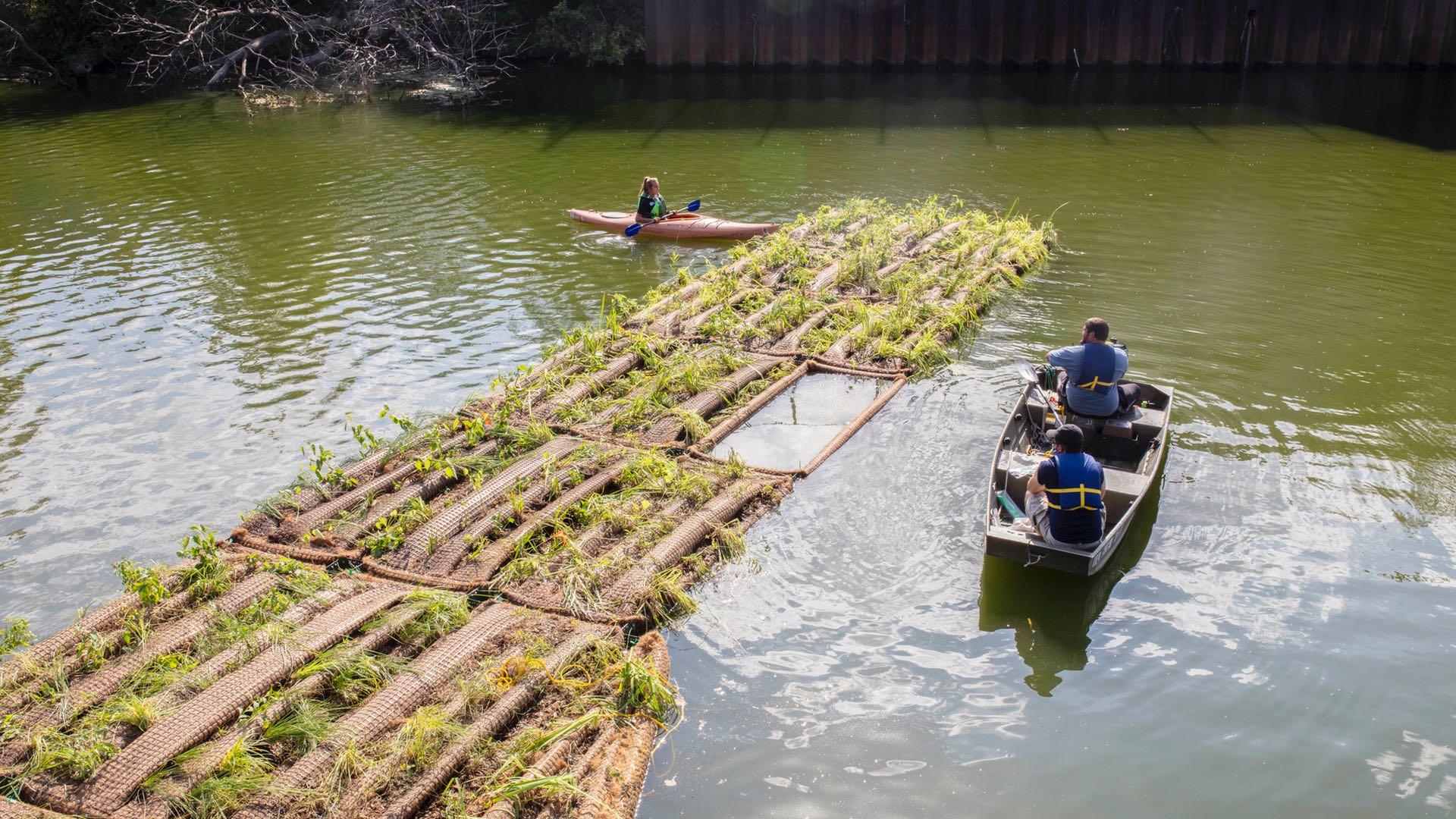 Floating habitat being positioned on the Chicago River. (Shedd Aquarium / Brenna Hernandez)
A trio of measures introduced at Wednesday's Chicago City Council meeting would allocate a total of $2.5 million toward habitat and open space improvement projects.
The funds would be drawn from open space impact fees collected from developers. 
The largest proposed disbursement would be $1.76 million to expand the "Wild Mile," a floating eco-park in the North Branch Canal. The funds would extend an existing riverfront learning platform at 1440 N. Kingsbury St. by 400 linear feet and also include approximately 12,000 square feet of new floating gardens.
The Wild Mile, on the east side of Goose Island, is a joint effort by the Shedd Aquarium and Urban Rivers, creating wetland habitat for local wildlife. Fish have used the habitat for spawning and it may attract river otters.
Other projects proposed for funding:
— Approximately $680,000 for environmental clean-up of vacant land at 1807 N. Kimball Ave. in Logan Square. The property has been identified as a future access point to the Bloomingdale/606 Trail but contaminated soil, including a hot spot of high trichloroethene concentrations, has delayed its development. The site was home to a number of manufacturing and industrial uses in the past; trichloroethene is a common solvent typically used for degreasing in manufacturing operations, according to the city, which has also applied for EPA brownfield grant funds to remediate the soil. 
— Approximately $110,000 to help prepare land at 3032 W. Fifth Ave. in East Garfield Park for a community-managed orchard being planned by the city of Chicago, the Metropolitan Water Reclamation District and the NeighborSpace land trust. The orchard is part of an envisioned "resilience corridor" on West Fifth Avenue, between Sacramento and Kedzie avenues, that would also include a nature play space and solar-powered housing, among other features, according to the Garfield Park Community Council. The hope is to break ground in the fall on the orchard, the council said. 
What are open space impact fees?
The impact fee program dates back to 1998 and was designed to counterbalance growth in residential development.
"The public sector is unable to provide fully for the open space and recreational needs of new residential development," reads the ordinance that created the program.
The fees are collected from developers — the amount is based on a project's square footage and number of units — and then are used to acquire land or pay for park improvements within the community from which the funds were generated.
The fees can't be used for ongoing maintenance, playground replacement or "to cure existing park deficiencies," per the ordinance.
Expenditures from the program require City Council approval. The proposals introduced Wednesday will be sent to committee for review and then will come up for a final council vote at a future meeting.  
Contact Patty Wetli: @pattywetli | (773) 509-5623 |  [email protected]
---