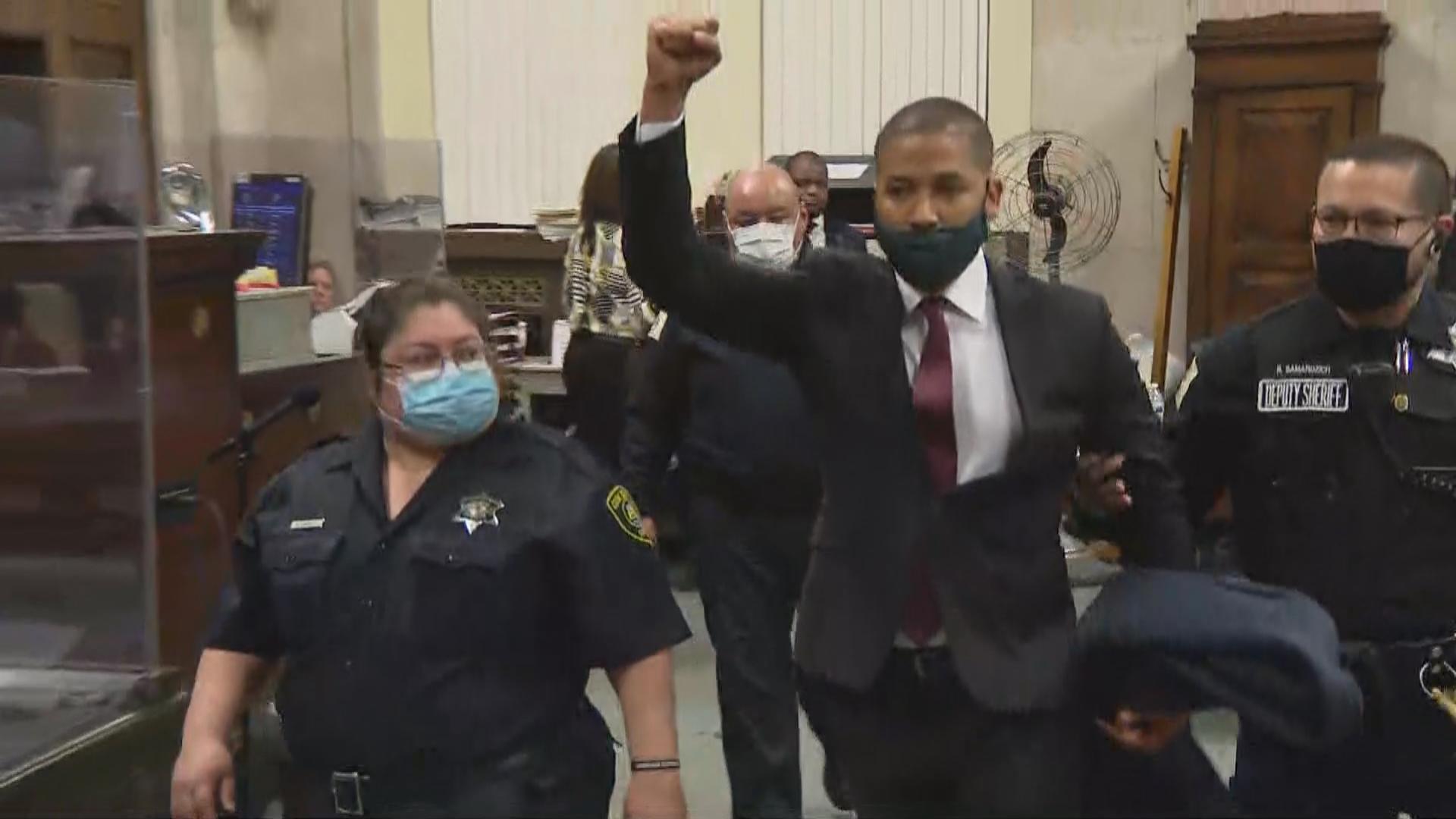 Jussie Smollett raises his hand while proclaiming his innocence as he is taken out of the courtroom at the Leighton Criminal Court Building to begin his 150-day jail sentence on March 10, 2022. (WTTW News)
Former "Empire" star Jussie Smollett will serve the first 150 days of his 30 month probation sentence in jail after he was convicted of lying to police about orchestrating a hoax attack against himself outside his Streeterville apartment more than three years ago.
Cook County Judge James Linn issued the sentence during a hearing Thursday afternoon, months after a jury found him guilty on five felony disorderly conduct charges.
"I know that there is nothing I will do here today that will come close to the damage you have already done to your own life," Linn said. "You have destroyed your life as you knew it."
But a defiant and incensed Smollett — who had been silent throughout the more than five-hour hearing — shouted back at Linn after the sentence was read that he was innocent and "not suicidal," before he was led from the courtroom, holding one arm up into the air.
"I am innocent," he yelled as he left the court in custody. "I could have said I was guilty a long time ago."
In issuing his sentence, Linn said he believes Smollett damaged the city by pulling valuable police resources away from other crimes to investigate his own false allegations.
Linn repeatedly pointed to Smollett's "arrogance, selfishness and narcissism," calling his testimony at trial "pure perjury." He didn't believe Smollett was motivated to orchestrate the hoax attack in any way by money, but rather his own intense desire for attention.
"You're just a charlatan pretending to be the victim of a hate crime," Linn said. "And that's shameful."
On top of his sentence, Smollett has also been ordered to pay $120,106 in restitution, which amounts to the $130,000 in overtime expenses the Chicago Police Department said it spend investigating the Smollett case, minus the $10,000 bond forfeiture Smollett made following his initial case in 2019.
Smollett claimed to be the victim of a January 2019 attack by two men near his Streeterville apartment. He claimed they yelled racist and homophobic slurs before they hit him in his face, poured "an unknown chemical substance" on him and wrapped a rope around his neck.
But following an investigation, Chicago police determined Smollett had hired the men — brothers Olabinjo and Abimbola Osundairo — to stage the attack.
At trial, Special Prosecutor Dan Webb and his team argued Smollett hatched a "secret plan" with the Osundairos because he was upset with how the studio behind "Empire" had responded to a piece of hate mail he'd received days earlier.
Smollett had become friends with Abimbola Osundairo over the course of the previous year, and recruited him and his brother Olabinjo, giving them step-by-step instructions on how to carry out the attack, from yelling out specific racist and homophobic slurs, to pulling punches when they hit him to putting a noose around his neck, prosecutors said.
"I was confused, I look puzzled" as Smollett "explained he wanted me to fake beat him up," Abimbola Osundairo told jurors.
Abimbola Osundairo, who worked as a stand-in on "Empire," testified that he and his brother agreed to the plan because he felt indebted to Smollett for helping him with his acting career.
Smollett testified that he removed the noose, but a friend who was at his apartment called police and told him to put the noose back on so officers could see it.
Andre Hope, the lone black juror on Smollett's case, said in an interview after trial that "it didn't add up" that Smollett would remove the rope, and then put it back around his neck, if he had truly been the victim of a racist attack.
While he was convicted on five counts, the jury did acquit Smollett on a sixth disorderly conduct charge.
In a letter submitted to the court, the city of Chicago and Police Superintendent David Brown claimed that Smollett's false report created a "tremendous chilling effect" on the real victims of hate crimes, who are often hesitant to come forward out of fear they won't be believed.
Webb argued Smollett was the one who planned the attack and he was the one who made the false report to police in hoping of garnering additional attention. But beyond that, he claimed Smollett has refused to take responsibility for his actions and lied about what happened repeatedly when he testified at trial. 
"He did it all ... he planned everything out, he recruited the brothers," Webb said. "He owned every bit of the plan."
The city also asked Linn to require, as part of his sentence, that Smollett pay $130,000 in restitution to cover the costs of overtime pay for Chicago police detectives investigating the actor's claims.
Smollett has consistently maintained his innocence since he was first arrested.
"There was no hoax," he testified at trial, adding that Abimbola Osundairo's claims that Smollett recruited him to carry out the fake attack was "Fully false, 100% false."
Lead defense attorney Nenye Uche called for probation, saying his client has suffered enough, both publicly and professionaly, due to the high-profile nature of this case.
"Why are we jumping up and down and acting like this is a murder case?" he said. "It's not."
Black defendants are often treated to harsher sentences on low-level crimes than their white counterparts, Uche said, adding that this was a low-level felony that didn't involve any threat to the public.
Smollett's defense team called four witnesses to testify about his character during Thursday's hearing. Those included his 92-year-old grandmother, the music director on "Empire" and Sharon Gelman, the former head of the Artists for a New South Africa, who described Smollett as "family."
"His character was the same (before and after he became a celebrity)" she said. "He was a very open-hearted, hard-working pure-hearted person."
Smollett's older brother Joel also testified. He asked Linn for lenience, while reiterating his belief Jussie is innocent and that any punishment he has already received is more than enough.
"He has made real efforts in his lifetime to promote equality and love in his lifetime," the elder Smollett said. "He is not a threat to the people of Illinois."
Beyond the criminal charges, the case has also left a lasting mark on Cook County State's Attorney Kim Foxx and her office, whose handling of the case early on was a "disgrace," according to Webb.
Cook County prosecutors dismissed the initial 16-count indictment against Smollett in March 2019 after he agreed to forfeit the $10,000 he paid in bond and complete 16 hours of community service.
Webb — who was brought on to investigate not only Smollett, but also the state's attorney's office — found Foxx and others had lied to the public about why those first charges were dismissed.
Ultimately, though, Webb's team determined it had no evidence that Foxx or anyone in her office could be criminally charged for "bribery, failure to report a bribe, official misconduct, obstruction of justice, perjury, or any other criminal statute."
The Associated Press contributed to this report.
Contact Matt Masterson: @ByMattMasterson | [email protected] | (773) 509-5431
---